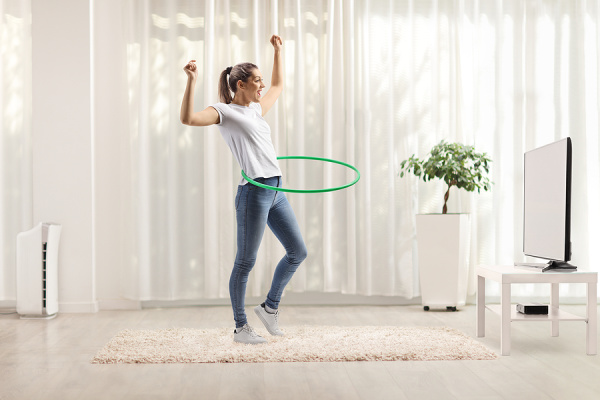 Hula hoops may be reminiscent of your childhood, but they're actually ideal for adults, too. If you're looking for a fun new way to tone up and slim down, allow us to introduce you to hula hoop workouts. Challenging your core, boosting your heart rate and burning calories, hula hoop exercises offer serious benefits that will help you look and feel your best. Check out our favourite hooping workouts for weight loss below!
3 Benefits of Hula Hoop Workouts
1. Burns Calories and Fat
If you're looking for a new, fun way to lose weight, hula hoop workouts may be your new go-to. Hula hooping is comparable to other dance aerobic activities such as salsa, zumba and swing dancing when it comes to burning calories. Mix that with a healthy diet and you'll be able to lose inches around your waist and hips, reducing overall body fat.
2. Great for Your Core
Having a strong core is important for many reasons, from improving your posture and balance to reducing pain, increasing stability and making everyday life tasks easier. Hula hoop workouts require strong core muscles and good mobility in your hips. Practicing hula hoop exercises regularly is a great way to train your abdominal and oblique muscles and strengthen your core overall.
3. Boosts Your Cardio Fitness
Working your cardiovascular system is essential for maintaining your health. Cardio exercise works your heart and lungs and improves the flow of oxygen throughout your body. Cardio exercise can decrease your risk of heart disease and diabetes, improve your cholesterol levels, improve brain function and reduce stress. Hula hoop workouts get your blood pumping, heart rate up and cardio system working hard.
What Kind of Hula Hoop Do You Need?
A weighted hula hoop is required for at home hula hoop workouts. If you're just starting out with hula hoop exercises, use an adult hula hoop that's 1 to 3 pounds and 38 to 42 inches in diameter. If you're worried about storage and transport, there are detachable travel hula hoops that break down into several pieces, making them easy to store and take with you from place to place.
9 Hula Hoop Workouts for Weight Loss
5 Minute Energy Blast Hula Hoop Workout | Deanne Love
This 5-minute belly blast workout challenges your core and helps you drop unwanted pounds. It will help you feel fit and strong, and you'll love her quick tips along the way to help you get the best out of your workout.
15 Min Hula Hoop Workout | Full Body | With Music | No Talking | Sarah Liegmann
This full body hula hoop workout features many different hula exercises, so make sure to follow along as there's no talking- just music! You'll do one minute rounds, so get ready to sweat, tone and burn some calories! In fact, this workout burns 900 calories per hour.
12 Minute Hula Hoop Workout | Lindsay Penny
This is a 12 minute low impact hula hoop workout you can do at home, even if you have a small space. It will get your body moving and give you a mood boost, encouraging you to have some fun with your workout! This workout features mostly on-body hooping, so she recommends using a bigger, heavier hoop (she uses a 42-inch diameter hoop) to make on body hooping easier to maintain. It also gives you a great ab workout!
Hula Hoop Exercises From Hoopnotica | Burn Calories | Fitness How To | POPSUGAR Fitness
With this video, you'll burn calories while whittling your waist and toning your entire body. You'll learn the basics of hooping along with a few fancy moves to amp your workout and get the most out of your hula routine. You'll add fun to classic fitness moves like lunges and arm exercises.
20 Min Beginner Hula Hoop Workout: Hoop Dance Ab Workout | Hoop Plus Fit with Scarlett
If you're a beginner hula hooper looking to strengthen your core, this 20 minute workout is for you. She keeps the moves simple and moves through them at a relatively slow pace so you can easily follow along. You'll hoop on both sides, starting slowly and softly building the pace, working your abs and obliques. She recommends doing a warm up and cool down to ensure your body feels great post-workout.
Beginner HIIT the Hoop Workout – Waist Hooping – Hoop Love Your Body | Deanne Love
This on-body hula hoop workout focuses on core conditioning, waist hooping with fancy footwork and pace. You'll have 7 moves, each of them 40 seconds with a 10 second rest in the middle. You'll do moves like waist hooping with side steps, waist hooping with alternating toe taps and hyper speed waist hooping for some awesome calorie burning fun.
10 Min Hula Hoop To Get a Smaller Waist | Almira Tanner
A 10 minute hula hoop workout that targets your full body, this routine will help you slim down and tone up. You can do it from anywhere as you don't need much space and you're sure to break a sweat and see serious results!
30 Minute Hula Hoop Workout: Total Body Workout Sculpting the Abs, Arms and Legs | Hoop Plus Fit with Scarlett
This hula hoop workout is a full 30 minutes and will help you work your abs and trim your waist. It will also sculpt your arms and legs while keeping your energy high. It's suitable for beginners, and more experienced hoopers can work on controlling their dance moves as she runs through the routine. You'll hoop in both directions, which is essential for even muscle development.
Total Body Workout | Weighted Hula Hoop Dance Fitness | Bee Varga The Hulahooper
This total body workout uses a weighted hula hoop and features fun dance moves to give some zest to your workout. It's suitable for beginners and helps you learn basic moves so you can do tricks and have fun while burning lots of calories. You'll get tips and tricks to improve your full body fitness, while at the same time keeping you entertained and challenged!
Hula hooping is a serious workout, challenging your core and toning your entire body. Try these routines to boost your overall fitness and have fun while exercising!