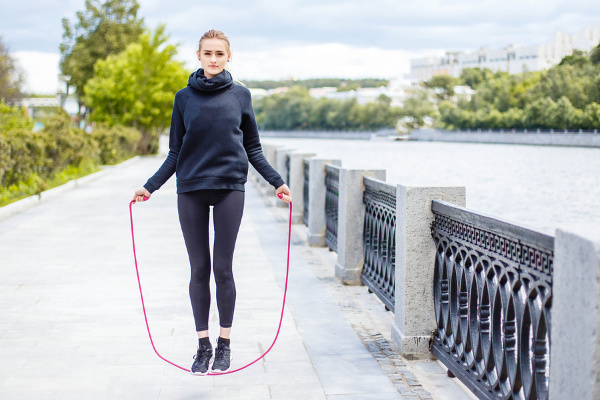 Jump rope workouts are one of the best cardio exercises you can do. With jump rope workouts, you'll burn fat, improve your stamina, and gain lean muscle mass all over your body. Since jump ropes are portable, you can do jump rope workouts from anywhere, eliminating the excuse that you don't have time to exercise. It's an easy and affordable way to get a good workout in and burn calories throughout your travels or work day. If you're ready to transform your body, check out these fat burning jump rope workouts for all levels!
What is a 'Jump Rope Workout'?
A jump rope workout is any workout routine that uses a jump rope for exercise. It's a rhythmic workout and typically includes jump rope exercises such as single leg hops, double hops, and high knee skipping. As you become more skilled with the jump rope, you can start challenging yourself to get better and learn new skills. You can get faster, become more coordinated, and start losing weight and building strength.
6 Benefits of Jump Rope Workouts
1. Burns Calories
Jump rope workouts are a great way to burn calories. They're an awesome way to get your cardio in and skipping can burn up to 25% more calories than running per minute. The calories burned jumping rope can work out to 15 to 20 calories per minute, meaning you can burn 200 to 300 calories with just 15 minutes of jump rope.
2. Improves Cardio
Improving your cardio is so important for a number of reasons. Not only does it help you burn fat and calories, it strengthens your heart, so it doesn't have to work as hard to pump blood. It increases your lung capacity and reduces your risk of heart attack, high cholesterol, high blood pressure and other diseases. Jumping rope is one of the best types of cardio you can do and it will improve your health in numerous ways.
3. Reduces Risk of Lower Leg Injuries
If you do any other sports or workouts, foot and ankle injuries may be something you're worried about. Jump rope workouts can reduce the risk of lower leg injuries by improving foot coordination and strengthening the muscles surrounding your ankle joint and in your foot. It regularly strengthens the calf muscles and improves elasticity of the surrounding tendons and fascia, making injuries less likely.
4. Improves Cognitive Function
When you start jumping rope, you begin learning new motor patterns, improving the nervous system communication between your brain, wrists and lower leg muscles. This improves your overall cognitive function, which becomes increasingly important as we grow older.
5. Improves Coordination
Jump rope workouts require good coordination. It's a cyclic activity, meaning you perform it at a steady, regular rhythm. The steady rhythm of jumping can improve the coordination between your eyes, feet and hands.
6. It's Portable
You can take a jump rope anywhere, which makes it extremely convenient to get in a jump rope workout. You can bring it with you when you travel, so you have no excuse not to get a workout in on vacation. The portability also makes them an excellent option for at home or outdoor workouts. Bring it to your favourite park and get a jump rope workout in while enjoying the fresh air.
5 Fat-Burning Jump Rope Workouts for All Levels
10-Minute Jump Rope Workout | POPSUGAR Fitness
Want to jump yourself slim? This 10 minute jump rope workout will burn a ton of calories, while toning your legs. She begins with a short warm up so you can get your body prepared, and then steps it up into moves such as single-leg hops, high knees, double hops and lateral hops. You'll feel the burn in your lower legs and calves, and at the end you'll get a cool down with awesome stretches. All you need is a jump rope and you're good to go!
Full Body HIIT Workout with a Jump Rope (30 Minutes) | Heather Robertson
If you're craving a longer jump rope workout, this 30-minute routine is sure to get you sweating. She uses the jump rope for the cardio portion in this full body HIIT workout. There are four circuits in total, and you'll run through each circuit twice. In between the jump rope, you'll be doing exercises such as hammer curls, reverse lunges and plank pass. You'll need a set of dumbbells as you'll be working on strength and building lean muscles!
Jump Rope Workout for Beginners | The Phoenix Movement
Just getting started with jump rope? This workout is perfect for you! She sticks with the basics so you don't feel overwhelmed and combines work with rest and time to take a water break. You'll basically be jump roping without any tricks or frills. It's a great workout to get you used to the movement of jump rope.
Fat Burner Workout | HIIT Cardio – Skipping | Dannibelle
This jump rope workout is definitely for the more advanced jump ropers. It's a short workout, but it will get the job done, with moves like split skips, alternating double hops, single leg skipping, and fast high knees. It's an amazing calorie burner and will tone both your upper and lower body.
Quick Sweat Cardio Fat Burn- Fun Jump Rope Workout | FitnessBlender
This jump rope workout has you doing a range of exercises with 25 seconds on and 10 seconds active rest. It will tone your entire body, burn fat and improve cardiovascular endurance and coordination. The moves are quite simple, so this video is ideal for beginners. You'll do exercises such as basic skipping, double jumps, jack feet jumps and butt kickers. You can go as slow or as fast as you like and you're sure to break a sweat!
Ready to feel the burn? These jump rope workouts will help you torch calories, tone up and improve your cardio and coordination. Try them the next time you need a quick but effective workout!