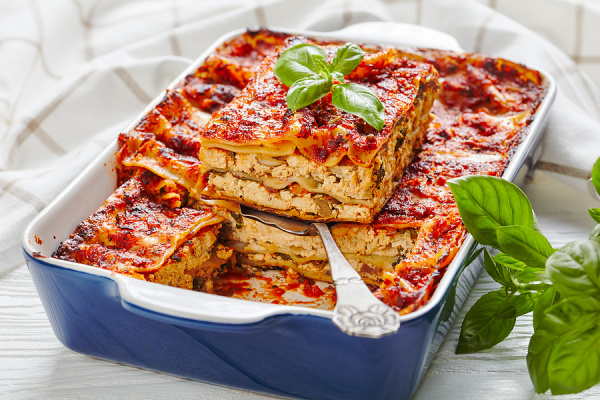 As the days get colder and the nights get darker, there's nothing better than sitting down to a rich, hearty meal. The satisfaction you feel from eating comfort food is hard to beat – there's nothing quite like digging into a bowl of creamy macaroni and cheese, or indulging in a big bowl of curry. The only downside about comfort food is how it can make you feel after you eat it. With so many rich ingredients and calories, comfort food guilt is real, but we've rounded up comfort food recipes that are healthy, while still being incredibly delicious. Take a look at 75 comfort food recipes under 500 calories, so you can enjoy them guilt-free!
5 Tips for Making Comfort Food Recipes Healthier
1. Pack in the Veggies and Greens
Adding vegetables and greens to your comfort food recipes is one of the easiest ways to make your meals healthier. While classic comfort food recipes consist of lots of pasta, cheese, meats and creams, skip the meat and replace it with lots of veggies, or add extra greens into your favourite cheesy pasta dish. Spinach, sweet potato, eggplant, zucchini and mushrooms are veggies that work seamlessly with more hearty meals.
2. Season Your Veggies
If you're going to be swapping your meat with veggies, you should be seasoning your veggies like you would the meat to ensure they boast the amazing flavours you're used to. Marinate your veggies and roast them at high heat so all the marinade's flavour soaks in and they become tender and caramelized.
3. Healthy Substitutes for Cream
If your comfort food recipe requires you to make a decadent cream sauce, make it healthier by swapping out the heavy cream. In its place, you can use evaporated skim milk, soy creamer, coconut cream, cashew cream, silken tofu or oat milk. These will all give you the rich, creamy texture you're looking for without all the calories.
4. Consider Your Cheese Options
Cheese is a quintessential ingredient in many comfort food recipes, so try to make smart cheese choices whenever you can. Using more flavourful cheeses, like blue cheese, goat cheese and Gruyère means you don't have to use as much of them. When using cheeses that pack a punch, you'll need to use less cheese overall since the flavour will be more distinct, resulting in less calories.
5. Use Healthier Pasta Substitutes
There's nothing better than a good comfort food pasta recipe. While white pasta may taste delicious, you can make your dish healthier by using a nutritious pasta substitute such as quinoa pasta, whole wheat pasta, zucchini noodles or squash noodles. This way you can enjoy your pasta dishes without the guilt!
15 Vegan Comfort Food Recipes Under 500 Calories
1. Vegan Cornbread Pot Pies | The Fitchen
2. Vegan Fried Green Tomato Sandwich | Notions and Notations of a Novice Cook
3. Vegan Buttermilk Biscuits and County Gravy | The Simple Veganista
4. Vegan Coconut Chickpea Curry | Eating Well
5. Spinach, Sweet Potato and Lentil Dhal | BBC Good Food
6. Thyme and White Bean Pot Pies | Minimalist Baker
7. Spinach, Chickpea and Potato Curry | Olive Magazine
8. Chickpea Burgers with Tahini Sauce | Fat Free Vegan
9. Thai Spaghetti Squash with Peanut Sauce | Eating Well
10. Lentil and Cauliflower Curry | BBC Good Food
11. Masala Khichdi |Holy Cow Vegan
12. Vegan Aubergine Dhansak | Olive Magazine
13. Sweet Potato Black Bean Burgers | Eating Well
14. Healthy Vegan Chia Waffles | Holy Cow Vegan
15. Vegan Chilli Tofu Ramen | Olive Magazine
15 Vegetarian Comfort Food Recipes Under 500 Calories
1. Creamy Fettuccine with Brussels Sprouts and Mushrooms | Eating Well
2. Mexican Bean Soup with Guacamole | BBC Good Food
3. Butternut Squash Risotto | Skinnytaste
4. Chunky Vegetarian Chilli | A Saucy Kitchen
5. Eggs in Tomato Sauce with Chickpeas and Spinach | Eating Well
6. Creamy Tomato Risotto | BBC Good Food
7. Skinny Cauliflower Mac and Cheese | Damn Delicious
8. Mushroom Shawarma with Yogurt Tahini Sauce | Eating Well
9. Gluten Free Grilled Cheese Hummus Sandwich with Pumpkin | Food, Faith, Fitness
10. Indian Butternut Squash Curry | BBC Good Food
11. Mushroom Bourguignon | The Iron You
12. Lentil Bowls with Fried Eggs and Greens | Eating Well
13. Sweet Potato Gnocchi | Live, Eat, Learn
14. Hearty Vegetable Lasagna | All Recipes
15. Moroccan Vegetarian Tagine | Olive Magazine
15 Casserole Comfort Food Recipes Under 500 Calories
1. Chicken and Mushroom Casserole | Mangeons
2. Vegetarian Broccoli-Artichoke Casserole | Cooking Light
3. Ground Beef and Pasta Casserole | My Recipes
4. Sausage Lover's Hash Brown Casserole | Meal Prep on Fleek
5. Chicken Taco Casserole | Slap Dash Mom
6. Tuna Noodle Casserole | Cooking Light
7. Black Bean and Butternut Squash Casserole | Julia's Album
8. Spaghetti Squash Pizza Pie | Hungry Girl
9. Spinach Artichoke Quinoa Casserole | I Food Real
10. Creamy Broccoli Cheddar Casserole | Cooking Light
11. Unstuffed Cabbage Casserole | Give Recipe
12. Skinny Cheeseburger Casserole | Skinny Taste
13. Spiralized Zucchini Casserole with Red Peppers, Spinach and Artichokes | Food Faith Fitness
14. Smoked Salmon Breakfast Casserole | Cooking Light
15. Teriyaki, Chicken and Rice Casserole | Emily Bites
15 Crockpot Comfort Food Recipes Under 500 Calories
1. Crock Pot Broccoli Cheese Soup | The Skinny Fork
2. Dairy Free Butter Chicken | Nutrition in the Kitch
3. Chana Masala | Slender Kitchen
4. Cozy Chicken Noodle Soup | Eat This, Not That
5. German Schnitzel | Skinny MS
6. Low-Calorie Pineapple Chicken | The Spruce Eats
7. Pumpkin Chicken Chilli | Made by Moni
8. Crockpot Beef Ragu | Eat This, Not That
9. Slow-Cooked Lemon Chicken | Taste of Home
10. Eggplant Lasagna | Skinny MS
11. Nutritionist-Approved Lentil Soup | ShareCare
12. Hearty Asian Beef Noodle Soup | Eat This, Not That
13. Crockpot Teriyaki Chicken | Rachel Cooks
14. Healthy Taco Casserole | Slow Cooker Gourmet
15. Crockpot Italian Meatballs | Eat This, Not That
15 Dessert Comfort Food Recipes Under 500 Calories
1. Healthy Nutella Brownies | Foodie Fiasco
2. Dark Chocolate Turtles | Nutritionist in the Kitch
3. 2-Ingredient Pumpkin Donuts | The Skinny Fork
4. Low Calorie Peach Cobbler | Health Beet
5. Mexican Churros | Under 500 Calories
6. Chocolate Decadence | Health
7. Coconut Cream Pie | My Recipes
8. Strawberry Cheesecake Parfaits | My Fitness Pal
9. Oreo Stuffed Chocolate Chip Cookies | Under 500 Calories
10. Chocolate Fudge Pie | Health
11. Chocolate Hazelnut Mousse | My Recipes
12. Banana S'mores Cookies | Under 500 Calories
13. Mint Coconut Banana Cream Pies | My Fitness Pal
14. Chocolate Chunk Bread Puddings | Health
15. Chocolate Chip Cheesecake | My Recipes
Comfort food recipes are key as we head into the winter season. Enjoy your comfort food guilt-free with these tips and recipes under 500 calories!