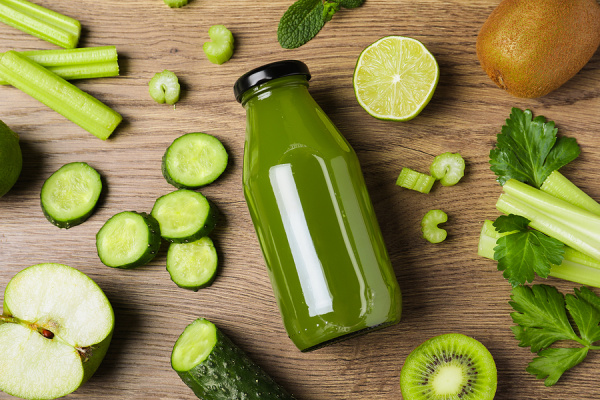 It's time to add a new juice to your rotation. Cucumber juice is the newest juice trend due to its refreshing taste and long list of health benefits. Cucumbers are mainly composed of water and have very few calories, but they're also packed with nutrients. They're a great source of vitamin K and have a good dose of copper and vitamin C. They're also high in antioxidants, including several flavonoids. Adding cucumber juice to your diet has numerous benefits from weight loss to glowing skin to bone health. Take a look at 25 cucumber juice recipes to boost your health.
7 Benefits of Cucumber Juice
1. Hydration
Water is essential for your body to function properly. You should be aiming to drink six to eight glasses of water per day to keep your body adequately hydrated. If you're bored of drinking plain water, cucumber juice has more added nutrients and is tastier. Since cucumbers have such a high water content, cucumber juice boosts your hydration, keeping your vitamin and mineral levels up. It also provides electrolytes and antioxidants, which is especially important for athletes or anyone who exercises frequently.
2. Weight Loss
Cucumber juice can help with weight loss since cucumbers contain so little calories. Staying hydrated also helps you feel full. Sometimes your body confuses thirst with hunger, so you're actually thirsty when you think you're hungry. Try drinking a glass of cucumber juice when you're hungry and if your hunger goes away, you'll know you were thirsty. Cucumber juice made with all the skin and seeds included is also a good source of fibre, which makes you feel full and supports a healthy digestive system.
3. Glowing Skin
The more vegetables you eat, the better your skin will look and feel. Cucumber juice soothes your skin from the inside out, helping you stay hydrated and flushing out toxins for a healthy complexion. Cucumbers have a cooling property that has been shown to support skin health topically, hydrating dry or sunburnt skin from the outside. They're also high in vitamin B5, which has been used to treat acne.
4. Provide Antioxidants and Cancer Prevention
Cucumbers are chock full of antioxidants, such as beta-carotene, manganese, vitamin C and flavonoids. Antioxidants are a key part of your diet since they protect your cells from damaging free radicals, which can speed up disease and signs of aging. Along with antioxidants, cucumbers also have compounds called cucurbiticans and a group of nutrients called lignans, which play a role in protecting us from cancer.
5. Lowers Blood Pressure
One of the main causes of high blood pressure is having too much salt and not enough potassium in your body. The excess salt causes your body to hold fluids, which raises your blood pressure. Potassium helps regulate the amount of sodium retained by the kidneys. Cucumbers are a good source of potassium, which may help lower your blood pressure.
6. Bone Health
Cucumbers are high in vitamin K, with one cup of sliced cucumber having 19 percent of the daily recommended value. Your body requires vitamin K to help form proteins that are needed to make healthy bones and tissues as well as to help your blood clot properly. If you're looking to prioritize bone health, cucumber juice is a great option.
7. Hangover Helper
If you had one too many drinks last night and are looking for a way to feel human again, try cucumber juice. The hydration it provides, as well as electrolytes and B-vitamins can reduce hangover symptoms, including reducing the intensity of a headache.
How to Make Cucumber Juice
As you'll see below, there are many cucumber juice recipes you can make, but for classic cucumber juice all you need is one cucumber, one to two limes or lemons and one cup of water. Follow the instructions below.
1. Wash your cucumbers and limes/lemons
2. Cut off the ends of the cucumber
3. Cut the cucumber into 2" pieces
4. Zest then juice the lime/lemon
5. Blend the cucumber and lime/lemon with 1 cup of water using a blender, magic bullet or juicer
25 Cucumber Juice Recipes
1. Strawberry Apple Cucumber Juice | Eating Well
2. Celery Cucumber Green Juice | Clean Eating Kitchen
3. Lemon Mint Cucumber Juice | Feel Good Foodie
4. Refreshing Cucumber Lemonade | All Recipes
5. Kale Apple Cucumber Juice | Show Me The Yummy
6. Mean Green Cucumber Juice | Food Network
7. Ginger and Cucumber Juice | Cooking Channel TV
8. Cucumber Juice with Apple, Kale and Lemon | Good Nature
9. Watermelon Cucumber Juice | Food With Feeling
10. Spinach Cucumber Green Juice | Feasting Not Fasting
11. Cucumber Juice with Apple, Ginger and Celery | Sue's Nutrition Buzz
12. Classic Cucumber Juice | Yummy n Tasty
13. Chilled Cucumber and Orange Juice with Oregano | Epicurious
14. Watermelon Cucumber Lime Juice | Tasty
15. Blueberry Cucumber Juice | Omega Juicers
16. Spinach, Cucumber and Celery Juice | The Healthy Family and Home
17. Healthy Cucumber Juice | The Low Carb Muse
18. Carrot Cucumber Apple Juice | Brown Sugar and Vanilla
19. Raw Beetroot and Cucumber Detox Juice | Healing Holidays
20. Cucumber Pineapple Juice | The Feed Feed
21. Cucumber and Kiwi Juice | NDTV Food
22. Apple Carrot Cucumber Ginger Juice | Spark Recipes
23. Cucumber Basil Lime Juice | Goop
24. Orange Lime Cucumber Juice | Whitty Paleo
25. Pineapple, Apple and Cucumber Juice | Tarladalal
If you haven't tried cucumber juice yet, it's time to get to it. Seeing that it's so easy to make and has so many health benefits, it's sure to be a new favourite!