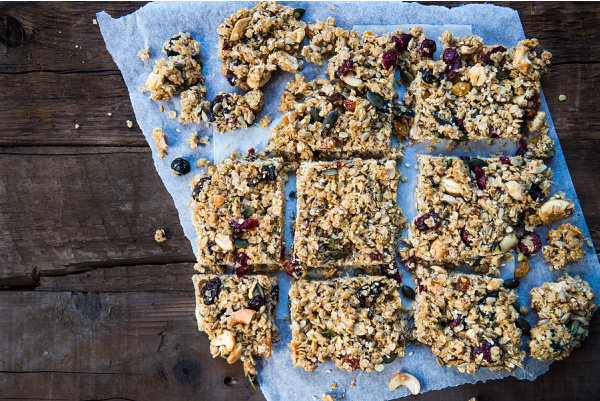 Flaxseeds may be tiny, but what they lack in size, they make up for in health benefits. Flaxseeds have a fairly mild, slightly nutty flavour that can be used in sweet and savoury dishes alike. They're packed with nutrients, good for your heart, and are known to improve your digestive health. Plus, if you're looking to lose weight, flaxseeds help control your appetite, filling you up and reducing feelings of hunger. With plenty of ways to add flaxseed to your diet, it's going to be your new favourite ingredient. Take a look at 30 flaxseed recipes for weight loss and why we're head over heels for this tiny, yet powerful seed.
5 Health Benefits of Flaxseeds
1. They're Chock Full of Nutrients
Flaxseeds are an excellent source of protein, fibre and omega-3 fatty acids, and are also rich in certain vitamins and minerals. They contain vitamin B 1 and 6, folate, calcium, iron, magnesium, phosphorus and potassium. They're a rich source of alpha-linolenic acid (ALA), a mostly plant based omega-3 acid linked to heart health benefits and a lower risk of stroke.
2. Improve Your Digestive Health
Flaxseeds contain both soluble and insoluble fibre, which together bulk up your stools and lead to more regular bowel movements. Soluble fibre increases the consistency of the contents in your intestine and slows down your digestion rate, while insoluble fibre allows more water to bind to the stools, which results in softer stools.
3. Lower Cholesterol Levels
The dietary fibres in flaxseeds can help lower cholesterol levels. The fibre seems to bind to bile salts and then is excreted by the body. To replenish the bile salts, cholesterol is pulled from your blood into your liver, lowering your blood levels of cholesterol. Flaxseeds also contain phytosterols, which have a similar structure to cholesterol, but prevent the absorption of cholesterol in the intestine.
4. Aids in Weight Loss
The soluble fibre in flaxseeds helps you feel full more quickly and for longer so you're less likely to overeat. Flaxseeds can reduce feelings of hunger and lower your overall appetite. Soluble fibre slows digestion in the stomach, which stimulates hormones that control appetite and provide feelings of fullness.
5, Lower Inflammation
The essential fatty acids found in flaxseeds, such as ALA and lignans, help to lower inflammation in the body. They're beneficial for those with arthritis, joint inflammation and certain skin conditions like eczema or psoriasis.
12 Ways to Eat Flaxseeds
1. Stir one tablespoon of ground flaxseeds into oatmeal, cereal and smoothies
2. Top your salads with ground flaxseeds
3. Add one tablespoon ground flaxseeds into tuna, chicken and egg salads
4. Combine flaxseed oil with dijon mustard and balsamic vinegar to make a dressing and drizzle onto your salads
5. Mix flaxseeds into your yogurt
6. Add ground flaxseeds to cookie, muffin, bread or other batters
7. Garnish soups with a tablespoon of ground flaxseeds
8. Add ground flaxseeds to casseroles, chilis and stews
9. Add whole flaxseeds to your overnight oats recipes
10. Substitute flaxseeds for eggs in baked goods
11. Add ground flaxseeds to your favourite nut butter recipe
12. Use it as a breadcrumb alternative, as both a coating and binding agent
Ground vs. Whole: What's Better?
Ground flaxseeds are typically preferred over whole because they're easier to digest. Whole flaxseeds have a tough outer hull that can pass through your system undigested, which means you won't be getting the full benefits. When eating the flaxseeds whole, you have to chew the seeds very well into order to get the omega-3 fatty acid benefit. Overall, it's best to eat grounded flaxseeds if you want to get the most benefits. You can purchase ground flaxseed or you can grind whole flaxseeds yourself at home.
How to Grind Flaxseeds
There are a number of ways to grind flaxseeds at home. You can grind flaxseeds by hand with a flax mill. Pour your flaxseeds into the wide opening at the top and hold the flax mill over a bowl or plate. Twist the top clockwise to grind the seeds. You can also try using a mortar and pestle to finely grind your flaxseeds.
You can also use a blender or food processor to grind flaxseeds. With either of these tools, add one cup of flaxseeds and blend for a few minutes, until the flaxseeds reach your desired consistency. A coffee grinder is a quick and efficient way to grind flaxseeds. Add whole seeds to the fill level of the coffee grinder and it should only take a few seconds for them to be ground. Just make sure to clean out your coffee grinder well before using it for the flaxseeds, so the taste of the seeds isn't affected.
30 Flaxseed Recipes for Weight Loss
1. Flax Date Bars | Jennifer's Kitchen
2. Low Carb Flax Mal Breakfast Pudding | Very Well Fit
3. Wild Blueberry, Mint and Flaxseed Smoothie | Skinny Ms.
4. Low Carb Flaxseed Meal Pancakes | Slender Kitchen
5. Flaxseed Cinnamon Bun Muffins | Healthful Pursuit
6. Mocha Flax Smoothie | Cooking Light
7. Red Lentil, Quinoa and Flaxseed Pilaf | Eating Well
8. Strawberry Banana Flax Smoothie | Super Healthy Kids
9. Flax and Blueberry Vanilla Overnight Oats | Pinch of Yum
10. Banana Date Flaxseed Bread | All Recipe
11. Chickpea and Flaxseed Homemade Pasta | Wholefully
12. Healthy Sweet Potato Casserole with Flaxseed | Eating Bird Food
13. Gluten-Free, Dairy-Free Flaxseed Muffins | Life After Wheat
14. Flaxseed Oatmeal Pancakes | Taste of Home
15. Soft Sandwich Bread with Flax | King Arthur Baking
16. Flax Egg Recipe | Minimalist Baker
17. 100% Flax Breakfast Cookies | Power Hungry
18. Garlic and Onion Flaxseed Crackers | Clean Green Simple
19. Easy Green Flaxseed Smoothie | Detoxinista
20. Spicy Thai Flaxseed Wraps | Full of Plants
21. Peanut Butter Flaxseed Cookies | Food
22. Flax Crackers | Fat for Weight Loss
23. Broccoli and Flaxseed Soup | Eat Smarter
24. Super Seed Nut Butter | Bakerita
25. No Bake Peanut Butter Oatmeal Energy Balls | All Recipes
26. Basil Flaxseed Pesto | Tickling Palates
27. Whole Wheat Spaghetti and Meatballs | My Recipes
28. Veggie Chicken Stew with Flaxseed | Dr.Oz
29. Basil Flax Salad Dressing | Jennifer's Kitchen
30. Homemade Peanut Butter with Flax and Coconut | Hungry Hobby
There's no reason why you shouldn't be adding flaxseeds to your daily diet. Try out these delicious, nutritious recipes and reap all the benefits they have to offer.