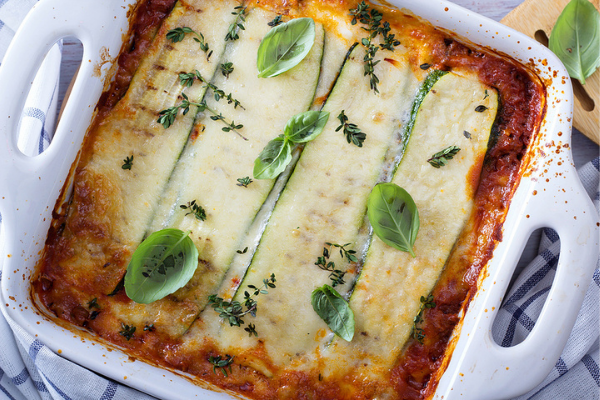 There's something about lasagna that instantly makes your mouth water. A luscious, creamy mix of ricotta, meat and sauce in between layers of noodles – it's a hearty, filling comfort meal that no one can resist. That being said, it's not exactly that healthiest meal on the menu. If you're a lasagna lover that's watching your weight but don't want to give up this comfort food classic, we've got the solution for you. With a few easy swaps and noodle alternatives, you'll be whipping up healthy lasagna recipes in no time!
5 Tips for Making Lasagna Recipes Healthier
1. Use Whole Wheat Pasta
Whole wheat lasagna noodles are a quick and easy swap to make your lasagna healthier. Replacing refined white pasta for whole wheat pasta is linked to health benefits such as lowering your risk of chronic diseases like heart disease, diabetes, cancers and more. It can also help improve your digestive health and lower your risk of obesity.
2. Or, Forgo Noodles Altogether
Another alternative to regular lasagna noodles is to forgo noodles altogether, replacing them with vegetables that can act as noodles. Vegetables are one of the healthiest things you can eat and contain nutrients that are vital to the health and maintenance of your body. When you replace lasagna noodles with veggies like eggplant or zucchini you skyrocket the nutritional value of your meal. Veggies contain vitamins, minerals and antioxidants that boost your health, so try to eat as many as possible.
3. Add More Veggies
If you don't sub your noodles for vegetables, another way to make lasagna healthier is to pack veggies around the noodles. Vegetables like spinach, kale, bell peppers, mushrooms, zucchini and carrots are all delicious in lasagna, and you can up the nutritiousness of this classic comfort dish by packing in more of these veggies. Start by adding 50% more veggies than what the recipe calls for and go up from there.
4. Use Cottage Cheese Instead of Ricotta
Ricotta is the cheese that's traditionally used in lasagna, but you can easily swap it with 1% cottage cheese to make your recipes healthier. This switch cuts down on total and saturated fat and adds a good dose of protein and calcium to your dish. Cottage cheese is also lower in calories and carbohydrates, and is thinner and less dense so won't feel as heavy in your stomach as ricotta does.
5. Swap Out the Beef
We've already sung the praises of vegetables, and while adding more veggies to your lasagna is great, you can also add only veggies and leave out the beef completely for a delicious vegetable lasagna. If you still want to include meat in your dish, opt for lean ground turkey instead of beef. Turkey contains less total fat and saturated fat than beef, and has fewer calories and more protein, so it's a great swap to make.
4 Lasagna Noodle Alternatives
1. Spaghetti Squash
Using a vegetable like spaghetti squash instead of noodles is the easiest way to make your lasagna recipes healthier and gluten free. Spaghetti squash has a mild, slightly sweet flavour and is brimming with nutrients. It's rich in antioxidants and helps support weight loss since it's low in calories and high in fibre. If you're watching your weight, it's a great lasagna noodle swap!
2. Eggplant
Eggplant lasagna is one of the most popular lasagna alternatives out there. Delicious, low carb and filling, eggplant is an excellent noodle swap. And since it has a "meaty" texture, it's ideal for a fully veggie lasagna that you want to have the same texture as meat. High in fibre, rich in nutrients and brimming with antioxidants, eggplant is a no-brainer for your noodle swap.
3. Zucchini
Zucchini is one of the most popular veggie subs for pasta and noodle dishes, and lasagna is no different. Zucchini noodles – or zoodles – are a great way to cut out the carbs in your lasagna and pack your meal full of nutrients. They're high in fibre and antioxidants and offer benefits such as heart health, weight loss and healthy digestion.
4. Portobello Mushrooms
The large mushroom caps of portobello mushrooms can function as the pasta in lasagna. Remove the mushroom gills by scraping them off gently with the side of a spoon, and discard them so only the caps are used. You can also make a play on lasagna by making lasagna-stuffed portobello mushrooms and place all of the ingredients (minus the noodles) inside the caps.
30 Healthy Lasagna Recipes for Weight Loss
1. Whole Wheat Roasted Veggie Lasagna | Pinch of Yum
2. Healthy Turkey Lasagna | Ambitious Kitchen
3. Low-Carb Eggplant Lasagna | Tasty
4. Butternut Squash and Spinach Lasagna | Cooking Light
5. Portobello Mushroom Stacked Lasagna | Vegetarian Times
6. Mom's Cottage Cheese Lasagna | Neighbour Food Blog
7. Healthy Beef Lasagna with Spinach and Basil | Healthy Seasonal Recipes
8. Chicken Sausage Lasagna | Eat This, Not That
9. Easy Vegetable Lasagna | Inspired Taste
10. Easy Keto Eggplant Lasagna | Wholesome Yum
11. No-Noodle Zucchini Lasagna | Healthy Recipes
12. Spaghetti Squash Lasagna | Well Plated
13. Vegetarian Spinach Pumpkin Lasagna | Ambitious Kitchen
14. Skinny Spinach Lasagna | Pinch of Yum
15. Tofu Zucchini Lasagna | Eating Bird Food
16. Spaghetti Squash Lasagna Bake | Minimalist Baker
17. Sweet Potato Lasagna | Delish
18. Skinny Skillet Lasagna | Life Made Sweeter
19. Lighter Whole Wheat Lasagna with Chicken Sausage | A Foodcentric Life
20. Zucchini Lattice Lasagna | Delish
21. Skinny Veggie Lasagna | Pinch of Yum
22. Vegetarian Mushroom Kale Lasagna Rolls | Skinny Taste
23. Whole Wheat Vegetarian Spinach Lasagna | The Spruce Eats
24. Veggie-Loaded Turkey Lasagna | The Natural Nurturer
25. Skinny Mushroom Spinach Lasagna | Little Spice Jar
26. Easy and Healthy Vegan Lasagna | Health My Lifestyle
27. Gluten Free Dairy Free Lasagna | Minimalist Baker
28. Vegetarian Lasagna with Kale, Ricotta and Leek | Olive Magazine
29. Roasted Vegetable Lasagna | Family Style Food
30. Cashew Cream Vegan Lasagna | Cookie and Kate
These lasagna recipes offer a healthy take on the comfort food classic. Use our tips and swaps to make healthy lasagna your entire household will love!