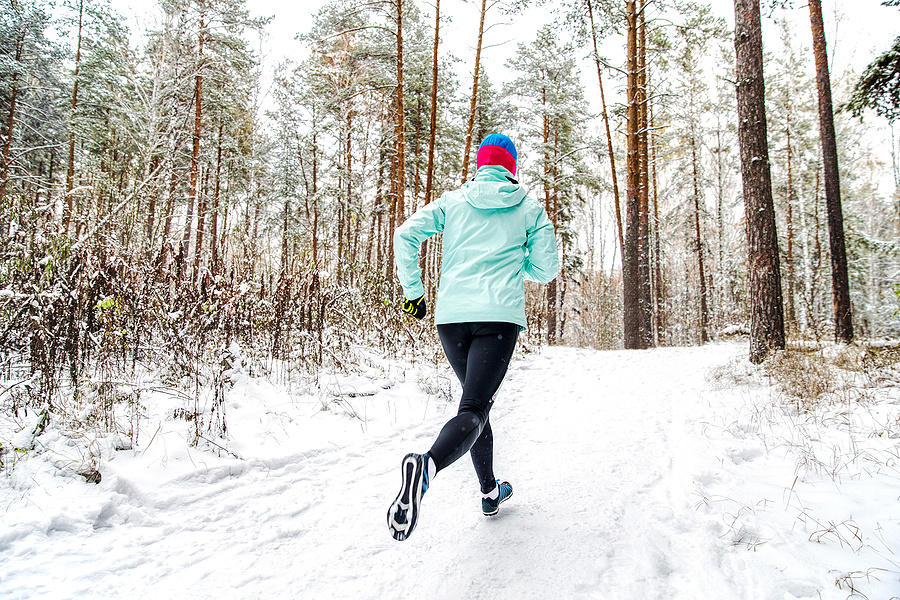 Whether you're completely new to running, or giving winter running a try for the first time, there are certain things you need to know before you hit the pavement. While running in the cold weather is actually easier since your body doesn't need to work extra hard to cool itself down, wearing the right gear, adjusting your route, and decreasing the intensity and length of your runs can all help you get the most out of your winter workout. Keep reading for our best cold weather running tips for beginners and beyond!
11 Cold Weather Running Tips for Beginners
1. ADD 10 TO 20 DEGREES TO THE TEMPERATURE
One of the most important cold weather running tips is to ensure you are dressing for the right temperature. You want to be warm enough for the weather, but not too warm as this will cause you to sweat and get a chill. Most professional runners recommend adding 10 to 20 degrees to the outside temperature at the time of your run, and dress according to that number. You will likely feel cooler at the beginning of your run, but will quickly warm up as your heart rate increases. Remember to take the windchill into consideration when calculating what temperature to dress for.
2. DRESS IN LAYERS
When exercising outdoors, dressing in layers really is key. Start with compression gear as your base layer to keep your torso warm and dry. Compression gear is thin enough that you can easily add layers overtop without compromising your mobility. Choose sweat-wicking fabrics to ensure your body remains as dry as possible so you don't soak through your clothes as you sweat and end up with a chill.
Your next layer of clothing should be insulating for heat regulation. The thickness of this layer will depend on how cold the weather is. Fleece is perfect for cold weather conditions, and zip-ups are a great option if you are prone to overheating as it gives you the option of unzipping and allowing in a little air.
You will also want to add a layer of clothing to protect your body from the elements, such as wind, rain, and snow, and may opt to add a jacket overtop of this for added protection. Soft-shell jackets can help protect against harsh wind, but as they aren't waterproof, a hard-shell jacket is best when running in more severe types of weather like rain, sleet, or snow.
You may also consider adding an extra layer for your warmup that you can remove partway through your run as you body temperature increases. Some runners find this too cumbersome, but if the weather is particularly cold and/or you're very sensitive to winter weather, this may help keep you comfortable and motivated to run outside in the cold weather months.
3. CHOOSE THE RIGHT SHOES
If you're searching for cold weather running tips, another important thing to consider is your running shoes. Avoid mesh shoes, and choose runners made out of water-resistant fabrics instead. Grip is also important, especially if you are running somewhere that is slick and icy. For added protection, you can purchase traction cleats to attach to your running shoes for added traction.
4. KEEP YOUR FEET WARM AND DRY
In addition to choosing a pair of running shoes that is waterproof and has enough grip, choose a pair of warm, sweat-wicking socks (smartwool socks are a great option) to keep your feet dry and insulated. There are various other cold weather running tips and hacks people use to keep their feet warm and dry, but each come with their own set of pros and cons. For example, some runners put a layer of newspaper in their shoes as an added layer of insulation. This works well in dry conditions, but can make your feet extra wet and cold in rainy and snowy conditions. Plastic bags and plastic wrap can also be used to keep your feet dry when running in wet conditions, but since plastic isn't breathable, this can make your feet sweaty and wet, which isn't ideal for winter running. You can also tape a plastic bag over your shoes to keep water out, but this can interfere with the grip on the bottom of your shoes.
5. DON'T FORGET YOUR HEAD AND HANDS!
This may go without saying, but make sure to put on a hat and gloves before heading out for a run in the cold weather. Choose a hat made of sweat-wicking material that will cover your ears, and if you need to operate your phone while you're out for a run, a pair of winter knit touchscreen gloves are a great option.
6. WEAR A HEADLAMP AND REFLECTORS
If you're running when it's dark outside, make sure you're wearing some sort of reflective gear so you are visible to drivers, cyclists, and anyone else who make cross your path while you're pounding the pavement. A headlamp is also important as it will enable you to see uneven terrain, patches of snow and ice, etc. so you can make a detour to avoid hurting yourself. Too self-conscious to wear a headlamp? No worries! This beanie comes with a headlamp built into it!
7. COVER YOUR MOUTH
Breathing in cold, dry air can be tough on your mucous membranes and respiratory tract. To avoid irritation and prevent yourself from getting sick, wear a breathable face mask or pull your neck warmer up over your mouth and nose to ensure the air you are breathing is both warm and moist.
8. INCREASE YOUR WARM UP, DECREASE YOUR COOL DOWN
Another important thing to consider if you're looking for cold weather running tips is to adjust your warm-up and cool-down routine. While we tend to focus more on our cool-down in the hot weather months, you want to do the opposite if you are running outdoors when it's cold outside. Increase your warm up to avoid muscle strain and cramps, and shorten your cool-down so you don't get a chill. If you need to stretch after your run, make sure to do this inside after you've changed out of your wet clothing.
9. STICK TO SHORTER, MAINTENANCE-FOCUSED RUNS
Running too fast and/or for too long in the cold weather can increase your chances of upper respiratory and/or bronchial infections. Try to keep your runs under 60 minutes, and adjust your training schedule to focus on maintenance versus speed work during the winter months.
10. ADJUST FOR WINDY CONDITIONS
Running in windy weather can be challenging anytime of year, but it can be particularly unpleasant in the cold winter months. While you may be tempted to start your run with the wind at your back, this can actually backfire on you. This causes your body to heat up too quickly, which will make the second part of your run extra cold and miserable since you will be running into the windy while you are hot and sweaty. A much better strategy is to start your run facing the wind.
11. CHANGE OUT OF WET GEAR PRONTO
The final item on my list of cold weather running tips for beginners is to change out of your wet running gear ASAP when your ride is finished. If changing isn't feasible because you aren't going straight home, put on a warm layer (including a beanie) and drink something warm to prevent your body temperature from dropping too quickly.
I hope this collection of cold weather running tips and hacks inspires you to take your fitness outside this winter, and helps you remain warm and comfortable when you hit the pavement.