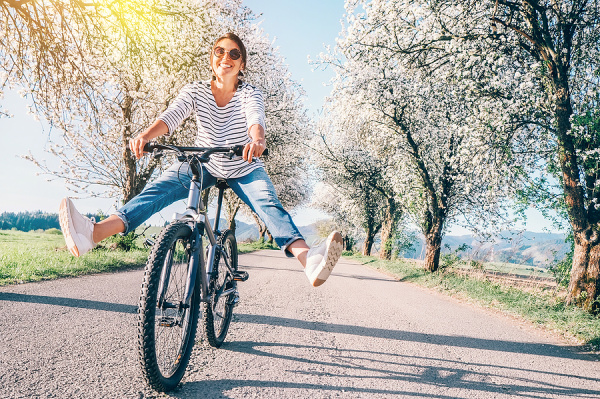 If you're looking for 30-day spring challenge ideas, we've got you covered!
While many people like to set big, lofty goals for themselves on January 1st, research suggests that most lose interest within a few months. This can be the result of so many different factors, such as setting unrealistic goals, not having a proper plan of action in place, or trying to make too many changes at one time. We often underestimate the time and commitment big goals require, and become so black and white in our thinking that we throw in the towel as soon as we get off track.
Does this mean we should stop setting goals for ourselves?
NO!
But perhaps we'd be more successful if we stuck with smaller, short-term goals that pave the way to the bigger things we want out of life.
30-day challenges offer the perfect way to to this, and since most of us find ourselves in a funk by the time spring hits, now is the perfect time to start! I've always viewed March and April as transition months. It's a great time to clear the cobwebs, check in with the goals you set at the beginning of the year, and get yourself back on track.
If you're looking for 30-day spring challenge ideas to try, I hope this post inspires you!
What Are 30-Day Challenges?
As the name implies, a 30-day challenge involves adopting one new habit for a period of 30 days. It's a great way to try something new for a specific period of time, and since you're only committing to the new habit for one month, it's a lot easier to stay motivated. Adopting new habits can be challenging, but sticking to one habit at a time and imposing a 30-day limit helps keep things manageable while also keeping your motivation up. 30-day challenges offer a great way to get yourself 'unstuck', and are becoming very popular for health, fitness, and self-improvement.
How to Stick with a 30-Day Challenge
Before you commit to one of these 30-day spring challenge ideas, there are certain things to consider to ensure you will actually stick with your goal for a full 30 days.
1. Be realistic
A 30-day challenge should be tough without feeling too overwhelming. For example, if you live a very sedentary lifestyle and want to commit to 30 days of physical activity, consider setting a goal of moving your body for 30 minutes every day instead of running 5K every day for 30 days. This will allow you to experiment with different types of movement so you can find the things you enjoy most while also allowing your body to adjust, making it more likely that you will stick with it for the long haul.
2. Make it manageable
When we make personal goals for ourselves, many of us have a tendency of taking things to the extreme, particularly when it comes to setting goals around weight loss and fitness. While it can be exciting and admirable to take on huge goals, you need to take into consideration things like your current physical state, how much time you have available each day, and the need to give your body time to rest and recover between workouts.
3. Only focus on ONE change at a time
As tempting as it is to adopt multiple new habits in one go, a lot of research suggests that the only way to lasting change is to focus on ONE new habit at a time. This allows you to give 100% of your effort, making it less likely that you'll fall off the wagon and quit. The beauty of the 30-day spring challenge ideas below is that you can switch gears every 30 days, allowing you tackle multiple habits for the remainder of the year!
4. Replace bad habits with new ones
If you're cutting bad habits out of your life, you will be much more successful if you find a healthy replacement to fill the void. For example, if you're giving up alcohol for 30 days, you may find it helpful to replace your nightly glass of wine with a mug of herbal tea.
5. Act now
While it can be tempting to wait until a new month (or a new year) to commit to 30-day challenges, that way of thinking can actually be quite limiting. If you feel stuck, you will be much more motivated to make changes if you act NOW. Don't allow a silly date to hold you back!
Thirty 30-Day Spring Challenge Ideas to Try
1. Start a daily gratitude practice
2. Cook a new dish
3. Give up one food or beverage you tend to overindulge in
4. Drink 8 glasses of water
5. Get 8 hours of sleep
6. Commit to a daily fitness challenge
7. Turn off all electronics 30 minutes before you go to bed
8. Organize one drawer, cupboard, or closet everyday
9. Take one photo a day
10. Walk 10,000 steps
11. Read one chapter/listen to one podcast
12. FaceTime a loved one
13. Wear an outfit that makes you feel confident
14. Watch the sun rise and/or set
15. Take a nap
16. Bake something new
17. Write down one thing you love about yourself
18. Practice mindful eating
19. Commit to 30 minutes of self-care
20. Give someone a compliment
21. Spend time outside
22. Move your body for 30 minutes
23. Put on makeup
24. Style your hair
25. Perform one random act of kindness
26. Give up your bathroom scale for 30 days
27. Stop complaining
28. Spend time on your hobby
29. Stop watching TV
30. End your day with 30 minutes of meditation
I hope this collection of 30-day spring challenge ideas inspires you to adopt new habits for lasting change!