Illustration by: Kirra Bento
Shorts and a college T-shirt have been my sleep uniform for about 10 years now. While I've gotten used to this comfy attire as my go-to look, I recently started to wonder if it was time to switch things up. I've worn lingerie in the past if I was feeling cheeky or for special occasions, but I wanted to know what it would be like for both me and my partner if I incorporated it more into my daily life.
Night 1: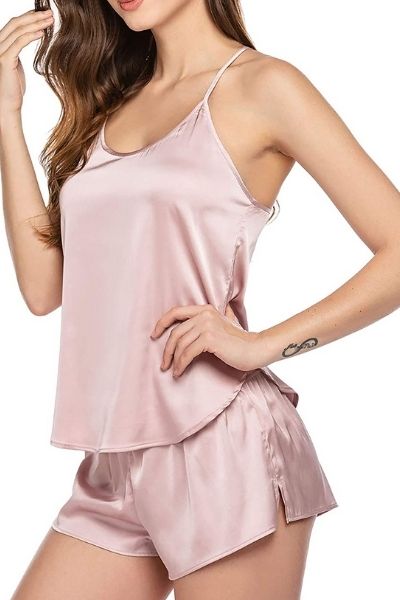 Amazon
Satin Sleep Shorts Set
Shop it now
I was most excited to add this set to my cart because I'd never owned silky pajamas or undergarments before (with the exception of a very classy pair of monkey print pajamas from Limited Too in the early 2000s). In my mind, this is what someone who really has their life together wears, and I was eager to put it on.
I'll admit, I was a little apprehensive at first, wondering if I'd even feel comfortable wearing a fabric like this. But as I lounged on the couch with my boyfriend that night, I felt feminine and confident, which was a fun change of pace. I was definitely feeling myself in this set and was eager to share those positive vibes with my love.
We often have sex in the morning, and the next day was no exception. But instead of feeling unattractive like I usually do in a ratty T-shirt, I felt sexy (even with morning breath and pimple cream on my face) and ready to get intimate with my boyfriend as soon as I woke up. It usually takes some time and foreplay to wake me up in the morning, but wearing lingerie to bed helped me wake up in the mood.
My boyfriend mentioned that I seemed the most comfortable in this set, which is why he found it so sexy on me. This observation made me feel confident and reassured that I can focus on feeling good in my own body and clothing, and in turn, my partner will feel good too.
Night 2: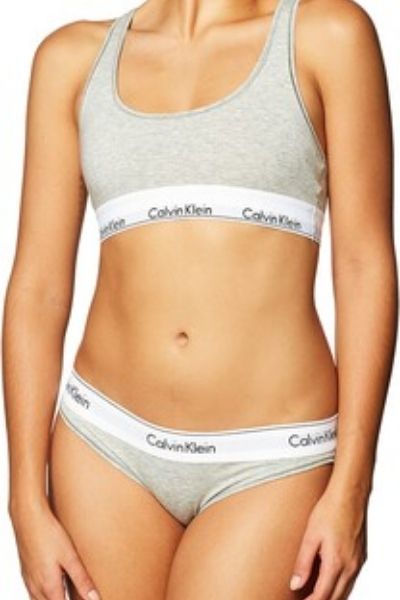 Calvin Klein
Bralette and Bikini Set
Shop it now
For reasons I don't fully understand, my boyfriend agrees with Drake's age-old saying that "sweatpants, hair tied, chillin' with no makeup on" is attractive. With that in mind, I thought he might enjoy the look of a casual, sporty bra and underwear set. I'm also a fan of Calvin Klein bralettes, so even if it wasn't his favorite, I knew I'd get plenty of use out of it.
What I didn't take into account, however, is that I'd only worn these bras for workouts or athleisure, not to sleep in. I slept terribly in this set, partially because of the tight elastic but mostly because I hate sleeping naked, and this felt pretty close.
Despite sleeping uncomfortably, I felt confident and sexy in this lingerie. It accentuated my athletic, curvy build and reminded me how much I like those aspects of my body. We didn't end up having sex while I was wearing this, but the confidence I was feeling lasted throughout the day and was a great form of self-love for me.
Night 3: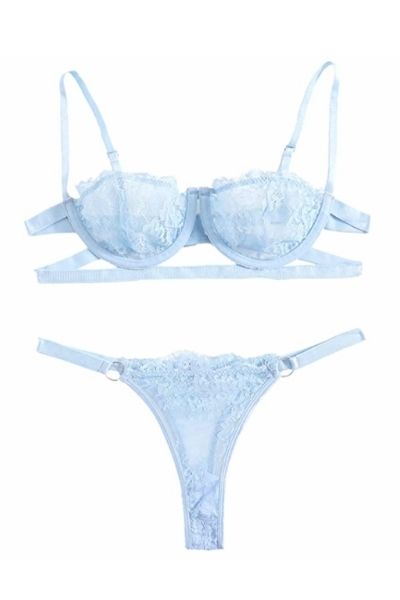 Amazon
Lace Bra and Panty Set
Shop it now
As someone who mainly dresses in neutral colors, I used this shopping spree as an excuse to try out some new hues. I was drawn to this blue lace set because it was outside of my comfort zone, and I thought my boyfriend would like to see me in a color I don't often wear.
I had high hopes for this set because it seemed like a perfect mix of sophistication and sex appeal for my personality, but it didn't last long, and not just because things got intimate. The set was poorly made and didn't fit well, which made me feel more uncomfortable than irresistible, and after having trouble sleeping in a bra and underwear the night before, I quickly abandoned this set for my usual shorts and T-shirt (and boy, did it feel good).
My partner's eyes lit up when he first saw this small, lacy number. I think he enjoyed seeing me in something so different from what I usually wear, but this sexier look didn't necessarily affect our sex life. We were intimate the day I wore this set, but it wasn't due to the extra straps and sheer material. In fact, he wanted me to take it off so that I could get comfortable for us to have sex that we both would enjoy. He knew I'd feel self-conscious in an ill-fitting garment and wanted me to focus more on the moment between the two of us rather than trying to impress him with an outfit.
Night 4: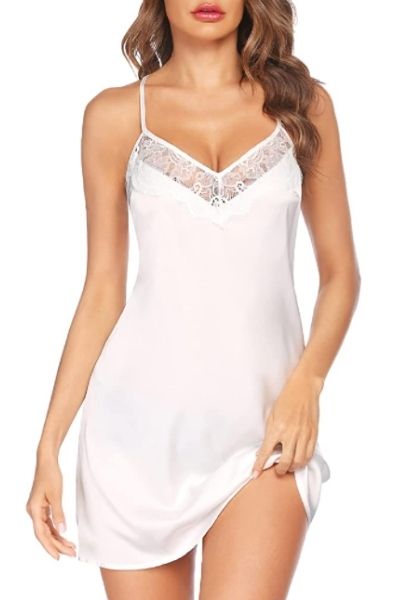 Amazon
Satin Nightgown
Shop it now
It drives my boyfriend wild when I wear dresses, so I knew I had to try out a slip-on nightie. I was also curious if I'd feel comfortable sleeping in a dress since I'm used to wearing a more full-coverage bottom.
This outfit was my least favorite of the week. I was grumpy from sleeping so poorly while wearing this ill-fitting nightgown and felt far from sexy. It clung to my body in all the wrong places and made me feel like I was wearing a costume rather than lingerie. I was so focused on how uncomfortable I was that I wasn't interested in having sex this day.
Maybe it's because we'd recently watched a horror movie, but my boyfriend's feedback was that this looked like a haunted nightgown. And, honestly, he wasn't wrong. Between this nightgown making me feel uncomfortable and giving my boyfriend flashbacks to The Others, neither one of us felt particularly turned on by this look. This reminded me of the importance of feeling like myself no matter what I'm wearing. If I'm not feeling comfortable, I can't put myself out there to get intimate with my partner.
Night 5: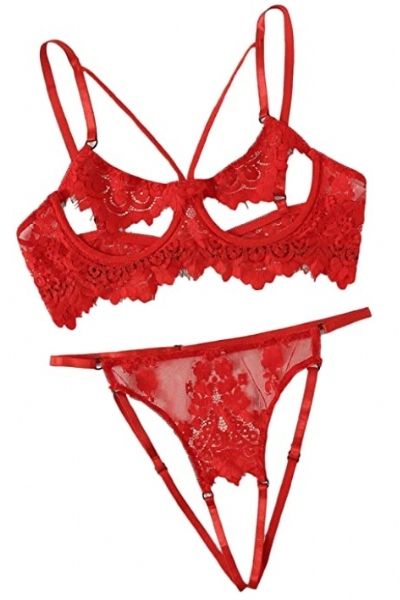 Amazon
Lace Lingerie Set
Shop it now
I'd be lying if I said I didn't save this one for last on purpose. I knew it was what my boyfriend pictured when I told him I wanted to try out some new lingerie. Earlier in the week, he coyly asked if he could expect to see something similar, so I was excited to see his reaction.
I was also excited to see how I looked in it. I've worked hard to embrace my body, so I was eager to know how it felt to wear a garment like this. This set looked like it was made for my body and I liked how it hugged my curves, but I just didn't feel like myself in it. I felt like I was trying too hard to be what is commonly viewed as "sexy," which made me feel the farthest thing from it. And while the discomfort I felt when wearing this was more mental than physical, there was still no way I'd be able to sleep in this.
My boyfriend echoed these thoughts. He agreed that the pieces fit me well and looked good on me (so much so that he insisted on snapping a few pics), but he shared that he finds me the sexiest when I'm being 100 percent myself.
This set was the most different from anything I've ever worn (or probably ever will wear again), so we were interested in taking it for a spin. After a few moments of trying to force things to work while I wore both pieces, we realized it was more trouble than it was worth. It was also mildly distracting. We both seemed to be more focused on the construction and lack of practicality of the garment than we were on each other.
Final Thoughts:
I was surprised by what I learned during these five days. I assumed that I'd feel sexiest in skimpy lingerie, but I ended up feeling my sexiest when I was the most covered up, and my partner echoed these sentiments. I thought he'd want me the most when I was barely dressed, but we both learned that authenticity and comfort are sexier than the amount of skin showing, and we ended up having better sex when we both felt comfortable.
I also felt a lot of pressure to perform while wearing lingerie. I almost felt like I'd let my partner and myself down if we didn't have mind-blowing sex while I was wearing something provocative. What I enjoy most about being with my boyfriend is feeling like I can be myself with him, especially when we're intimate, and when I wasn't comfortable in certain clothing, I didn't feel like myself.
I might incorporate more sexy-yet-comfortable pieces into my nighttime wardrobe, especially on nights I want to spice things up or feel a little fancy. But lucky for me and my beloved oversized T-shirts, my boyfriend and I feel just as attracted to each other whether I have on my classic PJs or my new comfy lingerie.