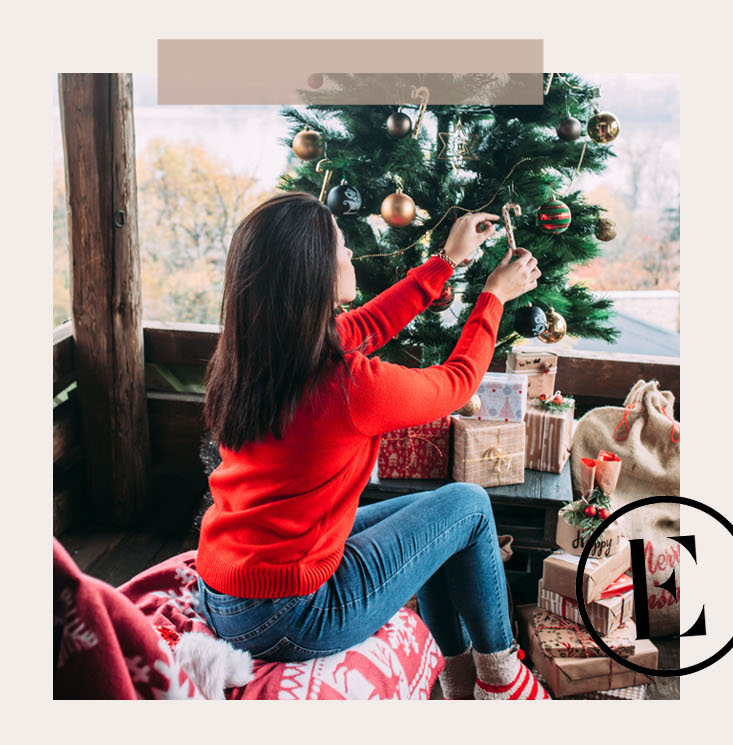 While this time of year is traditionally full of opportunities for celebration, there are many for whom the holidays can be an isolating and difficult season to get through. With the year that we've had, it's also likely that for some, this is their first holiday season alone. And while spending time with ourselves is a great way to explore and invite growth into our lives, it can be particularly challenging to find the positive in being by yourself during a time of year when we're expected to feel nothing but happy holiday joy.
1. Check in
Reaching out is a great place to start. Be sure to ask before you assume how they're responding to being on their own for the holidays. It's possible that they're looking forward to not having to endure a long family meal, and of course it's also possible that they're heartbroken over not being able to go home or gather with loved ones. By checking in, you're inviting your friend to share their truth, and you're offering them the space to be heard.
This is also a great time to provide additional outlets for your friend if they need extra support. Maybe that's encouraging them to connect with their therapist or schedule a phone or Zoom call with their family. Listen as they voice their needs, and respond with resources that can further support them.
2. Support their rest
Many of us have at least a couple days off from work around the holidays, and 2020 plus a busy season means everyone is in need of more than a little rest. Curate a line-up of their favorite holiday episodes, send them a roundup of books they'll love, or put together a soothing playlist of songs that will put them at ease. Not only are you sharing tools and resources that will help them unwind, but you're also letting them know that their health and well-being is important to you.
3. Marathon your favorite holiday movies
I've waxed poetic about The Holiday being my favorite Christmas movie more times than I can count. And while a Nancy Meyers script combined with scenes of a picture-perfect English village is enough to make me happily burrow away for several days without human contact, there's really nothing better than watching your favorite holiday movies with friends. Whether that's telepartying on Netflix or FaceTiming while you watch Happiest Season, there are plenty of ways you can still connect over the beautifully-cheesy films we can't get enough of during this time of year.
Pull on your coziest PJs, mix up a batch of your favorite holiday-themed snack (I'm going for Muddy Buddies), and get ready for hours-long texting convos about whether or not The Princess Switch or The Princess Switch: Switched Again is the superior Vanessa Hudgens performance (we're awaiting your honest thoughts!).
4. Dream together
Next time you're chatting with your friend, let your focus shift to the future for a bit, and share how good it'll feel when you can get together, go for dinner, or even just see each other from closer than six feet again. While a disheartening news spiral can make us all feel a little hopeless at times, it's important to remember that it won't always be this way. Dreaming up possibilities for a future trip to Europe together can brighten up any challenging day, and the only thing that's better than travel planning is taking the vacation itself.
5. Drop off a basket filled with their favorites
There's a reason sharing gift baskets with new neighbors was once a staple of every guide to etiquette. Putting together a collection of your friend's favorite things—snacks, baked goods, the cedar-scented candle they can't get enough of—and dropping it off on their front step is a thoughtful surprise anyone would be happy to receive. You can even pack your friend dinner plus a bottle of wine or pair store-bought jam with an assortment of homemade baked goods. Whatever it is you think they'll look forward to the most, fill the basket with that.
6. See the lights
Pack up your holiday beverage of choice (I'm pouring peppermint hot cocoa), and set out in your respective cars to find the prettiest holiday lights. A quick Google search for holiday light displays in your city will likely turn up helpful results, and you can always ask around for recommendations from those in the know. When you get to your destination, bundle up, walk around, and get ready to ooh and aah at all the winter wonderlands you find.
7. Go virtual, but challenge yourselves to get creative
With months of Zoom-only interactions behind us, Zoom fatigue is very real. But it's also possible that it's the way that we're interacting virtually that's contributing to the drain. Virtual happy hours were fun for about a minute, but it's time that we branch out and find all the many amazing classes, performances, exhibitions, and more that we have access to now that we're all online. DIY a winter wreath, tune in for a virtual performance, cue up an online workout, or learn how to create gorgeous lettering like an artist. Whatever you decide to do, it'll be an opportunity for you to connect, grow, and learn something new together.
8. Go for a socially-distant walk
Walks are the real MVP of quarantine, and if you live in the same city, send a text to see if your friend wants to go for one together. Not only are endorphins, sunshine, and connection a game-changing combo for your mental space, but you'll also get the opportunity to catch up in-person, even if from behind a mask.
9. Volunteer together
Whether you're spending the holidays alone or not, giving back can raise anyone's spirits and reminds us of all we have to contribute. See what opportunities are available right now in your community or go online for ideas. Connect with an organization that's distributing hand-written letters to senior facilities or gather up donations to bring to your local food bank. Any option you choose will have the same effect: Boosted empathy and a reminder of what this season is really all about.
10. Send a little "thinking of you"
What are the things about your friend for which you're the most grateful? Maybe it's their vulnerability, their strength, or their kindness. Maybe it's their ever-expanding imagination that keeps you inspired. Make a list of all the things you love and appreciate about them. Write your list in a card and drop the little love note in the mail.
Whether that's a DM, text, or a small note in the mail, it's a simple gesture that can have an amazing impact. Sometimes the simplest things matter most.