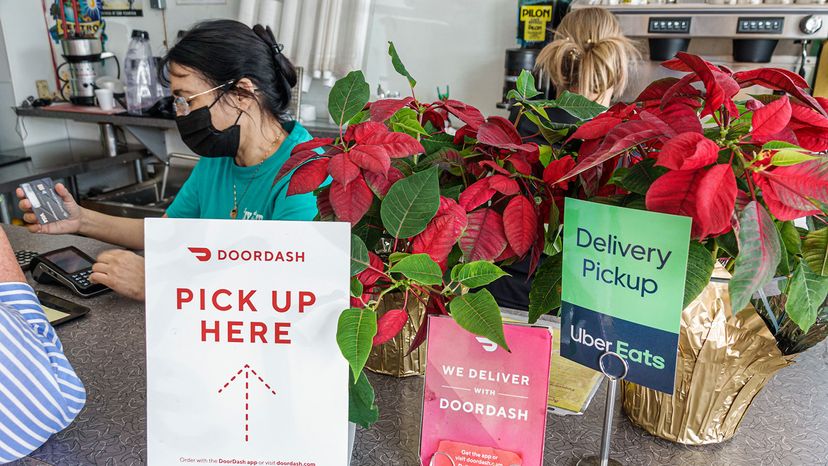 "A Miami restaurant cashier checks out a customer amid a counter with signs for food delivery services DoorDash and Uber Eats. Jeffrey Greenberg/Universal Images Group via Getty Images
During the height of the COVID pandemic, when in-person dining was shut down in most states, both restaurants and consumers turned to food delivery apps as a lifeline. Apps like DoorDash and Uber Eats exploded in popularity. From January through September 2020, DoorDash alone recorded 543 million orders compared to just 181 million orders during the same period in 2019, The New York Times reported.
For restaurants, the popularity and convenience of food delivery apps provided a much-needed revenue source to keep the lights on until the lockdown orders were lifted. For workers who lost jobs during the shutdown, and students who were sent home from college, a part-time job as a food delivery driver was seen as a flexible way to earn some extra cash.
But now that the pandemic is (fingers crossed) behind us and restaurants are fully open in most American cities, there are lots of folks — including economists, investors and workers' rights advocates — who are questioning the viability and ethics of the food delivery business model.
Consumers are hooked on the convenience of food delivery to the tune of hundreds of millions of meals being delivered each year. But is anybody in the food delivery business — from restaurants to drivers to the app companies themselves — actually making money from this?
Wildly Popular, DoorDash and Uber Eats Still Aren't Profitable
Before the pandemic, food delivery apps like DoorDash and Uber Eats were niche services that were mostly popular in big cities. But during the lockdown (and after), the two apps were downloaded by the millions, and delivery service expanded into suburbia. DoorDash and Uber Eats now control 85 percent of the U.S. food delivery market, the Wall Street Journal reported.
Both of these apps earned staggering amounts of money in 2020 and 2021. Uber Eats clocked $4.8 billion in revenue in 2020, a 152-percent increase over 2019. DoorDash's revenue jumped 268 percent from 2019 to 2020 and the delivery app continues to generate $1.28 billion in quarterly earnings in 2021.
Which is why it's so shocking to learn that neither of these companies has turned a profit.
The reason, explains Daniel McCarthy, a marketing professor at Emory University's Goizueta School of Business, is that delivery apps only pocket a small slice of the cost of each food order. And up to this point, apps like DoorDash and Uber Eats have been spending a lot more on advertising their services and improving their technology than they've been earning from food deliveries.
"Essentially, the reason that DoorDash and Uber Eats have continued to lose money is because they make very little incremental profit when those food orders are placed," says McCarthy.
The delivery apps make money by charging restaurants a commission for each order placed through the app. The standard commission is 30 percent (though DoorDash also has introduced a tiered commission structure). The apps also charge a smaller service fee to the customer.
According to an analysis by Deutsche Bank, the average DoorDash order was worth $36 during the pandemic. If DoorDash pocketed 30 percent, the company earned $10.80 plus another $2 or so for the service fee. That might sound like a lot per order — especially when it's multiplied by hundreds of millions of orders — but that $12.80 is gross revenue. You still have to subtract the costs of doing business.
The biggest expense for apps like DoorDash and Uber Eats is paying the drivers. Next are advertising and marketing costs, including those "Free $25" promotional campaigns to attract new customers. And then there are returns and refunds, which really eat into the bottom line.
When all those costs are taken into account, Deutsche Bank calculated that DoorDash was left with net earnings of 2.5 percent of the customer's overall bill or 90 cents for every $36 order. McKinsey ran its own analysis and came up with a similar number for DoorDash's take home pay: 3 percent or $1.20 on the average order.
So far, that slim margin hasn't been enough to propel DoorDash or Uber Eats into profitability even as they take in billions in revenue.
Delivery Apps 'A Terrible Deal' for Restaurants
Phillip Foss is a chef and owner of two Chicago restaurants, the Michelin-starred EL Ideas and a casual barbecue joint called Boxcar BBQ. When the pandemic hit and in-person dining was shut down, Foss and his staff scrambled to offer curbside pickup and delivery.
For a while, apps like DoorDash and Uber Eats seemed like a godsend, allowing restaurants like Foss's to eke out some earnings until customers were allowed back. But even when in-person dining re-opened, many consumers remained hooked on the convenience of opening an app and having delicious food delivered right to their doors.
The continued popularity of food delivery apps has become a big problem for restaurants.
"Delivery apps are destroying restaurants, from mom-and-pop places to chefs with Michelin stars," wrote Foss in Eater in January 2021. "They're a terrible deal."
Foss's complaint came down to simple economics. If customers choose delivery over in-person dining, restaurants lose way too much money to the commissions charged by DoorDash and Uber Eats. Even when the apps' commission was capped by lawmakers at 20 percent or 15 percent during the pandemic, it still left restaurants struggling to turn a profit on each order.
Foss used the example of a $30 delivery order of smoked ribs, sides and a dessert from his restaurant Boxcar BBQ. Even with the commission capped at 15 percent in Chicago, that took $4.50 off the top. When he calculated the food and labor costs (60 percent of the bill) plus "occupancy costs" like rent, utilities and waste removal (20 percent of the bill), Foss was left with 5 percent profit, or $1.50 on a $30 sale.
Foss understands the attraction of food delivery apps for both customers and restaurant owners, but the economics are unsustainable, especially if the apps go back to charging pre-pandemic commissions of 30 percent. "The restaurant industry has been cannibalizing itself by joining delivery services like Grubhub, DoorDash and Uber Eats," wrote Foss.
Delivery Drivers Don't Make Much Either
Mike Hayes worked as a chef for 17 years before he was laid off in March 2020 at the start of the pandemic. Like a lot of people, he started driving for DoorDash, attracted by the flexibility of the working hours and DoorDash's claim that drivers earned an average of $25 an hour.
But Hayes' experience was different, as he explained to Business Insider in March 2021. Based in Portland, Oregon, a hotspot for food delivery, Hayes logged 45 hours a week driving full time for DoorDash. His earnings ranged from a "good week" in which he made $800 ($17.77 an hour) to a "bad week" in which he made just $200 ($4.44 an hour).
According to the website Ridesharing Driver, Hayes' experience as a full-time DoorDash driver (or "Dasher" in company lingo) is typical. There are occasional "unicorn" orders that generate a big payoff, but there are also plenty of 10-mile trips and long waits at the restaurant for a $3 score. The average pay, the website said, was $15 an hour.
Dashers make money in two ways. The app guarantees them a "base pay" for each delivery based on the total cost of the order. On top of base pay, Dashers also make money on customer tips. The more orders you complete in an hour, and the bigger those individual orders (and tips), the more money you make.
"An Uber Eats courier travels on a bicycle in Warsaw, Poland Oct. 23, 2020. Jaap Arriens/NurPhoto via Getty Images
While delivery app drivers can improve their earning potential by working during peak hours (lunch and dinner rush) in geographic hotspots, there are still plenty of variables that are out of their control. A restaurant can get busy, forcing the driver to spend an hour on a small order. People can be cheap with their tips. Gas prices can go up. All of that eats into the driver's earnings.
Driving for companies like DoorDash and Uber Eats might make sense as a part-time gig for college students or retirees, but it's hard to make a living doing it full time. And since app companies consider drivers "contractors" and not employees, they don't offer benefits like health insurance, retirement savings accounts or workers compensation.
Is the Delivery App Business Model Unsustainable?
From restaurants to drivers to the app companies themselves, the math of food delivery doesn't seem to add up. When the "pie" of a $36 order is divided among those three entities, all of them leave the table hungry.
Is there a way to make food delivery profitable? Matt Maloney doesn't think so, and he should know — he's the CEO of Grubhub, formerly the biggest name in the food delivery business.
"[Food delivery] is and always will be a crummy business," Maloney told the Wall Street Journal in May 2021. He said that no amount of technological upgrades or logistical tweaks will make food delivery profitable, which is why Grubhub pivoted to becoming an online marketing partner for restaurants instead.
McCarthy at Emory isn't as down on delivery apps. His research specialty is measuring consumer engagement with products and services, and the data from companies like DoorDash and Uber Eats shows that app users are addicted to delivery.
"That's the one very favorable dynamic going on for the category as a whole," says McCarthy. "When people start to use a delivery app, they tend to use it more and more over time. The apps start consuming more and more of their food budget."
One way for everyone to make more money in food delivery, McCarthy says, is simply to charge consumers more for the convenience. That's what Chipotle is doing. In 2020, the popular Mexican food chain sold nearly half of all food orders via delivery, up from 11 percent in 2019. To recoup the cost of commissions, Chipotle now charges 17 percent more for delivery compared to in-store purchases.
Companies like DoorDash and Uber Eats have another ploy for increasing profitability, which is to expand into other delivery sectors like groceries, drug stores and alcohol. DoorDash drivers are already fulfilling deliveries for big box stores like Walmart and Petco.
"I think this is the real key to unlocking the potential profitability of the model," says McCarthy. "You can have the same driver fulfilling many orders on the same run without having to wait."
Uber Eats is also capitalizing on its double identity as a ride-sharing app. A new feature on the Uber app allows riders to order and pick up a meal during their drive, or to have a meal delivered to their destination.
Now That's Odd
App companies carefully track failed deliveries and missing orders. Prior to the pandemic, the food item forgotten the most on DoorDash was cheesecake from the Cheesecake Factory. At the restaurant, baggers kept the cold cheesecake separate from hot items, but then forgot to hand it to the delivery driver.