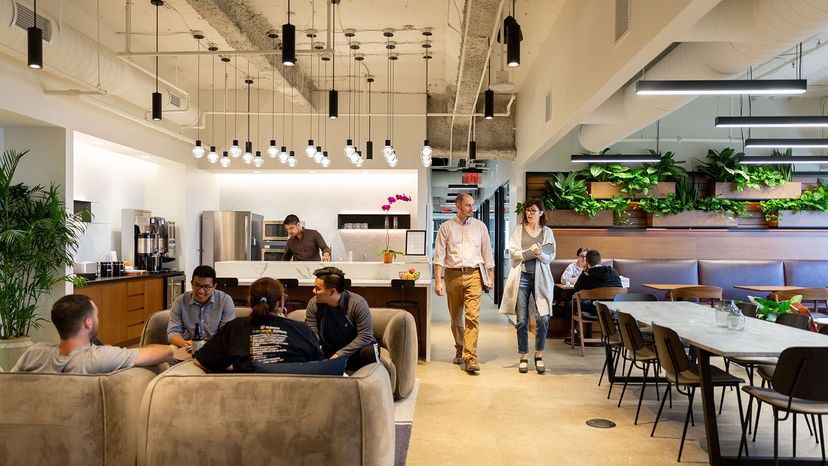 "Coworking spaces can be found all over the world, like this one from Industrious in West Hollywood. Industrious started in 2013 and has been growing rapidly. Industrious
Back in 2007, there were a grand total of 14 coworking spaces worldwide. It was the early days of the gig economy, when freelancers and other independent workers were just figuring out that working from home wasn't all it's cracked up to be. Looking for someplace other than Starbucks for the holy trinity of WiFi, coffee and camaraderie, they discovered coworking.
Coworking spaces are hip, members-only workspaces designed with the mobile modern worker in mind. Picture the set of a movie about a cool Silicon Valley startup. Lots of natural light and exposed brick, good-looking people with laptops spread across high café stools, leather couches and glass-walled offices. For a monthly fee, members get access to more than a state-of-the-art workplace with speedy WiFi and snacks; they join a thriving community of like-minded entrepreneurs.
Coworking has exploded over the past decade, and forecasters think the biggest growth is yet to come. Starting with those 14 pioneering coworking spaces in 2007, the total grew to 14,000 in 2017, and that number is expected to more than double to 30,000 coworking spaces worldwide by 2022. That's an annual growth rate of more than 16 percent.
Steve King is a partner at Emergent Research, which came up with those ambitious figures. "We rarely forecast something to grow that fast," says King.
King cites three converging trends that have fueled the coworking revolution. The first is the steady growth of an independent workforce that craves social and professional connections. The second is a vibrant startup culture that prizes flexibility and can't be tied down with a traditional five-year lease on office space. The third is a growing interest from established corporations in setting up shop in creative workplaces that attract new talent and invite out-of-the-box thinking.
"You bring those three things together and you have a booming industry," says King.
One of the coworking industry's biggest success stories is WeWork, which now has 600 office locations in 100 global cities. The company, founded in 2010, has racked up $13 billion in funding and is currently valued at $47 billion. WeWork represents one type of coworking model, which is a large venue housing everyone from freelancers just needing a desk station to small startup teams to a whole-floor corporate residency. Similar coworking companies include Industrious and Serendipity Labs.Industrious started in 2013 and currently has 60 locations in 34 U.S. cities, with at least 11 more locations slated to open this year. (Full disclosure: HowStuffWorks is in a coworking space as well.)
Outside of these large international chains are thousands of smaller neighborhood joints in tech hubs like the Bay Area, New York and London, and niche coworking spaces serving specific groups and industries. "There are spaces for biotech firm, for writers, for the marijuana industry," says King. "Name a vertical and there are coworking spaces for it." Coworking spaces exclusively for women — like The Wing, Hera Hub and The Riveter — are also drawing crowds.
Pros and Cons of Coworking
The "cool" factor is certainly part of coworking sector's success. Places like Soho House and The Ministry in London, and NeueHouse in LA and NYC blend hospitality and coworking to create spaces that are social clubs, night clubs, hotels and workspaces rolled into one. Plus, tenants are spared from the headaches of typical office management, like making sure there's enough coffee or toilet paper on hand.
Peter Bacevice studies workplace design at the University of Michigan Ross School of Business. According to his research (with his Michigan colleague Gretchen Spreitzer), coworkers report an average of 6 out of 7 on the thriving scale, which measures the levels at which individuals experience a sense of vitality and learning in their jobs
Coworkers report that their jobs are more meaningful. Bacevice and Spreitzer think this is partly because coworking spaces often carry a social mission (creating community and collaboration), and also because the mixed working environment offers lots of opportunities to explain what you do and receive positive feedback. That sense of meaning and community is no accident; it's cultivated by full-time community managers who run social and educational events, and keep that coffee flowing.
If there's a downside to coworking spaces, it's that they can get noisy, especially the larger ones. If you're someone who does their best work in a quiet space, there are usually "heads down" quiet areas available at most coworking spaces, but competition for those spaces may be fierce.
Privacy is also minimal as most of the office spaces are divided with glass. On the other hand, not everyone in a coworking space is interested in socializing. It's entirely possible to not interact with anyone outside of your team for the entire day.
And then there's the issue of money. King says memberships at coworking spaces run the gamut from $150 a month for "floater" access to the common areas to $3,000 a month for a full office with multiple desks and a conference room.
"You'd be hard-pressed to find a coworking membership in a major city for less than $200 a month," says King. "Nobody likes the idea that you have to pay a monthly fee, but you have to weigh that against going back to Starbucks." Or the basement.
Innovate magazine compared the cost of renting an office space for five versus using a coworking space. It found that renting was cheaper than coworking just looking at the cost of renting a facility. However with renting, you'd still have to pay electricity, internet and housekeeping bills separately, and once those were factored in, coworking was actually more affordable. The cost savings depended on the city, but was greater in expensive cities like New York and San Francisco. However, the magazine did note that if you had more than 50 employees, renting might be cheaper overall.
Corpoworking
Even the corporate sector is getting into coworking (known as "corpoworking"). Not only are more big companies renting out office space in coworking venues like WeWork, but they are even launching their own. Bacevice points to HanaHaus , a coworking space created by enterprise software company SAP, and the Rise coworking spaces launched by financial technology ("fintech") firm Barclays.
"The whole purpose behind Rise is to create a space that puts the company in touch with people within the community who are interested in building fintech businesses, and it gives them a direct line to those people," says Bacevice.
Now That's Cool
In New York City, a service called Spacious lowers costs by converting restaurants and other nighttime-only businesses into daytime coworking spaces. An app shows available locations so you can pick a new spot every day.