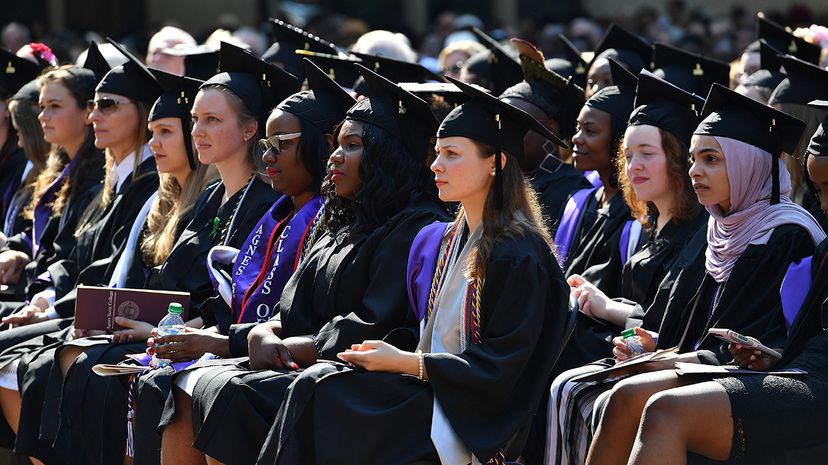 "Graduates at Agnes Scott College (seen here at the 2018 Commencement in Decatur, Georgia, a suburb of Atlanta) can expect their average salaries to be just below $50,000 if they stay in the metro area. Paras Griffin/Getty Images
If you're about to graduate from college — or you have a child that is — there's good news regarding the job market.
First, the latest numbers from the U.S. Labor Department released on May 4, 2018 show unemployment is at a record low 3.9 percent. Employers also added 164,000 new jobs in April, so that's a good sign for new grads who will be sending out resumes after they receive their diplomas.
Second, a study compiled by Korn Ferry suggests that it's highly likely graduating seniors will get jobs once they graduate. The business research and analytics consulting firm surveyed nearly 1,000 organizations in the United States and gathered data for more than 300,000 entry-level positions — exactly the jobs grads are going to be applying for. What their data showed is that "the job market is at the hottest it's been this century."
This good news comes with a side order of not-so-great news, though. The survey also shows that the average salary for college graduates didn't go up much at all from 2017. "Based on the firm's analysis, 2018 college grads in the United States will make on average $50,390," the release states. That's just 2.8 percent higher than last year's average of $49,000. That sounds like more good news, right? But inflation hovers around 2 percent, so that increase is really just keeping pace with that.
The survey also took a look at the average salaries for college graduates in 10 major American cities. Atlanta came in lowest at $49,584, while San Francisco took the top spot at $63,995. That's a higher average salary for grads than even New York City, at $60,972. The tech sector in the San Francisco Bay Area likely draws that average up.
10 Salaries by City
Atlanta $49,584

Boston $59,460

Chicago $55,177

Dallas $50,743

Denver $53,010

Los Angeles $56,386

Minneapolis $53,766

New York $60,972

Philadelphia $54,169

San Francisco $63,995
But before any new grad gets their heart set on San Francisco, they need to take into account a city's cost of living. Atlanta, for example, has a lower average home price than the national average, and its property taxes are also low. You might not be buying a house right out of college, but these are pretty good indicators that the city is more affordable than those with higher average salaries.
And if new grads are wondering about potential salaries regardless of where they live, Korn Ferry looked into those too. The study reviewed the average wages of 10 popular careers and found that STEM-related fields have higher-than-average salaries.
"Graduates should keep in mind that averages can mask variations," Korn Ferry Senior Client Partner Maryam Morse said in a press statement. "For example, within STEM-related careers there are some specialized areas that pay significantly more than average."
10 Salaries by Entry-level Roles
Accountant $48,000

Call Center Specialist $42,224

Claims Examiner $39,978

Customer Service Rep. $35,360

Engineer $64,066

Graphic Designer $47,480

Insurance Underwriter $51,578

Registered Nurse $54,454

Scientist/Researcher $60,177

Software Developer $67,236
Morse recommends college grads do their homework to find out what a reasonable salary would be for their particular location and particular area of study.
Now That's Cool
Whether you're a recent grad or just daydreaming about moving to another state, there are loads of calculators on the web for finding out how much money you'd need. Plug in what you make now and where you live, then select where you'd like to live. When you're beyond the daydreaming stage and negotiating for a starting salary, it can help to know what kind of money you'll need if you want to pay off your student loans, buy a house and keep eating that avocado toast millennials apparently like so much.