"Cruise ships jostle in the Venice lagoon in Venice, Italy, 2016. Massimo Insabato/Archivio Massimo Insabato/Mondadori Portfolio via Getty Images
It seems an unlikely move, especially after an economically devastating pandemic. But port cities around the globe are snatching back their welcome mats, saying overtourism from cruise ships is more harmful than beneficial to their towns. And many citizens and small businesses agree.
Residents of Key West, Florida, voted in November 2020 to ban the largest cruise ships from their port, plus limit the number of passengers who can disembark daily to 1,500, a number less than half that of early 2020. Many say the throngs of cruise ship tourists are causing low-brow souvenir shops to proliferate in the city's historic downtown, while the massive ships wreak havoc offshore on fragile coral reefs and game fish. In the year that cruise ships have been grounded because of the COVID-19 pandemic, locals say the offshore waters have been cleaner, according to The Washington Post. And some small business owners say they aren't benefiting from the ships, either, as passengers typically aren't lingering long enough to patronize their restaurants, inns or boutiques.
In the Spanish island of Mallorca, more than 12,000 people signed a petition to similarly limit the number of cruise ships and passengers stopping in its Port of Palma, noting Palma is the second-most polluted port city in Europe, according to Transport & Environment, a sustainable transport group. The petition also says the throngs of passengers that swarm through Palma's streets create a theme park atmosphere that's causing residents to flee.
And over in Venice, the Italian city famed for its canals banned large cruise and container ships from the Venice Lagoon in early 2021, in part because the ships pollute the environment and erode the city's historic foundations. The UNESCO World Heritage Committee applauded the move, which it had been pushing for since 2014.
The Economic Impact of Cruising
Yet not everyone agrees that cruise ships should sail away, for cruising is big business. Some 30 million people boarded cruise ships in 2019, according to the 2021 State of the Cruise Industry report prepared by Cruise Lines International Association, or CLIA, the world's largest cruise industry trade association. That's up from 17.8 million in 2009, a 68 percent increase. More impressively, these 30 million cruisers powered an industry that employed 1.2 million people worldwide, while pumping more than $154 billion into the global economy.
And despite the COVID-19 pandemic that initially proliferated in cruise ships, the report says vacationers aren't worried about heading back out on the seas. Seventy-four percent of regular cruisers report they're likely to go on another one within the next few years, while an impressive 58 percent of international vacationers who have never cruised before are likely to do so, too, according to the report.
With so much business at stake, the Florida Legislature pushed back against Key West's cruise ship ban. In April 2021, the Legislature passed a transportation bill that included an amendment taking away the port city's right to restrict cruise ship operations. Backers argued restricting cruise ships will eliminate jobs and millions of dollars in cruise-related taxes for both Key West and other regions of the state that also benefit from the ships. (The bill now goes to Gov. Ron DeSantis for approval.)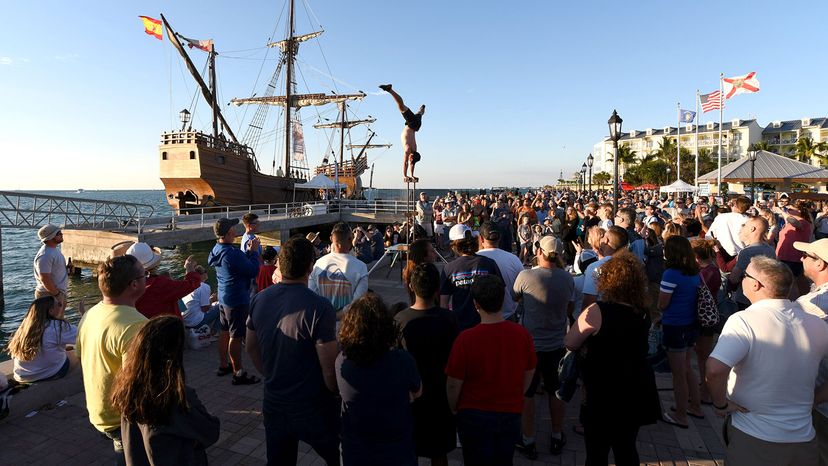 "Tourists and locals watch the sunset and enjoy the drinks and entertainment at the Sunset Pier in Key West, Florida. Paul Harris/Getty Images
In southeast Alaska, where cruising is a huge part of the economy, the absence of cruise tourists during the pandemic shutdown resulted in a $250 million hit to Ketchikan alone, a tiny port city with a population of just 8,500. In Galveston, Texas — one of North America's busiest home ports and the only cruise port in the state – COVID-related losses were estimated at 23,000 jobs and $1.2 billion in direct spending.
Ultimately, it's this kind of big money that will limit the number of ports slamming shut their doors, says Heidi Allison, travel consultant, president of CruiseCompete, a cruise-finder website and editor-in-chief of the blog All Things Cruise. "There are so many ports of call, people and small businesses that would love to have the cruise business," she says, especially after the economic losses caused by COVID-19. "I'll bet everyone will be happy to welcome back any kind of business they can get," she says.
Allison also notes that the cruise industry is working diligently to create balanced, sustainable tourism, but it's not a quick fix. "The problem is, you have these big cruise ships that, like cars, weren't built in the beginning to protect the environment," she says. "It takes years and years to adapt and change."
Cities and Cruise Ships Working Together
But change is in the works. CLIA's report says the industry has invested $23.5 billion in ships with new technologies, advanced wastewater treatment systems and cleaner fuels, plus is targeting a 40 percent reduction in carbon emissions by 2030, compared to 2008. The industry is also working toward more shoreside electricity capability, where ships can turn off their diesel engines when in port and tap into the city's electrical grid instead.
Nice as this all sounds, port cities and cruise critics say more is needed. So CLIA has partnered with Dubrovnik, Croatia, for one, to better manage the arrival and departure of ships to reduce overcrowding in this UNESCO world heritage site. And Barcelona is working hard to promote itself as a home port. One of Europe's hardest-hit cities when it comes to cruise ship pollution and overcrowding, Barcelona prefers to welcome passengers who will hang out in town for a few days, rather than those who drop in for just an hour or two.
That's partly because passengers spend more money in home ports. CLIA's report says the average passenger in 2019 spent an average of $100 in port cities visited during a cruise, but a more substantial $385 in home ports visited before boarding a ship. Passengers staying in a city for a few days are also less disruptive to the area compared to the hundreds that often spill out of a ship during a short port stop, then race to the same few destinations.
Despite some valid issues brought up by cruise critics, cruising is likely here to stay. Millions love to sail the seas, and many others are financially dependent on the industry. The key to creating harmony between ships and port cities, as with so much in life, is cooperation, care and respect.
NOW THAT'S A LOT OF PEOPLE
Florida is home to three of the world's busiest cruise ports, including PortMiami, the busiest of them all. In 2017, a whopping 5.6 million passengers and 1,185 ships stopped here. The state's other top cruise ports are Port Canaveral (No. 2) and Port Everglades (No. 4).