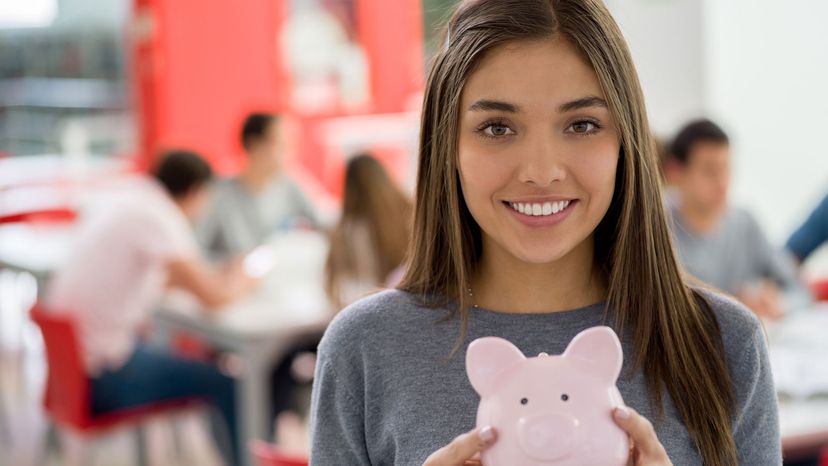 "Here are some new strategies to pay off that student loan debt. andresr/Getty Images
America's college students receive more than a diploma at graduation. They also get a massive wake-up call. The average 2018 student loan debt for college graduates has peaked at more than $30,000, all of which needs to be paid back within 10 years of graduation.
Since each college debt situation is different, we've assembled a list of seven smart strategies for paying off student loans at all income levels and budgets, from an app that saves your spare change to investment strategies that reward you for not paying off your debt too fast.
1. Ask for a Different Kind of Birthday Gift
Enlist family and friends in your battle to dig out from college debt. The websites LoanGifting and Gift of College are crowdfunding sites for students trying to pay off loans. You set up a profile, craft a winning pitch — "If you really want to know what I want for my birthday and Christmas, Hanukkah and Arbor Day, please consider the gift that keeps on giving: helping me pay off my student loans!" — and share the link via email or social media.
What's cool about these websites is that the money is deposited directly with the lender, so there's no lingering doubt over whether the recent college grad is going to blow the cash on a new phone.
2. Get Lucky on a Game Show
Would you believe there's a game show on TruTV called "Paid Off" where all the contestants are college grads saddled with major amounts of student debt? (Believe it). Apply to get on the show, win three rounds of trivia questions and you could have your entire debt wiped clean. One young lady erased $62,000.
3. Capitalize on Good Credit
Government-funded student loans are the oddballs of the lending world, because the terms of the loan have nothing to do with your creditworthiness. Borrowers with bad credit histories (defaults and late payments) are offered the same interest rates on federal student loans as folks with impeccable credit.
If you're lucky to still have a good credit score after graduation, you may be able to refinance those federal student loans and get a better rate, says Annette Clearwaters, president of Clarity Investments + Planning LLC. Banks like SoFi and First Republic allow people with credit scores above 650 to take a federal loan and basically turn it into a private loan with a lower interest rate or more time to pay it back.
"These lenders are basically cherry-picking the good credit risks from the student loan pool," says Clearwaters.
The only caveat is that refinancing a federal loan forfeits some of the benefits and protections of government-backed loans, including the option to create an income-based repayment plan or qualify for loan forgiveness through certain public service jobs.
4. Round Up and Save Up
If you buy a $4.87 latte and pay with a five spot, what happens to that 13 cents in change? It might end up in the barista's tip jar (aren't you generous?), but it might also disappear forever into your couch cushions.
There are two nifty apps out there, ChangEd and Qoins, that will automatically round up all of your purchases to the next dollar and then use that forgotten change to pay off your student loan debt. Both services have a monthly subscription fee between $1 and $2, but the rest of the money is sent directly to the lender, so you'll never miss it.
Another app called Pickpocket takes a slightly different approach to automatic savings, charging you 5 or 10 percent for every dollar you spend and rerouting that money to pay off your student loans. That one also charges a monthly subscription fee.
5. Get Paid for a Good Cause
The Shared Harvest Fund connects borrowers with nonprofit organizations for paid gigs that go straight to paying off your student loans. All you need to do is create a member profile, describe your skills and work experience, list the causes you're passionate about, and the platform does the rest. Don't expect to be paid serious coin for each gig, but you'll have the double satisfaction of knowing that you're chipping in while chipping away at debt.
6. See If Your Company Will Help You
The unemployment rate is low, which means employers are fighting over a shrinking pool of qualified candidates. If you're lucky enough to possess some seriously in-demand skills, tell prospective bosses that the perk you'd really like to see in your employment package isn't a free gym membership or Friday flex time, but matching contributions to your student loan debt.
Employer contributions to student loans are still pretty rare, with only 4 percent of U.S. companies offering any kind of repayment benefit. But according to the crowdfunding site LoanGifting, which also offers a contribution plan for employers, 60 percent of workers with student loans prioritize debt assistance over health benefits or a 401(k).
The financial services firm Fidelity now offers a service for employers who want to provide loan repayment as a perk to attract top talent. According to CNBC, at least 25 major firms have signed on.
7. Don't Make Double Payments — Invest the Extra Cash
A few lucky grads are in the enviable position of earning enough money to double their monthly student loan payments and pay off the debt in half the time. On the surface, this looks super smart, since you will save thousands of dollars in interest by paying off the loan sooner.
But David Marotta of Marotta Wealth Management recommends making only the minimum monthly student loan payment even if you can afford to set aside more. In a blog post (with charts!), he makes a convincing case for investing any extra cash in the stock market. Basically, slowly paying your debt over 10 years while investing in the stock market should result in far greater earnings than paying off the loan first and then investing.
Now That's Cool
In 2017, a Michigan woman gave a public speech about the difficulties of student loan debt and mentioned how she'd love to win the lottery and have it all paid off. Later that same day, she bought a winning scratch-off ticket for $300,000.