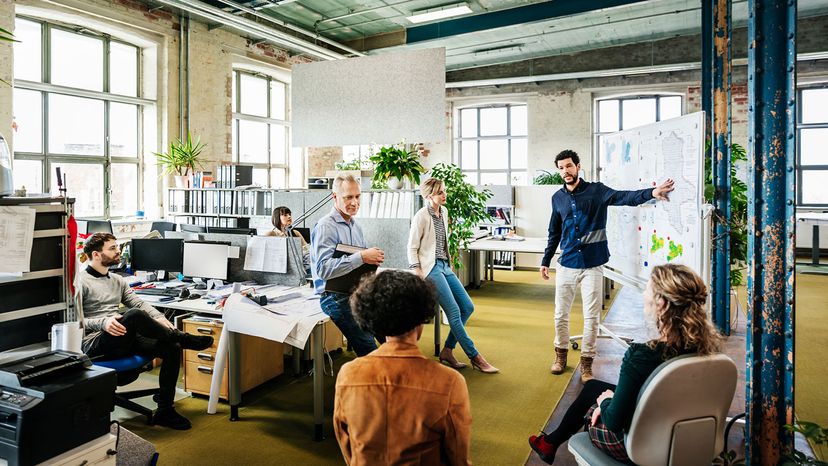 "Make your office meetings more productive with these tips. Tom Werner/Getty Images
Pointless work meetings are their own special kind of hell. Whether it's the guy who won't stop talking or the woman who never says anything because she's constantly checking her phone, the whole thing can be a more of a hindrance than a help, particularly if the meeting leader doesn't take control. But there's hope. We reached out to business productivity consultant Theresa Ward of The Fiery Feather to answer common questions on how to turn tedious weekly meetings into true collaboration sessions.
1. How Do I Stop People From Zoning Out?
Boredom is the kryptonite of any good meeting, so effective leaders must figure out ways to inject novelty into even the most routine weekly meeting. Some degree of consistency is necessary, says Ward, because you don't want people to be totally caught off guard, but there are also some easy tricks for mixing things up.
If you always have to cover the same four or five agenda items, "don't talk about the same topics in the same order every week," Ward says, "because then people are going to think, 'Oh, this is the 20 minutes when I zone out and this is the five minutes when I pay attention."
Find ways to get new voices into the conversation. Each week, for example, you can assign a different team member to be in the "hot seat," she suggests. Depending on the type of meeting being held, the chosen person can share something interesting they've learned or read or watched this week, or talk about a personal passion or hobby they've been doing outside of work.
"The novelty of that fresh voice is going to stimulate our brain juices just enough to say, 'I'm going to stay checked in at least for a few more minutes,'" says Ward.
But perhaps the most important advice for keeping people engaged is to keep an eye on the clock.
"People will zone out when they don't have a clear sense of when the meeting is going to end," says Ward. "Respecting end times is huge."
As meeting leader, check in halfway (or even more frequently) and announce, "OK, we've got 15 minutes left and we're going to cover these X agenda items." It's just enough of a refresh to keep people's brains on task all the way to the finish line.
2. How Do I Keep People Off Their Gadgets?
Multitasking is not a real thing. Our brains can only handle on one task at a time, so checking email and texting the nanny on the sly is going to undermine the whole point of having a meeting, which is focusing our collective brainpower on a specific set of topics.
Because a buzzing pocket is such a killer distraction, Ward recommends shelving all devices during meetings. And since parting with our smartphones, even for 20 minutes, is borderline traumatic for some of us, there has to be buy-in from the entire group.
Ward suggests getting creative and injecting some playfulness into the "no smartphone" pact. She once worked for a client who placed a Barbie dream house in the back of the conference room and called it the "cellphone home." It became part of the shared office culture to drop your device in the cellphone home before meetings began. Don't worry, Ken will keep an eye on it.
3. How Do I Tactfully Get Ramblers to Shut Up?
Every meeting has one, the person who has to add their 25 cents (two would have been plenty) to every agenda item, who derails productive conversations rambling off-topic remarks, and can't seem to resist the sound of their own voice.
"Unbalanced engagement," as Ward calls it, not only wastes everyone's time, but undermines true collaboration. People who always need to be in the spotlight introduce a toxic element into meetings that fosters resentment among all other attendees.
Thankfully there are solutions that don't require changing the meeting time without telling the rambler. Ward says it starts with a clear agenda that everyone receives in advance of the meeting that has names attached to each item. If the rambler knows that he or she is going to have a chance to shine, they'll be more willing to let others have their turn.
Another trick for staying on task is something called the "parking lot."
"A parking lot is basically a whiteboard or web document that is a dedicated space for topics that come up during the meeting that we don't have time to talk about today, but we're going to talk about another time," explains Ward. "You're committing it to writing in front of everyone, 'I heard what you said. That is important. Let's give that topic the dedicated time that it warrants in a later meeting or an offline discussion."
What if the boss is the rambler? If he or she is running the meeting, you might have to live with it (or casually forward them this article). But if you're the meeting leader, Ward suggests assigning a rotating team member to be the time keeper. If everybody agrees to give Brenda control of the clock, then she has the authority to cut off discussion — including the boss's story about the time he met Bono in an airport bathroom — and move on to the next agenda item.
4. How Can I Improve the Dreaded Virtual Meeting?
Online meetings were supposed to make life easier, not harder. But once you've attended a few virtual meetings where half the participants are calling in on garbled cellphone connections and the other half are clearly watching YouTube clips on an open browser tab, then you almost feel nostalgic for a good old-fashioned soulless conference room.
A well-executed virtual meeting starts by setting some ground rules, says Ward. If it's a standing meeting, get a fresh start by asking everyone to send along one ground rule that they feel is important for making these meetings better. Maybe everyone is expected to log in from a computer, not a phone. Or we agree not to multitask during calls. When people have an opportunity to contribute ideas, they're more likely to follow the rules.
One sticking point is whether or not everyone has to turn on their webcam during virtual meetings. Being able to see the other participants definitely has its advantages, says Ward. It helps to read non-verbal clues, to feel more like a team, or even to reaffirm a casual company culture. But if you're going to make it a rule to keep webcams on, you need to explain why it's important and also be willing to let people off the hook if they feel like they're having a particularly bad hair/skin/face day.
Ward has a bonus tip for teams that are scattered across the country (or around the world) and never have the chance to meet face-to-face. Make sure to set aside a few minutes at the beginning or end of the meeting for a personal check-in. A little small-talk goes a long way to building camaraderie since virtual teams miss out on all the informal interactions of a conventional office.
5. What if I Ask for Input/Ideas and No One Gives Any?
This could be a question of engagement, for sure, but there also might be personality differences at play.
"Some people are more introverted and have a harder time verbally processing their thoughts in a group setting," says Ward. "Instead of putting people on the spot, ask them in advance. Send a message to the whole team saying, 'You can either email me three ideas before the meeting or be prepared to present your three ideas during the meeting.'"
Another tactic for improving engagement is to make the intention of the meeting more explicit. One of Ward's suggestions is to go to Thesaurus.com and look up synonyms for the word "meeting."
"If you want the meeting to primarily function as a brainstorming session, then call it a brainstorming session," she says. "Then people are more likely to show up with the mental expectation that they'll be sharing ideas. If it's called a '15-minute status check,' they'll bring a different set of expectations."
And if the meeting goes over 15 minutes, it's Brenda's fault.
Now That's Cool
The marketing firm Percolate came up with six simple rules for meetings, the first being, "Do you really need a meeting?" Good question!