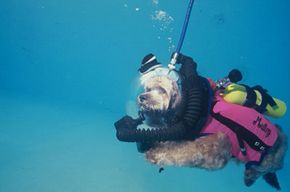 "Mutley dons her cap and finds a cool remedy for the dog days of summer. See more pictures of pets.Photo Courtesy of Gene Alba
Scuba diving is a sport enjoyed by millions of people all over the world. You strap on the oxygen tank, wetsuit, mask and fins, sink into the ocean, and you're enveloped by the silence of the deep sea. Schools of shiny reef fish dart back and forth in unison. Stingrays and jellyfish glide by, weightless and graceful. In the distance, you see something else. It's swimming with a fellow scuba diver, and it has a tank and mask of its own. It could be child, but it's too small and looks like it might actually be … furry. As you get closer, you find that it's not a child — it's a dog. It's Mutley the dog. Mutley the scuba diving dog.
Scuba diving enthusiast and pet lover Gene Alba, of Redding, Calif., is the man responsible for this unusual canine activity. A longtime diver, Alba dreamed up a scuba setup for his shaggy mixed breed, Mutley. Alba had no previous experience building scuba equipment, but his creative thinking and 20-year dive history were all he needed to successfully design a working canine scuba system — that and about $40,000.
The trick to completing the suit was finding the right balance between floating and sinking in water. Alba sewed built-in pockets on the sides of the wet suit that hold lead weights, which keeps Mutley from rising too high or sinking too low. Her head is outfitted in a custom-made, inverted Plexiglas bubble, which is also weighted. The same principle as a diving bell is at work here. An inverted bell, bowl or bubble holds pressurized air as long as it's kept upright — but that also makes it harder to submerge. It takes 16 pounds of lead weights around Mutley's bubble to keep her underwater, but still buoyant. (You can learn more about buoyancy in How Scuba Works.)
Alba worked out everything in his backyard pool before taking Mutley into the ocean. After some practice, Mutley became scuba certified aboard a Caribbean cruise ship. Besides being the world's only scuba diving dog, she's also the star of the children's books Alba has written: "Mutley Goes Skiing" and "Mutley Goes Diving." To pad her resume, Mutley became the only animal to win an Emmy Award for outstanding performance for "Mac and Mutley" — a popular San Francisco Bay Area nature show. As Alba points out, "Not even Lassie or Benji has done that."
It may seem unusual that Mutley scuba dives, but many dogs like to swim and are highly trainable, so it's not the furthest stretch of the imagination. Cats, on the other hand, aren't known to like getting wet. On the next page, we'll learn about how Hawkeye the scuba cat came into Alba's life.
Thank You
Special thanks to Gene, Mutley and Hawkeye Alba for their assistance in writing this article
Contents
The Arrival of Hawkeye
Scuba Cat Wet Suit: Hawkeye Goes Under
Scuba Cat: Internet Star
The Arrival of Hawkeye
"Mutley and Hawkeye set out to surf the asphalt waves of Redding, Calif.Photo Courtesy of Gene Alba
Alba and Mutley were a happy scuba diving duo, exploring the shallow waters of the Caribbean and Alba's backyard pool on a regular basis. Things changed about 10 years ago when the pooch alerted Alba to some trouble outside their house. Mutley led her owner to a young cat that was tangled up in chicken wire. The female calico cat had the wire tight around her neck and was near death. Alba acted fast — he got some pliers and cut her loose, performed mouth-to-mouth and saved her life. He named his new addition Hawkeye, nursed her back to health and quickly found that Mutley had a new best friend.
The unlikely pair became inseparable — playing together, sleeping together, skateboarding together and even bathing together. Hawkeye first let Alba know she didn't mind water when she started jumping into the bathtub with Mutley. Before long, Hawkeye began to show a growing interest in her buddy's adventures in the swimming pool, too. One day when Mutley was enjoying a swim, Hawkeye took the plunge herself and did her best "cat paddle."
Alba explains that as long as Hawkeye can keep her face dry, she doesn't mind water. His theory is that she wants to be close to Mutley so much that she tolerates what most cats avoid. Then there's the matter of Hawkeye's figure. The kindest way to describe her is that she's a cat of generous proportions. Alba thinks that when Hawkeye was spayed there was an error in the procedure, which causes her belly to hang down too low. Regardless of the reason, swimming became a great way for Hawkeye to get some exercise without putting stress on her joints.
Hawkeye's newfound interest in swimming led Alba to the logical next step — building a scuba rig for his rotund little girl. But the process of designing a wet suit for a heavy cat wasn't an easy prospect. Alba needed to make sure the wet suit didn't squeeze Hawkeye's body too much. He also needed to calibrate the system so that, like Mutley, the cat would remain underwater but still be able to float.
Clean out the litter box and click forward to the next page to see exactly how Alba managed to turn his beloved Hawkeye into Scuba Cat.
Kitty's Got the Bends
Decompression sickness, or the bends, is a symptom that scuba divers face when they ascend to the surface too rapidly. When you dive, pressure on the body increases, which causes excess nitrogen and oxygen to dissolve in the bloodstream. Most of the oxygen is absorbed by tissue, but not the nitrogen. The dissolved nitrogen is what causes the bends. If you ascend too quickly, the nitrogen leaves your blood too fast and forms bubbles. These bubbles block tiny blood vessels. This can lead to strokes, heart attacks, joint pain and ruptured blood vessels in the lungs. Divers avoid the bends by following the recommended ascension rate. Alba and Mutley don't need to worry about the bends: They stay close enough to the surface of the water, which results in a smaller amount of pressure on their bodies.
You can learn more about the bends in What if my scuba diving equipment failed?
Read More
Scuba Cat Wet Suit: Hawkeye Goes Under
"Hawkeye contemplates the rough seas of her swimming pool.Photo Courtesy of Gene Alba
Once Hawkeye was comfortable swimming in the pool, Alba set about designing and building her scuba system. The main challenge in designing the wet suit was making something that didn't restrict Hawkeye's body too much. Wet suits are typically made of neoprene, a synthetic rubber that helps insulate divers from cold water. The problem with neoprene is that it's meant to fit tight against the body, which would've been too restrictive for Hawkeye. It took a couple of tries and a switch to nylon before Alba was able to make a suit that was both safe and comfortable for Hawkeye.
The other challenge was finding the correct weight for the suit and the helmet. Alba accomplished this in the same way he made Mutley's system — he sewed built-in pockets to hold lead weights. Hawkeye's helmet, or mask, was custom made from glass and required 12 to 14 pounds of lead weights to keep it upright and stable. Once the bubble was complete and weighted, it was glued to the neck of Hawkeye's wet suit.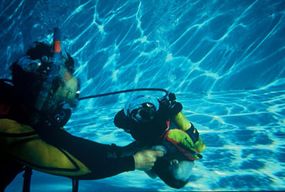 "Gene helps Hawkeye perform a trick called "float in pool."Photo Courtesy of Gene Alba
Another issue Alba faced was sealing the helmet tight to the cat's wet suit to keep water from leaking in. Even though the bubble is glued to the suit, Alba learned with Mutley that a watertight seal wasn't really possible — it would be too tight around his pet's neck. To solve this problem, he devised a vacuum system that removes any water that leaks into the lower part of the mask. In order to keep Hawkeye in for longer dives, Alba fashioned a 12-foot air tube to run from his own oxygen tank into Hawkeye's mask at about 25 pounds per square inch (PSI). This air is pumped in while the vacuum sucks air and water out, which creates a constant flow of breathable air at the correct pressure to keep Hawkeye submerged, safe and dry in the face.
Both Mutley and Hawkeye have their own small oxygen tanks, but these mainly serve as backup devices. Each tank provides about five to eight minutes of air and allows the adventurous pets to be completely self-contained, solo scuba divers. The price tag for Hawkeye's system was roughly $20,000 — a bargain compared to Mutley's $40,000 prototype.
On the next page, we'll dive into Hawkeye's scuba experience.
Scuba Cat: Internet Star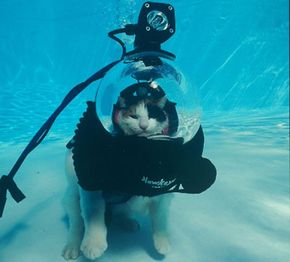 "From the Scuba Cat photo essay: "World, Just Leave Me Alone."Photo Courtesy of Gene Alba
So what does Hawkeye do when she's scuba diving? Sometimes she bounds around along the pool's bottom like Neil Armstrong on the moon's surface. She hasn't quite figured out how to swim underwater, even though she's a proficient surface swimmer. This is where Alba comes in. He'll typically hold Hawkeye's tank and lead her around the pool while she hangs around, checking everything out. According to Alba, scuba diving relaxes her — the weightlessness of being underwater could be a welcome change from the gravity-bound shackles of dry land.
A local news program did a story on Hawkeye, and it's since been posted to YouTube, but not by Alba. He's developing a TV show for the diving pair and was afraid of overexposing his star cat when the video leaked. It's not all bad though — since the video was posted, Alba has received requests to build suits for other people's pets. Unfortunately for those asking, Alba has refused to do so thus far. Aside from the expense, it takes a lot of training and a very special pet to safely scuba dive. Hawkeye has more than 20 dives under her belt in the pool, and Alba is keen on taking her to the ocean at some point. The Caribbean would be ideal, since the waters are warm enough for Hawkeye. In fact, Alba has to keep his pool at a warm 80 degrees F to make sure Hawkeye is comfortable.
Since Mutley and Hawkeye have gained more attention, Alba has some concerns that animal rights advocates might get involved and try and put a stop to the diving. Alba assures doubters that it's a very safe activity and that both of his pets love to dive. According to Alba, Mutley gets excited every time the dive gear comes out of the closet, and Hawkeye just loves being with Mutley, no matter what he's doing. Over the years, Alba has worked with the Humane Society to help raise money and awareness for animal rights.
You can learn more about scuba diving and unusual animals by taking off the mask and snorkel and clicking on the links on the following page.
Lots More Information
Related HowStuffWorks Articles
How Scuba Works

How the Divers Alert Network Works

What causes "the bends"?

Is it harmful to breathe 100-percent oxygen?

Why do my ears pop when I dive in the deep end of the pool?

If water is made up of hydrogen and oxygen, why can't we breathe underwater?

How Dogs Work

How Guide Dogs Work

How Search-and-rescue Dogs Work

Dog-Care Tips

How to Choose a Dog

How to Train a Dog

How Dog Training Works

How to Care for a Dog

Medical Treatment for Dogs

Dog Quiz

Dog Breeds Quiz

Cat Quiz
More Great Links
Humane Society of the United States

American Kennel Club

Icanhascheezburger.com

American Association of Feline Practitioners

National Association of Underwater Instructors
Sources
Alba, Gene. Interviewed on June 22, 2008.