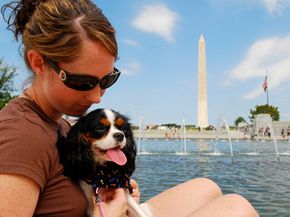 "Want to see the sights with your pet? Consider pet shipping. See more pet pictures.© ­iStockphoto.com/jcarillet
­Sheila Burnford's 1961 book "The Incredible Journey" tells of two dogs and a cat making their way across Canada in search of their dearly beloved owners. The owners had left the animals with a family friend during a trip, and when the animals are mistakenly abandoned by a caretaker, they set out to find their family. The arduous and challenging trip could have taken the animals' lives at any time, and indeed, when the animals can't be found, their masters assume the worst. However, it's unlikely this book would have found such acclaim and spawned two movies if it featured that kind of dour ending, so there's a heartwarming scene in which pets and owners reunite.
While we love to watch the ingenuity of animals on the silver screen, we certainly don't want our own Fido or Princess Whiskers deciding to make incredible journeys of their own. So when a person is moving, or even just taking a short-term vacation, he or she might choose to ship the family pets. Pets might also be shipped if they're ordered from a breeder across the country, or if they're heading off to show their merits at a dog or cat show. Some animals headed for zoos also travel this way.
­But does the word "shipping" bring to mind dinged packages, broken Netflix discs and lost letters? Surely it's not safe for an animal to be shipped from place to place like cargo, you're thinking. Well, have no fear. There are many rules in­ place to ensure that shipped pets reach their destination in one piece; in fact, the rules can be so complex and detailed for different destinations that it's unlikely that humans would travel at all if they had to meet as many requirements.
Pet shipping is something that pet owners can take upon themselves to do, but owners also have the option of hiring a service to do it for them. Animal relocation or pet shipping services often market themselves as "pet travel agents"; they take care of the paperwork and arrangements that accompany a pet move. So whether you're going to do it yourself, or if you want to see just how those pet shipping services earn their money, let's take a look at the incredible journey that a shipped pet goes on.
Shipping a Pet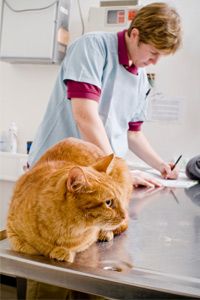 "Before pets see the world, they'll need to see a vet.© iStockphoto.com/Thomas_EyeDesign
Thousands of pets and exotic animals are shipped successfully each year, though their travel options are somewhat limited to air and auto transport. Buses, trains and boats are usually out of the question for anything but service animals, though certain carriers may have their own rules. The Humane Society of the United States recommends that pets go by air only when "absolutely necessary" and question­s the safety of putting a pet in an air cargo hold [source: Humane Society]. While you could certainly drive a pet cross-country or fly an airline that will let you to take your pet as carry-on luggage, sometimes that air cargo hold is your only option. But there are many rules in place to make sure it's as safe as it can be.
If you're the kind of person with a disregard for authority and a penchant for rule-breaking, then shipping a pet via air cargo is not for you. The process of pet shipping involves a whole host of regulations that pet owners must decipher — pretty much every airline that will carry a pet as cargo and every country that will receive a pet has their own rules and regulations for pet shipping. This is one of the reasons why many people pass the responsibility off to a pet shipping service, which will figure out all the rules, fill out the paperwork and ensure your pet meets you at your destination. You can expect to pay about several hundred dollars for the service, depending on the complexity of the move, in addition to the cost of the flight. (A good place to start your search for a reputable pet shipping company is with the Independent Pet and Animal Transportation Association.­)
But pet shipping services will likely be going on the same hunt for updated rules that do-it-yourselfers will. While it would be impossible to cover all the regulations for each possible destination, we can give you an idea of what to keep in mind during the process. To ensure that you meet all regulations, it's best to start the process of shipping your pet well in advance of the planned departure. It will also pay to remember that your pet's well-being takes precedence here. If going by air, you should fly major airlines with established pet shipping policies rather than no-name bargain lines. You may have to tweak your travel schedule to get a nonstop flight (few airlines will transfer a pet for you) or to avoid flying during extreme temperatures, when many airlines ground Fido and Fluffy.
For our U.S. readers, the best place to start planning your pet's trip is with the U.S. Department of Agriculture (USDA). The USDA's Animal and Plant Health Inspection Service (APHIS) is charged with enforcing acts related to animal welfare and, as such, has regulations for shipping animals in a humane manner. But if the pet is being shipped to another country, you'll also need to check with the embassy or consulate for any regulations regarding animals brought into the country. Some animals, for example, require certain vaccinations or a quarantine period before they can be reunited with their owner.
After consulting with any applicable countries, it's time to check with the applicable airlines. And when you get off the phone with them, call up your favorite veterinarian. Most likely, you'll need a vet's appointment within the 10 days before your trip [source: Duncan]. Many airlines require a health certificate from the vet certifying that the pet is in good enough health to travel; that certification may be especially difficult to obtain for elderly or pregnant dogs or pug-nosed breeds, because they may have trouble getting enough oxygen through their short nasal passages. The airline may have additional regulations, such as full vaccination records or evidence of an implanted microchip for identification purposes. APHIS also requires that the pet be at least eight weeks old before shipping [source: Air Transport Association].
After that vet appointment, it's time to go shopping. Find out what you're looking for on the next page.
Airline Pet Shipping
"You'll need a better carrier than this to ship a dog.© ­iStockphoto.com/eriklam
Before shipping, your pet needs a proper carrier, though some airlines provide ones that you have to use. You'll have quite the shopping checklist; for starters, the carrier has to be big enough that the animal can sit, stand and lie down comfortably. You can put two puppies or two kittens in the same carrier if they're under six months old or under 20 pounds each [source: Duncan]. Look for carriers with a solid floor in case nature calls for your pet in transit, but up top, check for good ventilation. Openings in the kennel must make up at least 14 percent of the total wall space [source: Duncan]. However, you don't want slats so wide that your animal could hop right out, or a door that doesn't close securely.
­You should mark the carrier according to the airlines' specifications, but generally there needs to be an arrow showing which way is up, indications that there's a live animal inside, and the name and address of the person who would most like to see that pet again. There should be handles or grips on the outside so that a cargo loader has no risk of losing a finger to an angry animal.
While many of us may self-medicate with a sleeping pill or a stiff drink before a long flight, resist the urge to do the same for your pet. When an animal dies in the course of being shipped, sedation is usually the cause [source: IPATA]. While it seems like sedation would be beneficial in getting a rowdy animal, wound up from the excitement and stress of traveling, the sedation can have a dangerous effect once the animal is settled in the plane and in the air. For one thing, the effects of a sedative during the flight are too difficult to predict beforehand; it may have too strong an impact once the animal is in the cargo hold, where conditions are pressurized and dark. Rather than drugging your pet, make travel a natural high by getting them accustomed to their surroundings before the trip even starts. Giving your pet some time in the kennel in advance, rather than having the carrier be a travel day surprise, will likely relax the animal during the journey.
Even if your pet isn't jumpy, you don't want to take the chance that someone might see the contents of your pet's stomach. The USDA requires that you offer your pet food in the four hours before a flight, but to avoid upset stomachs you should avoid offering the animal any heavy meals. Hydration is OK. Mark the time of the last meal on the kennel; airlines are required to give the pets water every 12 hours and food every 24 hours, unless they're under 16 weeks old (those lucky dogs or cats can eat every 12 hours) [source: Yenckel]. But since airline food is fairly questionable even for those of the human persuasion, you have to provide the in-flight food and beverage for your beloved pet. The carrier should include water and food dishes that are well-secured, yet easy for cargo handlers to reach.
In addition to feeding your pet four hours before, you'll also want to walk the pet. Get to the airport with plenty of time to spare; if you think making a plane at the last minute is traumatic, you don't want to have that experience with a pet in tow. Once you kiss your pet good-bye, it can be agonizing to wait for the joyful reunion. When you see your pet again, just pretend that those big sloppy kisses or dainty licks are signs of your pet's gratitude for planning all those pet shipping details.
For more on traveling with your furry friends, see the links on the next page.
Originally Published: Jan 14, 2009
Pet Shipping FAQS
How much does it cost to ship a pet?
The cost of shipping a pet depends mostly on the distance. Most companies charge around $250 to ship a pet within a 300-mile radius. The longer the distance, the greater the cost.
What airline has the cheapest pet fee?
Frontier and Southwest Airlines offer the best budget-friendly services to pet owners, charging around $95 per shipment.
Can you ship a dog via UPS?
Mostly, pets are only delivered to other countries using a UPS service. This service requires a day or two to deliver your pet to your doorstep.
How do I ship a pet to another state?
Visit your pet's veterinarian before shipping it. Share your concerns with them and ask for their advice as the journey could be very tiring for your furry friend. After that, search for an airline that best accommodates your little one's needs so that your pet won't be too stressed out during the journey.
Lots More Information
Related HowStuffWorks Articles
How Pet Microchipping Works

6 Pets that Traveled Long Distances to Get Home

Do pets suffer jet lag?

5 Risks When Driving with a Pet
More Great Links
Independent Pet and Animal Transportation Association International

USDA Animal and Plant Health Inspection Service: Pet Travel
Sources
"Air Travel for Your Pet." Air Transport Association. June 7, 2008. (Dec. 29, 2008)http://www.airlines.org/customerservice/passengers/Air+Travel+for+Your+Pet.htm

Duncan, Phyllis Anne. "Traveling with Your Pet." FAA Aviation News. November/December 2002.

Hanes, Stephanie. "When fur needs to fly, these folks help." Christian Science Monitor. May 11, 2005. (Dec. 29, 2008)http://www.csmonitor.com/2005/0511/p11s02-lihc.html

Humane Society. "Tips for Safe Pet Air Travel." Feb. 14, 2007. (Dec. 29, 2008)http://www.hsus.org/pets/pet_care/caring_for_pets_when_you_travel/traveling_by_air_with_pets/

IPATA Web site. (Dec. 29, 2008)http://ipata.com/

"Pet Travel." United States Department of Agriculture: Animal and Plant Health Inspection Service. (Dec. 29, 2008)http://www.aphis.usda.gov/animal_welfare/pet_travel/pet_travel.shtml

PetRelocation.com Web site. (Dec. 29, 2008)http://www.petrelocation.com/

Sloan, Gene. "Airlines to reveal how pets fare in cargo hold." USA Today. April 29, 2005.

Yenckel, James T. "Keeping the Cat in the Bag & Other Tips on Pets Aloft." Washington Post. Sept. 11, 1994.