Black Friday may have already passed, but the savings continue with Cyber Monday. Amazon is offering hundreds of Cyber Monday deals on home goods, so if you feel like you missed your chance to shop on Black Friday, now's your chance to score major deals on a wide variety of products—from robot vacuum cleaners to versatile kitchenware to smart devices. We've rounded up some of the very best Cyber Monday deals on home goods—available now at Amazon.
Video of the Day
1. Shark AV1010AE IQ Robot Vacuum With Self-Emptying Base, 45-Day Capacity
$299.99 (save $300.00) at Amazon
With this advanced robot vacuum, you don't have to worry about vacuuming for up to 45 days. The vacuum's bagless, self-emptying base holds up to 45 days' worth of dirt and debris, while its faster mapping technology than the previous model helps improve the vacuum's cleaning performance by dexterously navigating through your home and avoiding obstacles such as furniture. Its powerful suction deftly tackles debris both large and small, including pesky pet hair on carpets and floors. You can connect the vacuum to Google Assistant or Amazon Alexa to control it by vocal command. If you've dreamt about hands-free cleaning in your home but never gave robot vacuums a try, now is time to take advantage of this chance to get one of the best-known robot vacuum brands for 50% off.
2. Blueair Blue Pure 311 Automatic Medium Room Air Purifier
$174.99 (save $75.00) at Amazon
Recommended for medium-sized rooms up to approximately 388 square feet, this automatic air purifier completely filters the air every 12.5 minutes (nearly five times each hour) to remove 99% of particles from wildfires. Its activated carbon layer traps odors and chemicals, while its HEPASilent technology removes 99.97% of airborne particles down to 0.1 microns, such as pollen, dust, and viruses. It's whisper-quiet when operating and features a filter-replacement indicator light so you can always keep it in the best shape. If members of your household suffer from allergies, this air purifier can mitigate their symptoms and provide everyone with clean, fresh air.
3. Rubbermaid Brilliance 2-Compartment Food Prep Containers (5-Pack)
$21.71 (save $11.28) at Amazon
These intelligently-designed plastic food prep containers feature two compartments (one larger and one smaller) to keep your foods separate and come with crystal-clear lids and bases so it's easy to see what's inside. Each container has a 2.85-cup capacity and features a leak-proof seal and secure latches, as well as built-in vents for splatter-free microwaving, even with the lids on. The lids fit all containers in the Brilliance line. This set comes with five containers and five lids.
4. SodaStream Jet Sparkling Water Maker, Bundle With bubly Drops
$89.99 (save $50.00) at Amazon
You can make your own sparkling water at home with this bundle from SodaStream, which turns plain water into sparkling water in seconds. Its compact, cordless design operates without electricity so you can use it anywhere. The bundle includes the sparkling water maker, two 60-liter CO2 cylinders, three 1-liter BPA-free carbonating bottles and two bubly drops flavors (40 militers). It's compatible with all SodaStream flavors and carbonation bottles as well, making it a smart purchase if you already have SodaStream gear.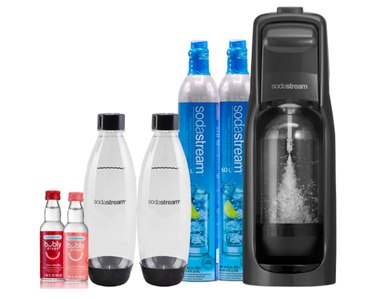 5. Instant Vortex Plus 6-Quart Air Fryer
$89.95 (save $30.04) at Amazon
The Instant Vortex Plus air fryer features a very roomy basket and user-friendly touchscreen with pre-programmed settings, plus a dial that can adjust the temperature in 5-degree increments. Its six settings are: Air Fry, Broil, Roast, Dehydrate, Bake and Reheat. It also boasts a wider temperature range than you'll see on many air fryers, providing more versatility. Made from high-quality materials like stainless steel and featuring multiple safety features like automatic shutoff and overheating protection, this fryer covers all the bases and more. If you haven't yet jumped on the air fryer bandwagon, this air fryer (and deal) are a good reason to.
6. Instant Pot Duo Crisp 11-in-1 Pressure Cooker With Air Fryer Lid
$119.95 (save $80.04) at Amazon
Listen: Instant Pot is here to make your life easier (in the kitchen, at least). For home chefs who value convenience and versatility, this 8-quart pressure cooker lets you pressure cook foods up to 70% faster than traditional cooking methods, but also features an air fryer lid, a frying basket and a broiling tray that allow you to crisp foods using up to 95% less oil than deep frying. Its eleven single-touch presets allow you to pressure cook, sauté, steam, slow cook, sous vide, warm, air fry, roast, bake, broil and dehydrate. The stainless steel cookware is dishwasher-safe to make cleanup fast and easy.
7. Vitamix 5200 Professional-Grade, Self-Cleaning Blender (Black)
$278.99 (save $271.00) at Amazon
If you've ever felt like the smoothies you make with your standard blender don't stack up to the smoothies you get at professional smoothie and juice shops, it may be time to upgrade your blender to the Vitamix 5200. Its professional-grade stainless steel blades are capable of chopping, blending, and puréeing a variety of ingredients and crushing ice like a pro so you can make commercial-level smoothies, salsas, and other foods. It's self-cleaning 64-ounce container only requires a drop of dish soap, warm water, and the press of a button to get clean in a matter of 30 to 60 seconds.
8. Echo Dot (4th Gen.) With Clock and 6 Months of Amazon Music Unlimited Free
$34.99 (save $84.94) at Amazon
With this fourth-generation Echo Dot smart speaker, which connects to Amazon Alexa, you can not only provide the ultimate soundtrack to your next get-together, but tell Alexa to play your favorite tunes, tell a joke, answer trivia questions, play the news, check the weather, set alarms, and more. And that's just the half of it. With this bundle, you also get six months of Amazon Music Unlimited for free, so you can listen to up to 75 million songs ad-free. Did you read that? Ad-free. The Echo Dot is one of the best virtual assistants for the money, and six months' worth of unlimited music streaming makes this deal even sweeter.