Things You'll Need
3 cans of colorful outdoor spray paint designed for metal

Rust stripper (if the cart is heavily rusted)

Electric sander

Medium grained sandpaper (P120)

Painters tape

Plastic
An old metal cart becomes a side table. Image Credit: Jessica Begum
Do you have an old metal cart tucked away in your garage? Don't toss it to the curb–transform it into a fabulous outdoor side table! It's easy to do, and it's a unique way to add a pop of color to your outdoor space.
Video of the Day
Step 1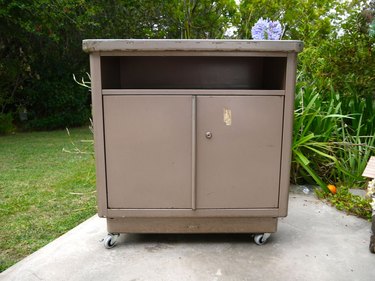 Before: Metal cart. Image Credit: Jessica Begum
An old metal cart like this one is worth a second look. It can become a fun outdoor side table with a few simple items from the hardware store and a little TLC. If you don't have an electric sander, consider renting one from the hardware store. Sanding metal by hand is not recommended because of the amount of sanding required.
Step 2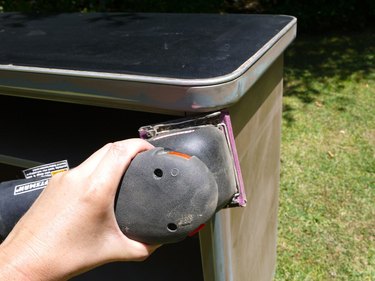 Sand with an electric sander. Image Credit: Jessica Begum
Begin by removing the wheels off your cart if possible, and remove all shelves to be sanded separately. The doors on this cart were removed and discarded. If your cart is heavily rusted, you can remove the rust with rust stripper by following the directions on the bottle. If the cart is lightly rusted, you can simply sand the rust away. Sand the entire surface of the cart with an electric sander. It's a good idea to wear a face mask and safety goggles and make sure you are sanding outdoors. You'll want to sand in a circular motion for several minutes.
Step 3
Sand until original paint sheen is gone. Image Credit: Jessica Begum
This entire cart, including the shelves, took about an hour of consistent sanding. It is not necessary to remove all of the old paint. In fact, your final sand result will look blotchy, with some of the primer and even the bare metal showing through. This is fine as long as the initial sheen of the original paint is removed.
Step 4
Protect unpainted surfaces. Image Credit: Jessica Begum
Next, wipe with a damp rag and let dry. You'll now want to protect any surfaces you don't want painted. This particular cart had a nice vinyl top worth preserving. To do this, simply cut plastic about a half inch smaller than the surface and tape edges down, carefully lining up tape edge with the edge of the cart. Use small pieces of tape at rounder corners, and trim with scissors if necessary. If your cart has the wheels still attached, cover them with plastic and secure with tape.
Step 5
Paint three light layers. Image Credit: Jessica Begum
On a protected outdoor surface, begin spraying the cart with long even strokes of paint. Begin with a light coat and then allow to dry for at least an hour. Then, turn the cart and apply paint to the backside. Allow to dry. The first pass of paint will look blotchy. Continue this process three times. If you are painting the cart two tone like this one, allow the paint to dry overnight before continuing to the next step.
Step 6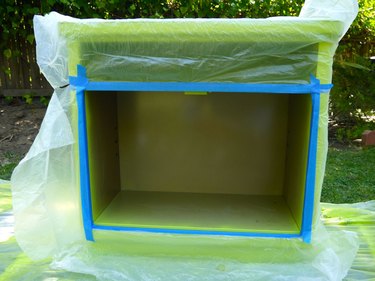 Cover outside with plastic and tape. Image Credit: Jessica Begum
The inside of this cart is a different color, so the newly painted outside of the cart needs to be completely covered with plastic (to protect from overspray) and sealed with painters tape. Once you've done this, follow the process above and apply three coats of paint. Remove the tape and plastic before you allow to dry. This will keep the paint from peeling when dry.
Step 7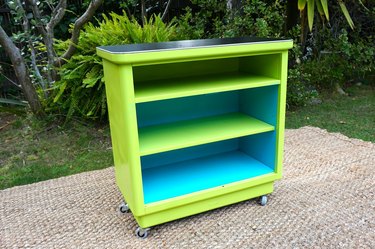 Allow to dry for one week before heavy use. Image Credit: Jessica Begum
Before putting the shelves and wheels back on your cart, let the paint dry for about a week in a protected area such as a garage. Then, reassemble shelves and wheels and your cart is ready to use!