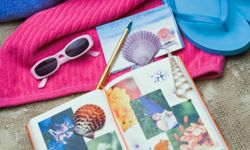 "Take back your kitchen table and set up your own scrapbook room.Comstock/Thinkstock
You've just discovered a way to make your bedroom closet, dining room, mud room, garage, attic or other cubby into a dedicated scrapbooking area. You'll never buy another duplicate stamp or paper again because, finally, you're getting organized once and for all — hallelujah! No more having to explain what all the bags are doing in the dining room or why the back seat of your car looks like Christmas week before the midnight wrapping marathon.
Your significant other doesn't understand why all the scrapbooking stuff is so important to you, but luckily that doesn't matter now. It's finally time to get your goodies in order and out of sight –where they won't inspire a lecture on conspicuous consumption.
Won't it be nice to carve out some much-needed work space for your scrapbooking and spend more time creating than searching for glue? If you've ever run to the kitchen for a fork or butter knife because you couldn't find the tool you needed, today is a red letter day — because honey, you're getting a scrapbooking room! Don't let yourself get sidetracked. Having a dedicated scrapbook room is like having a secret bank account. Every girl deserves an indulgent pursuit of her very own, and this one's yours.
Contents
Use Glass-front Cabinets
Think Small With a Library Card Cabinet
Be Flexible With Pegboard
Try Magnetic Paint
Outfit Your Closet with a Sweater Organizer
5: Use Glass-front Cabinets
Being able to add built-in cabinets to your scrapbooking room is the holy grail of craft room redesign. If you have the budget for this extravagance, don't bury your inventory where you can't see it. Solid-front cabinets look tidy, but wall-mounted cabinets with glass fronts will make it easier for you to find your stuff, and those large built-in pieces will look less massive in the space. Glass lets the light in and will make your room look more cheerful, too. Who couldn't use more of that? If you don't want everything out on display, go with drawers and solid-front cabinets under the counters.
Did You Know?
Another nice benefit to glass-front cabinets is that they display all the wonderful colors and textures of your scrapbooking supplies. Ribbon, paper and other scrapbooking essentials look more interesting and attractive than many conventional décor accents. Plus, if that wonderful walnut-colored raffia is peeking out at you from the cabinet, you'll be more likely to use it.
4: Think Small With a Library Card Cabinet
Libraries may have moved into the digital age, but those old style card catalog cabinets have just the right heirloom look for a scrapbooking room. The small drawers are perfect for embellishment storage, and there are lots of CD storage cabinets available these days that have the scholastic look of library card cabinets but with relatively shallow drawers. One of these petite cabinets will fit comfortably in a corner and solve a lot of your problems with small item storage.
3: Be Flexible With Pegboard
Chances are you have some pegboard panels in your garage holding up a few home improvement tools or gardening supplies. It's a man cave staple you can repurpose easily. Pegboard is made from either particle board or plastic. It's a panel consisting of regularly spaced holes that work with different hooks to suspend objects like pliers, scissors, tape, ribbon, glue guns and rulers. Specialty hooks also support small buckets or bins that can corral items like pens, thread and buttons.
Using pegboard is one effective way to exploit the vertical storage in your scrapbooking room. You can buy pegboard organizer kits complete with mounting hardware, or you can just purchase precut sections of pegboard like the ones your dad relied on. If you don't like the look of bare pegboard, prime and paint it any color that suits your decor.
Did You Know?
If you're one of those crafters who forgets what you have on hand, employ clear containers for some of your inventory. When you use clear glass jars and transparent plastic drawers and bags for storage, you're less likely to lose or forget what you have.
2: Try Magnetic Paint
You knew there'd be some painting involved, didn't you? It'll be worth it, though. If you love using refrigerator note clips to keep receipts and reminders organized, you'll adore having a whole magnetic wall (or room) to play with. You'll be able to affix metal objects on the wall easily, and anything non-metallic like a photo can be held in place with a flat magnet or magnetic clip.
Magnetic paint is actually a primer that goes under a latex top coat. You can use whatever color latex you want. You can even use blackboard paint. This is one easy way to get those inspirational items out of your drawers and boxes and up on the walls where they can motivate you to create a masterpiece. If you've heard a rumor that magnetic paint won't hold a heavy magnet in place, newer varieties have more sticking power, so go for it.
Did You Know?
The kitchen design department of your local home improvement store may be hiding scrapbooking room booty. Display cabinets and countertops, as well as returned and institutional cabinets are occasionally offered on sale at deep discounts. It's worth checking out periodically for unexpected bargains. Another great source for quality wood pieces like cabinets, shelves, desks and chests is your local nude or unfinished furniture store. You'll have to paint or stain these basic units, but they're typically better quality than pressed wood options available within the same price range.
1: Outfit Your Closet with a Sweater Organizer
If you're lucky enough to have a closet (or even just a sturdy pole), you can make a handy paper storage kiosk with a closet organizer designed to hold sweaters. These sectioned shelves are usually 12 by 12 inches, and some models have optional drawers. This is just one way you can turn a utility closet or freestanding utility armoire into a scrapbooking friendly storage spot for tools and supplies. Door organizers and hanging shoe racks can help organize your supplies, too, and don't forget to buy a few skirt hangers to hold your works in progress.
Lots More Information
Related Articles
Scrapbooking 101

Snazzy Scrapbook

Photo Storage Information

Heirlooms

Quiz: Family Heirlooms 101

How to Properly Store Antique Documents

Top 5 Things People Rarely Pass Down, But Should

Ultimate Guide to Dealing with Sibling Rivalry and Family Heirlooms

What do your family heirlooms say about you?

How to Properly Store Really, Really Old Photos

How to Care For Antique Books

If I have no heirlooms, what should I pass down?

Scrapbook Binding

5 Creative Gift Wrapping Techniques
Sources
BHB. "Scrapbook Dream Room Discussion." 2008. (4/24/11).http://wiki.bhgscrapbooksetc.com/thread/1145482/The+Dream+room

BHG. "The Ultimate Scrapbooking Room." Undated. (4/24/11).http://www.bhg.com/decorating/storage/scrapbooking/ultimate-scrapbooking-room/

Cross, Patter. "Scraproom Tour." 3/21/11. (4/24/11).http://www.scrapjazz.com/topics/Organization/Scrap_Rooms/3192.php

Dagmi, Jane. "Make a Craft Room." Undated. (4/24/11).http://www.countryliving.com/crafts/projects/make-craft-room-0306

Fun Times Guide. "11 Fun Tips For Organizing Your Craft Room." Undated. (4/24/11).http://stamping.thefuntimesguide.com/2009/05/craft_room_organization.php

Fung, Leah. "Ultra Organized Scrapbooking Room." Scrapbooks Etc. Undated. (4/24/11).http://www.scrapbooksetc.com/storage/space/ultra-organized-scrapbooking-room/

Into Scrapbooking. "Some Tips on Decorating Your Scrapbook Room." Undated. (4/24/11).http://www.intoscrapbooking.com/craft-rooms/some-tips-on-decorating-your-scrapbook-room.html

Luxury Home Plans. "Some Tips for Building a Home Scrapbooking Room." Undated. (4/24/11).http://www.ggcs2.org/some-tips-for-building-a-home-scrapbooking-room

Rustoleum. "Magnetic Paint." Undated. (4/24/11).http://www.rustoleum.com/cbgproduct.asp?pid=127

Scrapbooking Ideas Now. "Planning and Creating a Scrapbook Room." 5/1/09. (4/24/11).http://www.scrapbookingideasnow.com/scrapbooking-ideas/planning-and-creating-a-scrapbook-room

The Nest. "Top 10 Craft Room Tips From Nesties." Undated. (4/24/11).http://ideas.thenest.com/decor-tricks/cleaning-organizing/slideshows/nestie-craft-rooms.aspx?page=2&MsdVisit=1

YouTube. "Scrapbook Ideas & Tips : How to Organize a Scrapbook Room." Undated. (4/24/11).http://www.youtube.com/watch?v=6m41loBIkck