This stuffed spaghetti squash recipe is equal parts delicious and easy. It features a creamy spinach filling that tastes amazing on its own or with crusty bread. The best part? You can easily make it vegan by using dairy-free ingredients. Read on for the full recipe.
Video of the Day
Things You'll Need
1 medium spaghetti squash, about 2 1/2 pounds, halved and deseeded

4 cups baby spinach

1/2 cup cream cheese (dairy or plant-based)

1/2 cup plain yogurt (dairy or plant-based)

1 teaspoon salt

1/2 teaspoon ground black pepper

1 teaspoon dried thyme

2 teaspoons minced garlic

Salt and pepper (for roasting squash)

Olive oil
Tip
To make the squash easier to cut, poke the squash with a fork several times. Next, using a knife, make a slit along where you will eventually cut it. Microwave on high for three to four minutes. Let it cool slightly and then cut off the stem and cut the squash in half lengthwise.
Step 1
Preheat the oven to 400°F. Line a large baking sheet with parchment paper. Drizzle oil onto the cut side of the spaghetti squash and then sprinkle with salt and pepper.
Place the squash on the baking sheet cut side down. Bake for 40 to 45 minutes or until the cut edges are slightly brown. Remove the squash from the oven and reduce the temperature to 350°F.
Step 2
In a small skillet over medium heat, warm 1 tablespoon oil. Cook the spinach until wilted, about three to five minutes. Add the garlic, salt, black pepper and thyme. Cook for another 30 seconds.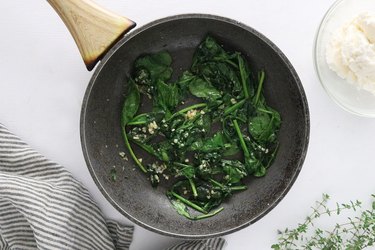 Step 3
Add the cream cheese and yogurt. If needed, break apart the cream cheese with a spatula. You can leave some chunks if you'd like. Heat until combined, about three minutes.
Step 4
When the spaghetti squash is done roasting, remove it from the oven and let it cool slightly. Carefully turn over the squash and shred the flesh using a fork.
Step 5
Add the spinach filling to the squash, mixing it with the stringy flesh. Another option is to scoop out all of the flesh, mix it with spinach filling in a separate bowl and then return it to the squash.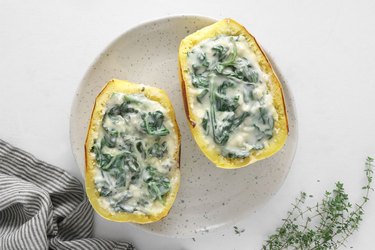 Step 6
Return the spaghetti squash to the baking sheet and roast for another 15 to 20 minutes or until the filling is bubbly.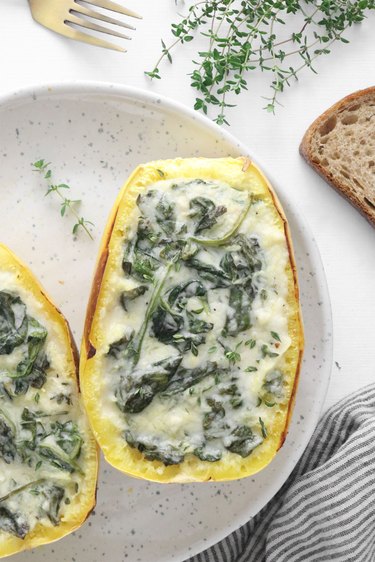 Serve the stuffed spaghetti squash on its own, with crusty bread or as a side dish.