Are you looking for a delicious, no-fuss weeknight meal? Try these sheet pan cauliflower fajitas. Not only is this vegetarian and vegan meal easy to make but it calls for minimal cleanup too. It's also perfect for meal prep; just whip up a batch before the work week and enjoy it over the next few days.
Video of the Day
Things You'll Need
1 small head cauliflower, chopped into florets

3 medium bell peppers, deseeded and sliced

1 medium yellow or white onion, sliced

4 to 6 tablespoons avocado oil

1 tablespoon chili powder

1 to 2 teaspoons cumin

1 teaspoon onion powder

1/2 teaspoon garlic powder

1/2 teaspoon smoked paprika

1/2 teaspoon ground black pepper

1 teaspoon salt

1 teaspoon dried oregano

Cilantro, avocado and/or fresh lime juice (for garnish)

10 (6-inch) whole wheat or corn tortillas
Tip
To make these fajitas vegan, use vegan tortillas. (Most tortillas are vegan, but it's always a good idea to double-check the product packaging.)
Step 1
Preheat the oven to 400°F. Line a large baking sheet with aluminum foil or a silicone baking mat. In a small bowl, combine all the spices. Mix well.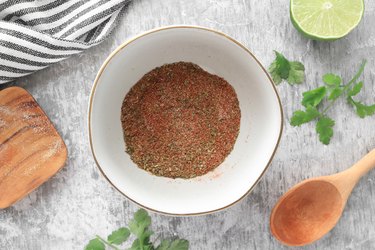 Tip
You may need to use an extra-large baking sheet depending on the size of your vegetables.
Step 2
Transfer the cauliflower, bell peppers and onions to a large bowl. Toss with oil and spices until the vegetables are completely coated, adding more oil as necessary.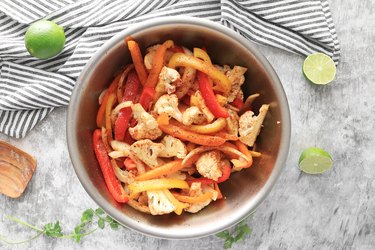 Step 3
Transfer the cauliflower, bell peppers and onions to the baking sheet. Try to spread the vegetables in a single, mostly even layer.
Step 4
Bake for 20 to 23 minutes, tossing once halfway. The vegetables are ready once they become slightly crispy, and the edges turn black.
Tip
The cauliflower in this recipe will have some crunch. If you prefer more tender cauliflower florets, add them to the sheet first (without the other veggies). Bake them for 10 minutes and then add the bell peppers and onions. Return the pan to the oven and bake for 20 minutes.
Step 5
Warm the tortillas in the microwave for 30 seconds. Add the cauliflower mixture and top with cilantro, avocado or fresh lime juice.