When I need a great recipe for a quick-but-healthy weeknight meal, I reach for the cast iron skillet. The way it renders fat leaving behind crispy skin and juicy chicken is nothing short of miraculous, delicious and healthy — such a win/win! This recipe is great if you aren't on a diet at all, but it also fits for all your loved ones who are dairy free, gluten free, paleo and even those Whole30 people! It's also perfect for just a busy person who wants a great meal.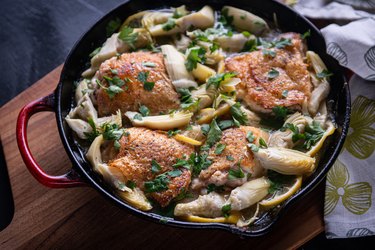 Video of the Day
Things You'll Need
2 lbs chicken thighs (bone in, skin on) about 6

1 teaspoon salt

1 teaspoon pepper

1 cup chicken broth

2 tablespoons cornstarch (or tapioca flour)

2 tablespoons olive oil

1 teaspoon garlic powder

1 teaspoon onion powder

1 tablespoon honey mustard

1 small lemon, thinly sliced and seeded

1 (15oz) can quartered artichoke hearts in water, drained

2 tablespoons chopped fresh parsley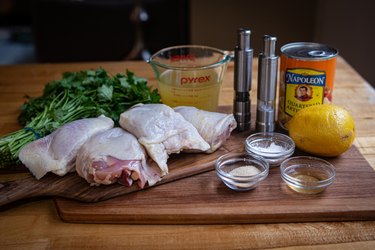 Step 1
Season the chicken on all sides with salt and pepper. Put in a cast iron skillet, off heat, skin side down.
Add to medium-heat, cooking until the skin has browned and the fat has rendered, 15 to 20 minutes then flip the chicken over. Use a splatter guard if you have one.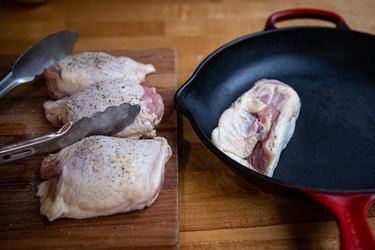 Tip
This method of using a cold pan and low heat renders more fat, and makes the skin super crispy. If the skin sticks to the pan, don't worry — it will release once it has browned, given that your skillet is properly seasoned.
Step 2
While the chicken cooks, make the sauce. Stir together the chicken broth and cornstarch, then stir in the olive oil, garlic powder, onion powder and honey mustard. Then add the lemon slices.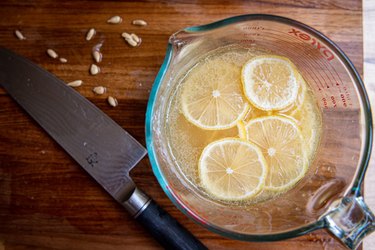 Step 3
Pour off the fat that has rendered (this method will render a considerable amount of fat) then add the sauce to the pan.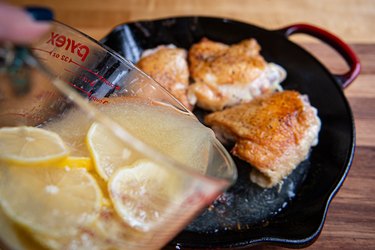 Step 4
Add the artichoke hearts and simmer over medium heat until the chicken is cooked through and the sauce has thickened, about 6 minutes.
Step 5
Top with chopped parsley. Serve and enjoy!