Providing snacks at a work meeting is much less challenging than catering a full meal for hundreds, but it still deserves some serious thought. Rich and heavy foods can leave your participants sleepy and unproductive, exactly the opposite of how you want your co-workers at a meeting. Spicy foods can create uncomfortable indigestion, and sloppy foods pose a staining hazard to business attire. Providing light, varied and enjoyable snacks that avoids all these pitfalls requires a degree of creativity.
Video of the Day
Vital Information
Before you jump into the planning process too deeply, it's always a good idea — if possible — to circulate an e-mail ahead of time asking whether your participants have any dietary constraints. These considerations include food allergies, cultural or religious prohibitions, vegetarianism, or a simple preference for healthy or low-carb options. If that information isn't available, be mindful of common issues and provide options that are vegetarian, gluten-free and minimize the common allergens.
Finger Sandwiches
Meetings that run through the heart of a morning or afternoon can be tough on those who haven't eaten properly, so a tray of tiny, finger-sized tea sandwiches are a boon. At their simplest, these are ordinary sandwiches cut into quarters or even eighths, though some caterers offer pinwheel sandwiches and other dainty variations. They're diminutive enough to eat in a single bite, keeping fingers clean and minimizing the risk of dropped sandwich filling.
Variations on the Theme
Many caterers offer sandwiches made by tightly rolling fillings inside a wrap, then slicing the resulting cigar-shaped cylinder into sushi-esque, finger-friendly rolls. These are attractive and a lower-carb alternative, and they can be made with gluten-free flatbreads if necessary. Whichever type of sandwiches you choose, provide some with meatless or all-vegetable fillings for those who need them.
An Upscale Offering
If you're hosting potential clients or senior management, adding even a small quantity of an upscale alternative can elevate the appearance of your entire table. It doesn't take much. A small tray of wafer-thin smoked salmon on a bed of ice, with a caper garnish and whole-grain crackers, serves admirably, as do good-quality shaved Italian prosciutto or Spanish jamon, with finger-sized rolls or wedges of artisanal bread.
Vegetable Trays
Vegetable trays are a meeting-day staple — and for good reason. They're light, they're nutritious, and their bright colors lend visual appeal to the table. Ordinary platters can look rather humdrum, but a few simple changes improve their appeal. Specify fresh-cut carrots sticks rather than shaped "baby" carrots, for example, which often look unpleasantly dry. Vegetables such as carrots, cucumbers, celery and sweet bell peppers can be sliced into long strips and served vertically in water goblets or wine glasses, rather than sitting out on a plate.
Do the Dip
Ranch dressing is the usual dipping option for vegetable trays, but you don't have to abide by tradition. Tzatziki, the Greek dip of plain yogurt and cucumbers with fresh dill, is a refreshing and lower-fat option. Not only that, its minimal fat content means it's less likely to cause a greasy stain if dropped on a shirt. Another alternative is hummus, which is thick enough not to drip and is also high in protein. It's also gluten-free, dairy-free and vegan-friendly.
Fresh Fruit …
Fresh fruit offers similar advantages, with the added benefit of quickly boosting your participants' blood sugar. For meeting participants sagging in the mid-morning doldrums, they can be a lifesaver. Providing disposable forks — or at least toothpicks — is a good idea, because your participants won't want to keep wiping their fingers. Even worse, many berries can stain their fingers for hours afterwards. Grapes are an excellent option, because they're neatly self-contained.
… Or Dried
Don't overlook the high-energy virtues of dried fruits, either as a complement to fresh varieties or in their stead. Dried apples don't brown like fresh apples. And dried cherries or blueberries don't stain fingers, yet their flavors are as full and concentrated — sometimes more so — as their fresh equivalents. Sweet options such as dried figs or dates provide a healthier surrogate for the traditional cookies and doughnuts.
Crunchy Nibbles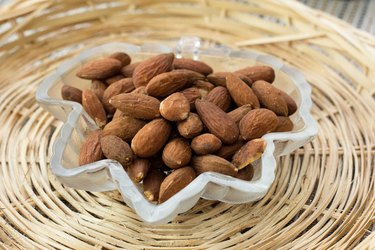 Often the people sitting around your table won't want to really eat but simply have something to nibble on as the meeting progresses. Crunchy vegetables can sometimes fill this role, but it's useful to provide a few alternatives. Bowls of nuts are a good option, unless you have food allergies to contend with. Whole-grain, low-sodium corn chips and multi-grain pretzel sticks are also good choices. Gluten-free pretzels are readily available, and their texture is good enough to appeal even to participants who can eat gluten.
The Beverages
Brewing — and often wasting — large pots of coffee or tea isn't always necessary. If you furnish your meeting room with one or two single-cup brewers, you can provide excellent coffee in varying roasts or flavors on an on-demand basis. Shun sugary sodas, which can cause a disconcerting sugar "crash" late in long meetings; instead, offer chilled fruit juices and plenty of cold water.