There is a lot to love about this soup. First, if you've ever had the Panera bread version, you already know you love it. Second, it takes just 15 minutes to make. And third (this might even be my favorite part) it freezes well. So, just make yourself a double (or triple) batch and you'll have enough to stock your freezer full of soup for those days when even 15 minutes seems like to long to wait to eat.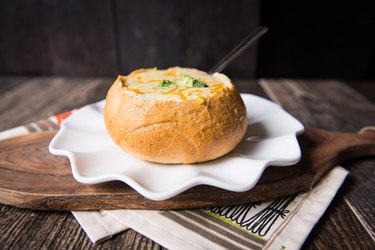 Things You'll Need
6 tablespoons butter

1 cup chopped white onions

¼

cup all purpose flour

2 cups half and half

2 cups chicken broth

8 ounces grated sharp cheddar cheese

¼ teaspoon nutmeg

½

teaspoon salt

1 teaspoon black pepper

1 teaspoon garlic powder

½ lb fresh broccoli (about 1 cup), chopped

1 large carrot, grated with a cheese grater

1 bread bowl for serving (optional)
Step 1: Melt the Butter
Melt the butter in a large saucepan or Dutch oven.
Step 2: Brown the Onions
Add the onions, cooking over medium high heat until the onions start to brown.
Step 3: Sprinkle with Flour
Sprinkle the flour over the onions, stirring until the flour is well combined with the butter.
Step 4: Stir in the Broth and Half and Half
Add the broth and half and half, stirring until well combined.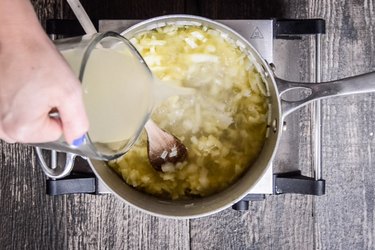 Step 5: Slowly Add the Cheese
A handful at a time, sprinkle the cheese over the pot, stir until well combined before adding more.
Step 6: Add the Spices
Add the nutmeg, salt, pepper and garlic powder, stir to combine.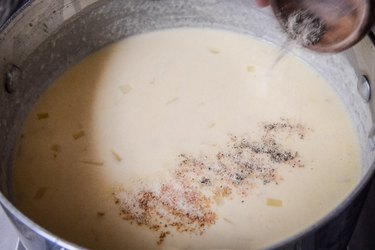 Step 7: Add the Broccoli and Carrots
Add the broccoli and the grated carrots, stir to combine. Simmer until vegetables have softened, about 5 minutes.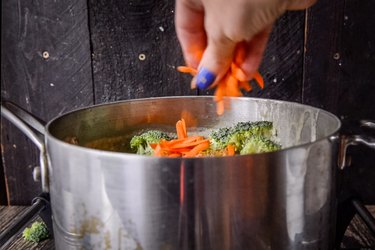 Step 8: Blend
Using an immersion blender, blend until mostly smooth but some smaller chucks of vegetables still remain.
Step 9: Serve
Top with additional cheese, if desired.