For a ghoulishly good time, serve up a creepy cocktail your guests can really sink their teeth into on All Hallows' Eve. Cranberry juice and raspberry vodka give it some bite (pun intended), while grenadine adds that signature blood-red color guaranteed to transport your guests straight to Transylvania. The vampire fangs and dripping "blood" may make this drink look deadly, but we assure you it's as tasty as it is terrifying.
Things You'll Need
1/2 cup corn syrup

1 teaspoon red food coloring

Ice

2 ounces cranberry juice

1 ounce raspberry vodka

Grenadine

Lime juice

Plastic vampire fangs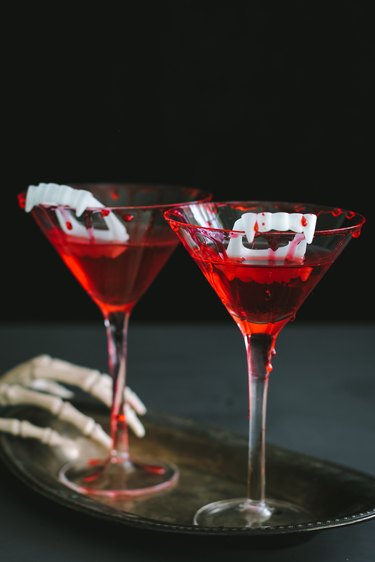 Step 1
Add 1/2 cup corn syrup and 1 teaspoon of red food coloring to a shallow bowl. Whisk together until the syrup turns a bright "blood" red.
Step 2
Dip the rim of a martini glass into the syrup, lightly coating the entire rim. You don't need too much syrup to create the most realistic blood drips. Let some of the syrup drip off back into the bowl before turning the glass upright.
Step 3
Place the glass upright on a plate or some parchment paper until the syrup is done dripping down the sides.
Step 4
Add 1/2 cup ice, 2 ounces cranberry juice, 1 ounce raspberry vodka, a splash of grenadine, and a squeeze of lime juice to a cocktail shaker. Shake all of the ingredients together.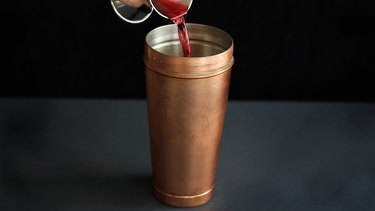 Step 5
Strain the mixture into the syrup-rimmed martini glass. The trick is to not fill the glass too high, so you can still see some of the blood drips around the rim.
Step 6
Garnish the drink with a set of plastic vampire fangs placed on the rim.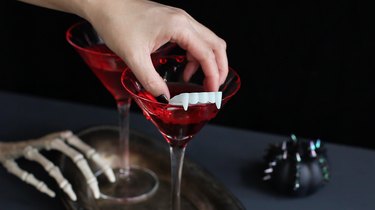 You might want to wear some garlic around your neck to keep the vampires away because this cocktail is guaranteed to be frightfully delicious.