This gooey crab dip will be a hit at your next party. It's insanely creamy and rich, thanks to the sour cream, cream cheese and cheese. Plus, all you need to do is mix and bake the ingredients, so it's ideal when you're in a pinch. Serve it with crackers, carrot sticks or crostini.
Video of the Day
Things You'll Need
1 pound crab meat (imitation or real)

2 cups shredded cheddar cheese

1/2 cup sour cream

8 ounces cream cheese, softened

1 teaspoon onion powder

1 teaspoon garlic powder

1/2 teaspoon ground black pepper

1 teaspoon lemon juice

1 teaspoon Worcestershire sauce

1/3 cup scallions, chopped

Fresh or dried parsley, for topping (optional)
Tip
Beat the cream cheese until it is smooth. This will make it easier to mix.
Step 1
Preheat the oven to 350°F. Chop up the crab meat. Feel free to leave a few chunky pieces.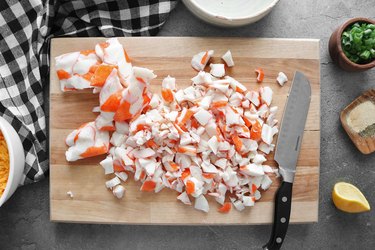 Step 2
In a large bowl, combine the crab meat, softened cream cheese, sour cream, spices, lemon juice, Worcestershire sauce and 1 cup cheese.
Tip
For an extra kick, add diced jalapeños or a splash of hot sauce. You can also add paprika, crushed red pepper flakes or celery salt.
Step 3
Stir until fully combined. Make sure the ingredients are evenly dispersed.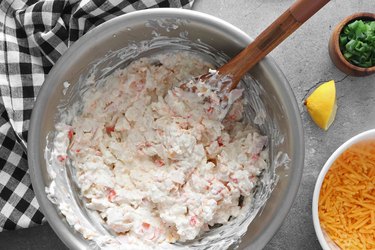 Step 4
Transfer the crab mixture into a greased 9-inch baking dish. Top with the remaining shredded cheese and chopped scallions.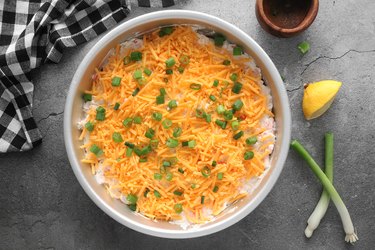 Step 5
Bake for 25 to 30 minutes or until the cheese is melted and bubbly. Garnish with fresh or dried parsley, if you'd like.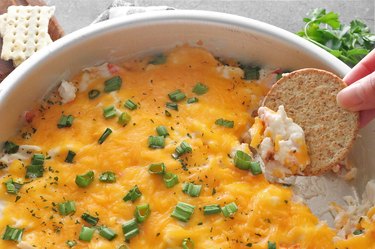 Serve hot with crackers, vegetables or sliced bread.