German potato salad is perfect for anyone who digs potatoes but is suspicious of mayo. It's entirely different from those salads you grew up with that came in a tub and were more dressing than potato. It has a nice tang and the added deliciousness of ample bacon. Especially when it is served warm, you'll be going back for seconds and thirds.
Video of the Day
Things You'll Need
3 pounds potatoes (red potatoes or Yukon gold)

1 pound raw bacon, chopped

½ cup white onion, finely diced

¼ cup apple cider vinegar

¼ cup olive oil

1 tablespoon stone-ground deli mustard

2 teaspoons white sugar

1 teaspoon garlic powder

1 teaspoon salt

1 teaspoon ground black pepper

¼ cup green onions, chopped

¼ cup fresh parsley, chopped
Step 1: Cook the Potatoes
Peel the potatoes if desired and chop them into bite-size pieces. Add them to heavily salted boiling water until they are fork-tender. Drain and set aside.
Step 2: Cook the Bacon
Add the bacon to a skillet over medium heat and cook until the fat has rendered and the bacon is crisp. Remove the bacon with a slotted spoon and pour off all but about 2 tablespoons of bacon fat.
Step 3: Cook the Onions
Add the onions to the bacon fat. Cook until they are browned and starting to caramelize, about 10 minutes.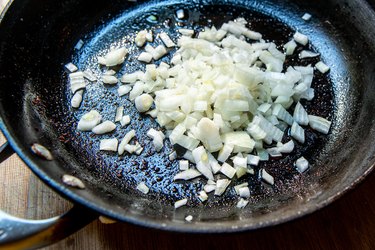 Step 4: Make the Dressing
Stir together the oil, vinegar, sugar, garlic powder, mustard, salt, pepper, parsley and green onions. Set aside.
Step 5: Combine All Ingredients
Add all of the ingredients to a large bowl and gently toss to combine. Allow the ingredients to sit for 10 minutes while the potatoes absorb the dressing.
Step 6: Serve
Serve the German potato salad either warm or cold. Enjoy!