This easy tuna macaroni salad is a great way of putting a classic dish together out of items you likely have in your pantry. The simplicity of this dish is one to be admired, since after only a small amount of work, each bite packs a surprising punch of flavor. This particular recipe really lets the flavor of tuna shine, complimented by the bright notes of lemon and onion all throughout. It's perfect for lunch all on its own, or as a side dish to any meal—plus, you'll have leftovers for days!
final dish Image Credit: Kristan Raines
Video of the Day
Things You'll Need
8 oz dry elbow macaroni

2, 7 oz cans of light tuna, drained

½ cup + 2 tbs mayonnaise

½ cup +2 tbs greek yogurt

1/2 cup diced red onion

1 cup frozen petit peas

zest of one lemon

1 tbs lemon juice

1 tbs freshly chopped dill, plus a bit extra for garnish

salt and pepper, to taste

large pot

colander

zester

large mixing bowl
Step 1
Cook the pasta according to instructions until al dente. Add the peas about one minute before the pasta is finished cooking. Drain, rinse under cold water and set aside.
cooked and drained pasta Image Credit: Kristan Raines
Step 2
To a large bowl add the cooled pasta, tuna, mayo, yogurt, onion, peas, lemon zest, lemon juice, dill, and a few pinches of salt and pepper.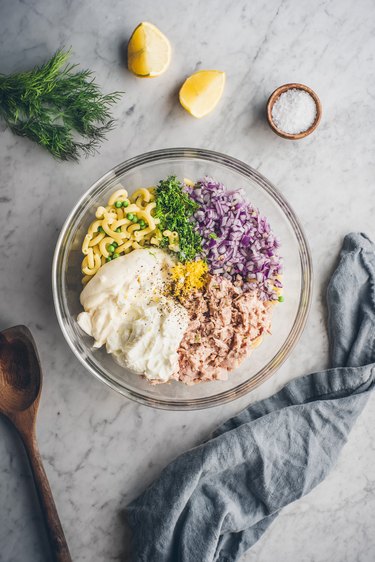 Prepping ingredients Image Credit: Kristan Raines
Step 3
Gently fold everything together until well coated. Season with additional salt and pepper as needed. Cover the bowl, and place in the refrigerator for 30-45 minutes before serving.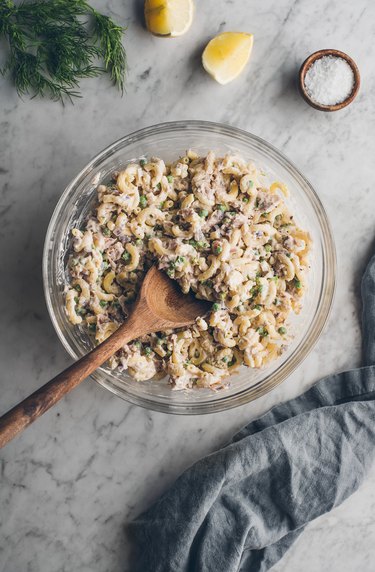 Mixing ingredients Image Credit: Kristan Raines
Tip
The pasta will absorb the mayo-yogurt mixture, so the longer the salad chills, the more dry it will become. If this happens, just add a little extra mayo, yogurt, or a mix of both, until desired texture is achieved.
Step 4
Transfer the tuna pasta salad to a serving dish and garnish with a bit of freshly chopped dill and enjoy! Serves 6-8.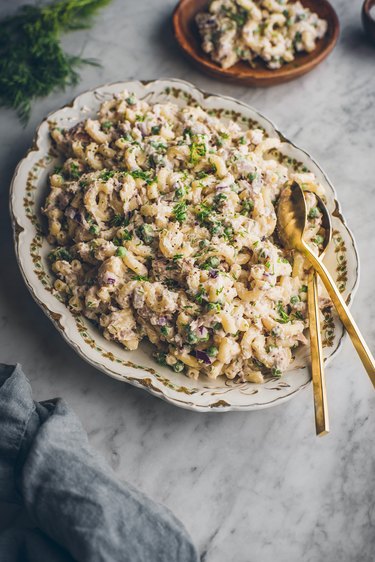 Finished dish Image Credit: Kristan Raines