Posole is a soup that's beautiful and delicious enough to serve at gatherings with friends, but low maintenance enough to make as a weeknight meal for family. It's so good that you should just plan to make a double batch and freeze a portion for later. You'll be glad you did.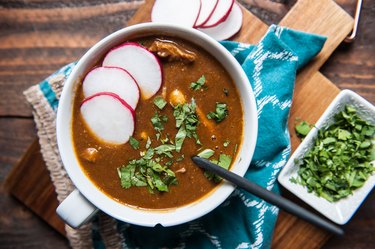 Video of the Day
Things You'll Need
2 pounds pork shoulder

Salt and pepper

1 tablespoon olive oil

1 white onion, chopped

4 cups low sodium chicken broth

5

dried ancho or guajillo chili pods (stem and seeds removed)

6 cloves garlic, peeled

2 teaspoons cumin

2 teaspoons chili powder

1 teaspoon garlic powder

1 teaspoons onion powder

1 teaspoons smoked paprika

2 bay leaves

25 oz. can hominy, (1)

Optional garnishes:

sliced radish, diced avocado, sour cream,cilantro
Step 1: Salt and Pepper the Pork
Liberally salt and pepper the pork on all sides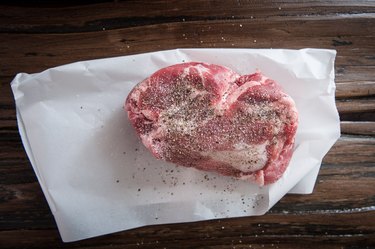 Step 2: Sear the Pork
Heat the olive oil in a large pot or dutch oven. Sear the pork on all sides.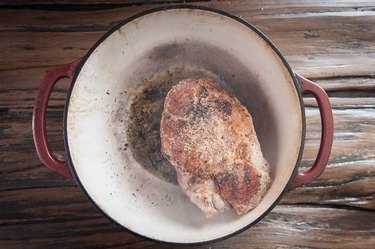 Step 3: Brown the Onions
Remove the pork from the pan, and then add the onions, cooking until they start to brown.
Step 4: Combine Ingredients in the Pot
Pour in the broth, scraping to deglaze the bottom of the pan. Add the pork, chili pods, just half the hominy (reserve the other half for later), spices, garlic and bay leaf. Simmer until the pork is fork-tender and shreds easily, about 4 hours.
Tip
Running short on time? Slow cook it! Transfer it to a slow cooker at this stage, cook on low for 8 hours, then continue with the remaining steps.
Step 5: Shred the Pork
Remove the pork from the pot, shred using two forks.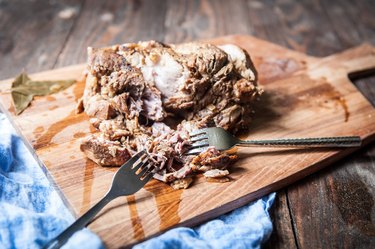 Step 6: Blend the Broth
Remove the bay leaves (if your blender isn't powerful, remove the chili pods as well) and pour everything from the pot (not the pork) into the blender. Blend until smooth.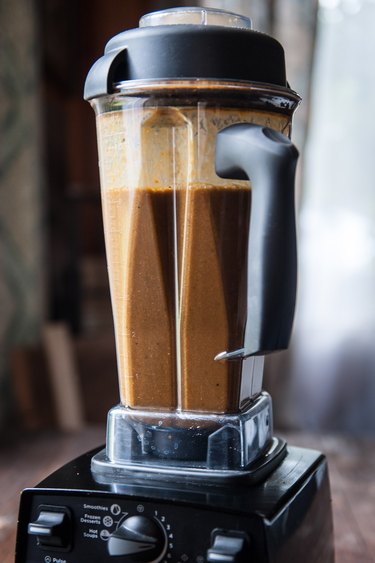 Step 7: Simmer for 10 Minutes
Add the blended broth, the shredded pork, and the remaining hominy back into the pot. Simmer for 10 minutes or until ready to serve (posole can simmer for quite a while without incident). Thin with water or broth to your desired consistency. Ladle into bowls and garnish as desired.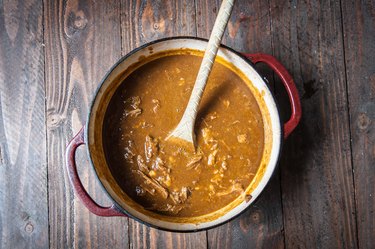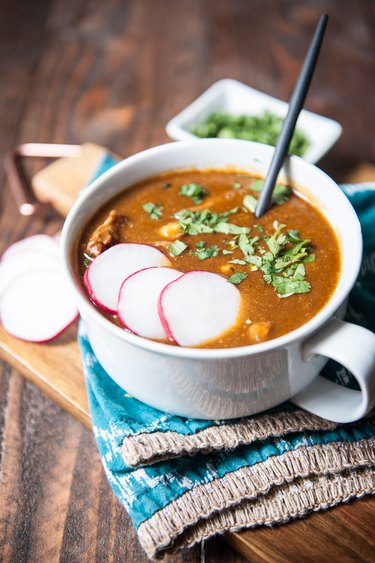 Tip
Perfect freezer meal! Portion into freezer containers (without garnishes) and freeze for later. It reheats beautifully.