This tasty recipe will surely be your go-to when it comes to easy weeknight meals. It requires just a few minutes prep and there's no need to cook the meat in advance. Once you get home, you'll have a big pot of dinner ready and waiting!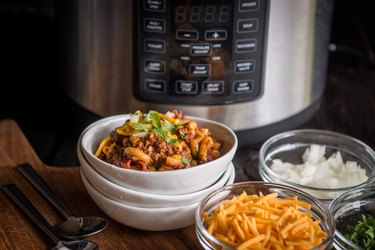 Video of the Day
Things You'll Need
1 lb ground beef (or ground turkey)

1 cup chopped white onions

1 can (15.5oz) kidney beans

1 can (7oz) diced green chilies

1 can (14.5oz) fire roasted diced tomatoes

1 (6oz) can tomato paste

1 packet taco seasoning

1 cup beef broth

2 cups elbow macaroni

Garnishes (grated cheese, cilantro, chopped onions)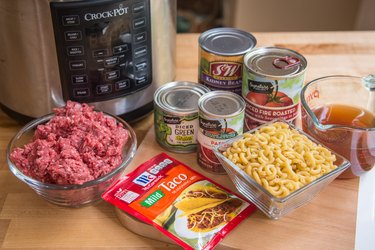 Step 1
Add the ground beef, onion, kidney beans, green chilies, tomatoes, tomato paste and chili seasoning to a slow cooker, then stir to combine. Cook on low for 8 hours, stirring occasionally if possible.
Step 2
Stir in the beef broth and macaroni. Continue to slow cook for 15 minutes. If using cooked noodles, omit the beef broth.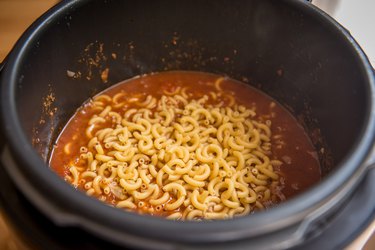 Step 3
Ladle into bowls and top with garnishes of choice. Enjoy!