Is your meal prep routine stuck in a rut? Try this recipe for chicken burrito bowls. It's a simple yet nutritious dish that takes less than 30 minutes to make. You can make it in even less time by using ingredients like microwavable rice, canned vegetables and store-bought pico de gallo. Serve these burrito bowls for dinner or divvy them up into containers for meals throughout the week.
Video of the Day
Chipotle Yogurt Sauce
Things You'll Need
1/2 cup plain Greek yogurt

1/2 to 1 chipotle pepper in adobo sauce, minced

1 tablespoon adobo sauce

Juice from 1/2 lime

1/4 teaspoon salt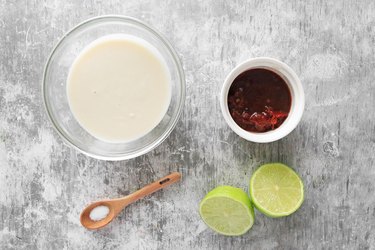 Tip
In place of Greek yogurt, you can use plain nondairy yogurt, sour cream or mayonnaise. These alternatives may slightly change the flavor and consistency of the sauce, but it will still be delicious.
Step 1
If you haven't already, squeeze the lime.
Step 2
In a bowl or container, combine all the ingredients. Taste and add more lime juice, salt or adobo sauce if necessary. Cover and store in the refrigerator to let the flavors develop.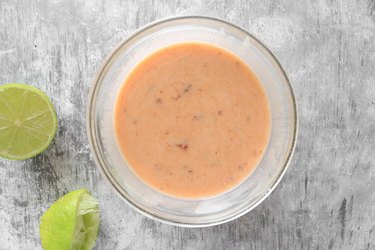 Chicken Burrito Bowls
Things You'll Need
1 pound ground chicken

1 1.25-ounce packet taco seasoning (about 2 1/2 to 3 tablespoons)

15 ounces canned red or black kidney beans, drained

15 ounces canned corn, drained

1 1/2 cups pico de gallo

1 ripe avocado

3 cups brown rice or quinoa, cooked

1/4 cup fresh cilantro, chopped

1/4 cup scallions, chopped

Oil, for cooking

Chipotle yogurt sauce
Step 1
In a large skillet over medium heat, warm about 3 tablespoons of oil. Add the ground chicken and taco seasoning. Cook until the chicken is no longer pink, about 5 minutes, while breaking it up with a spatula.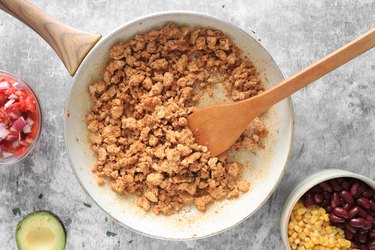 Step 2
While the chicken is cooking, combine the cooked rice, cilantro and scallions in a bowl. Toss until evenly combined.
Step 3
Dice the avocado.
Step 4
To individual bowls or containers, add the rice, ground chicken, corn, beans, pico de gallo and diced avocado. The total number of containers will depend on their size.
When you're ready to eat, add a drizzle of chipotle sauce and dig in.
Tip
If you plan to reheat the individual portions at a later date, you may want to store the pico de gallo and avocado separately. (Unless, of course, you don't mind warm pico de gallo or avocado.)