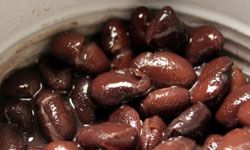 "A can of black beans might not seem like much, but you'll be surprised by the diverse assortment of dishes it can make.iStockphoto/Thinkstock
Black beans are popular legumes with Latin American roots. They're high in protein and contain cholesterol-lowering fiber, making them a true modern-day superfood. Whether they're puréed, mashed or chilled, black beans are a delicious way to make an otherwise light dish hearty and satisfying, and at less than $1 a can, they're inexpensive, too.
Since black beans are available year-round, they're easily accessible and a great addition to any meal, whether you're planning a dinner party, tailgate menu or making a sweet treat for the kids. In fact, you can make almost any kind of food with a can of black beans. We know, it's hard to believe they're so versatile, but over the course of this list, we'll show you just how adaptable black beans can be.
Read the next page to learn how to turn a can of black beans into a frozen treat your entire family is sure to love.
Contents
Black Bean Ice Cream
Black Bean Mexicali Salad
Black Bean Burgers
Black Bean Enchiladas
Black Bean Soup
Black Bean Tostadas
Hearty Chili with Black Beans
Black Bean Salsa
Black Bean, Cucumber and Mango Salad
Black Bean Brownies
10: Black Bean Ice Cream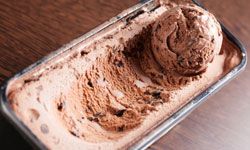 "That's right; we're talking about black bean ice cream. And, yes, it's delicious.iStockphoto/Thinkstock
Black bean ice cream is a Central American-inspired treat, and it's the perfect combination of flavorful black beans and creamy sugar. To make a quart of this rich dessert, you'll need half-and-half, a cup black beans and plenty of brown sugar, white sugar and powdered cinnamon. Chill the concoction in your freezer, and once it's frozen, add a splash of dark rum to taste. Enjoy the sweet flavor of this homemade treat — and feel good that you're getting a healthy dose of fiber and protein, too.
9: Black Bean Mexicali Salad
With ingredients like part-skim mozzarella cheese, corn and black beans, this black bean Mexicali salad is full of good carbohydrates that won't blow your diet. This salad's roasted bell peppers, yellow onions and mild chipotle salsa will please your taste buds and satisfy your hunger, too. Toss in fresh salad greens and serve this dish cold for the best culinary experience.
Cold Corn
Use frozen corn kernels in this salad instead of canned kernels; they'll chill the dish quickly, saving you time in the kitchen.
8: Black Bean Burgers
It doesn't matter if you're a strict vegetarian or dedicated meat eater, you'll love this recipe for black bean burgers! A veggie alternative, black bean burgers taste just as juicy as a regular hamburger. Consisting only of black beans, an egg white, bread crumbs, green onions and corn, they're easy to assemble, too. Once the patties are heated on the grill, serve them to family and friends at your next cookout on toasted hamburger buns with familiar toppings like lettuce, tomatoes and onions. You can even add a few fresh avocado slices and a dollop of spicy salsa if you're feeling adventurous.
Calorie Count
Black bean burgers have an average of 150 calories, while a traditional ground beef burger often contains more than 500 calories.
7: Black Bean Enchiladas
"Cheese is always a welcome addition to black bean enchiladas.David Prince/FoodPix/Getty Images
Have a hankering for authentic Mexican-style enchiladas? Instead of filling them with shredded chicken or beef, try enchiladas full of black beans, yellow rice and spicy peppers for a healthier alternative. Tightly roll up the tortillas, pour a generous helping of spicy enchilada sauce over the entire dish, and pop them in the oven. You'll know they're done with the cheese on top turns brown and bubbly. Add tortilla chips for a delicious Mexican-inspired meal.
6: Black Bean Soup
This black bean soup, made with potatoes, sweet onions and — you guessed it — black beans, is a yummy, quick dish to prepare, and it's healthy, too. Spice up this high-fiber soup with cumin, jalapeño peppers, oregano and dried thyme leaves, and let your slow cooker do the dirty work. Leave the kitchen for several hours, and when the aroma of spices and vegetables fills your home, you'll know it's time to eat! However, before you reach for the soup ladle, squeeze fresh lime juice over the dish for an added punch of flavor.
Release the Heat
Removing the seeds and membranes of jalapeño peppers before cooking will ease the fiery taste that stays in your mouth long after a spicy meal is over.
5: Black Bean Tostadas
Black bean tostadas are quick and easy to make, and they'll easily feed a small crowd without breaking the bank. Stuff warm tostadas with mashed black beans, lettuce, tomatoes, onions and any other toppings that you want to include. You can add sour cream, chopped avocados or even jalapeño peppers. Ingredient combinations for tostadas are limitless, and recipes can be revised to make a great meal that can be served for breakfast, lunch or dinner. One thing's for certain, though: The black beans are mandatory!
4: Hearty Chili with Black Beans
Chili is a warm, appetizing meal, and it's especially enjoyable on a cold day. Forgo the slow cooker and make hearty chili with black beans quickly in a saucepan instead. Seasoned ground beef, onions and chopped bell peppers may sound like the makings of a great chili recipe, but adding a can of black beans and a single sweet ingredient — cinnamon — make this chili dish stand out from all the rest.
All Natural Food Preservative
Cinnamon is rich in antioxidants, which are believed to lower the risk of cancer and heart disease by fighting free radicals in the body.
3: Black Bean Salsa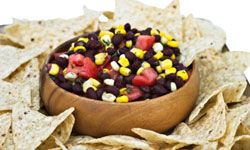 "Many people prefer black bean salsa to the tomato-based kind.iStockphoto/Thinkstock
This black bean salsa recipe is rich in fiber and protein, and it's delicious, too. This side dish includes all of traditional salsa's familiar ingredients, including chopped tomatoes, green onions and fresh cilantro. Just add a single can of black beans and a cup of frozen, thawed corn to make this a healthy side dish worthy of your next Mexican fiesta. If you have any leftovers, try spreading the concoction over grilled chicken or fish for dinner. We promise you won't be disappointed with the result.
2: Black Bean, Cucumber and Mango Salad
Adding black beans to a salad is a great way to sneak a little extra protein into your diet. The crispy texture of cucumbers and ripe mangos combine with black beans and salad greens to make a nutritious and satisfying meal. Sliced red onions and red bell peppers give the dish an extra kick of flavor, and if you like your food a little on the spicy side, add a chipotle chili in adobo sauce for an overall taste that's both sizzling and sweet.
Religious Mangos
South Asian folklore frequently associates mango fruits, trees and leaves with fortune and fertility, and references to the fruit can be found in the religious texts of Buddhist, Hindu, Christian and Muslim faiths.
1: Black Bean Brownies
"These brownies taste so good, you'll never notice that they're made with black beans.iStockphoto/Thinkstock
Did you know that you can make brownies with a can of black beans? While this is a healthier version of the traditional chocolate dessert, you'll want to keep sugar, cocoa powder and chocolate chips handy to make the batter for this tasty treat. Before you bake the brownies in the oven, toss in a pinch of instant coffee or espresso. Lightly dust the brownies with a thick layer of powdered sugar, and share with a dozen of your closest friends!
A can of black beans can be transformed into any number of delicious dishes. Now go make something unexpected!
Lots More Information
Related Articles
10 Delicious Uses for Canned Beans

How to make a $100 meal for $20

Health Benefits of Dried Beans, Nuts, and Seeds

10 Ways to Cut Your Grocery Bill in Half

Moneysaving Meals

How to Cook Light on a Budget

Top 10 Healthy and Cheap Foods

5 Tips for Cooking Restaurant Quality Food at Home

How Cinnamon Works
Sources
Kew. "Mango." (Nov. 8, 2011) http://www.kew.org/plant-cultures/plants/mango_landing.html