"Don't let your delicious, expensive steak go to waste. See pictures of how to grill steak.©iStockphoto.com/Maribee
Steak is a classic eyes-bigger-than-your-stomach food. Everybody thinks they can reach deep inside themselves and take it to the next level to finish that 18- or 24-ounce mouthwatering monster, but more often than not, everyone has to push away their plates, loosen their belts and go take a nap face-down on the couch. Leftovers happen.
It's tempting to slip the leftovers to a faithful dog (just look at those begging eyes!), but steak, especially the bones that often come with it, can be dangerous for dogs to eat. Gnawed t-bone shards can lacerate canine digestive tracts, fat chunks can cause pancreatitis and the garlic and onions that often accompany steak can cause anemia and liver problems even in their powdered form. Better to slip it into a doggie bag than directly into a dog.
But leftover steak? Terrible things happen to steaks in the dark of the refrigerator. What was yesterday's perfectly charred, tender, juicy sirloin is as tasteless and tough as a catcher's mitt after a night in fridge.
It doesn't have to end like that. Next up, we'll look at 10 ways to resurrect steak leftovers and turn them into something tasty again.
Contents
Shredded Beef
Quick Beef Stroganoff
Steak and Eggs
Steak Quesadillas
A Salad Topper Extraordinaire
Beef Kabobs
Beef Wraps
Pita Pockets
Steak Hash
Chili Con Carne
10: Shredded Beef
"Dress up your grilled cheese sandwiches with a little shredded beef.©2009 Jupiterimages Corporation
Shredding beef is a great way to soften up dry old leftovers, and isn't nearly as difficult or violent as it sounds. All it takes is a crock pot and some patience. And while it is time intensive, these recipes are worth the wait.
Mexican-Style Shredded Beef

Shredded Beef Fajitas
9: Quick Beef Stroganoff
Thin, cross-grain slices of leftover steak added to a basic stroganoff sauce makes for a quick meal with gourmet appeal. Most stroganoff sauces call for caramelized onion, mushrooms and sour cream. Add prepared steak slices equivalent to the meat requirement in a basic stroganoff recipe around the time you sauté the mushrooms. This will allow the meat to heat through and absorb some extra moisture before you add the sour cream. For a last minute flavor boost, include a teaspoon of ketchup (yes, ketchup!) and a pinch of nutmeg before serving. This is one meal that no one will guess comes from leftovers. It's that good.
If you need a flavorful and easy stroganoff recipe (whether you're serving leftover steak or not), we have a few that fit the bill.
Beef Stroganoff

Beef Stroganoff (super easy)
8: Steak and Eggs
"Steak and eggs are the perfect combo to start your day off right.iStockphoto/Thinkstock
Occasionally, the tiny knot in the back of our brain that's ravenous for steak recharges faster than expected, and the only thing better than steak for dinner is steak the next morning. These recipes are a quick, simple way to get another helping.
Emeril's Steak and Egg Sandwiches

Steak Hash
7: Steak Quesadillas
Quesadillas are grilled flatbread sandwiches made with flour tortillas. They can be filled with just about anything, including succulent leftover steak. This south of the border favorite is versatile, easy to make and kid friendly. Quesadillas are a convenient addition to an appetizer tray or quick lunch menu. They work well with salad, soup or chili. Tortillas last quite a while in the fridge and often come in resealable bags too, so you can keep them on hand as a fall back option for those days when you want to put a meal together fast.
The most common ingredients in quesadillas are cheese, green onion, tomato and cilantro, but there are hundreds of variations. Quesadillas don't have to be served with meat, but when they are, beef, chicken, pork and fish all work great and can transform an appetizer quesadilla into a lunch and even a dinner worthy dish.
The idea is to place a thin layer of ingredients on a flour tortilla and cover them with a second tortilla — like a big, round sandwich. The sandwich is then grilled until the tortillas firm up and the filling is heated through. For the best results, slice steak and other meats thinly, or cube them. That way they will heat up quickly. Quesadillas are typically flipped once or twice during cooking. Melted cheese helps to keep all the ingredients in place, so use plenty. Once you get the hang of flipping quesadillas, the process is fun. We have a basic quesadilla recipe to share along with a couple of dressed up versions that will give you a few ideas of your own.
Quesadilla

Cheese and Bean Quesadillas

Oven-Fried California Quesadillas (an easy bake version)
6: A Salad Topper Extraordinaire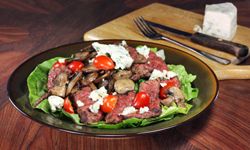 "Steak is a great protein to add to your salad.iStockphoto/Thinkstock
You may not consider steak the best meat to use as a salad topper, but it's delicious and filling, too. It also brings out the subtle flavors of those expensive mixed greens you love. This is an effective way to get quite a bit of mileage out of a small piece of steak. If you're making a meatless main dish like mac and cheese or beans and rice, then a few long, thin, julienned steak slices will almost guarantee maximum attention and appreciation for the salad course. This may turn out to be a first at your house. It would be a shame to dress up a salad with steak and not add a few other fab ingredients like:
croutons

chopped egg

sweet onion

slivered almonds

sliced mushrooms

fresh spinach

chick peas

green pepper
5: Beef Kabobs
Kabobs have (almost literally) been around forever. And while they're traditionally made with lamb, beef has become quite the go-to meat option in many kabob dishes. Not only are they fun to eat — for little hands, especially — they're also incredibly versatile. You can add any number of vegetables, or even use more than one meat option. Here are a few recipes that are easy and delicious for your next kabob adventure.
Greek-Style Beef Kabobs

Oriental Beef Kabobs
4: Beef Wraps
"Get really creative and use the steak as the wrap itself.iStockphoto/Thinkstock
Wraps can be as versatile and unique as you want to make them. Throw in a little beef, and then go crazy with any combination of other fillings. To add a little extra kick to your beef, toss your leftover steak into a marinade. And there's no hurry to make them once the beef is in the marinade — leftover steak can marinate for as little as 30 minutes or as long as overnight. Here are a few beef wrap recipes we're sure you'll love.
Tex-Mex Beef Wraps

Shredded Beef Wraps
3: Pita Pockets
There's nothing wrong with a simple steak sandwich, but when you have such a great ingredient, show it off by packing it into a pita pocket. These portable flatbreads are perfect for lunch and snacking. The pita's sealed bottom makes it easier to fill without fear of mishaps, so load on the extras. Add your favorite dressing or spread, and include some flavor notes that will give that leftover steak the respect it deserves. Try adding a combination of the ingredients below:
Feta, cream or Muenster cheese

sour cream or plain Greek yogurt

oil and vinegar dressing

red onion

green onion

black olives

diced fresh tomato

fresh spinach or romaine lettuce

garlic mayonnaise

guacamole

green pepper rings
If you need more inspiration, one of our favorites is Roast Beef and Feta Pitas with Cucumber Sauce. Give it a quick peek.
2: Steak Hash
If you like corned beef hash, you'll love steak hash. The upscale version of this breakfast classic uses cubed, leftover steak or roast beef as well as onion, peppers and potatoes. It's rich with cheese, too. If you've been searching for something new to serve for Sunday breakfast, dicing up some steak hash is an indulgence he won't see coming — and one he's sure to remember with a satisfied grin. We have the recipe all picked out for you. Enjoy.
No Fuss Beef Stew
Beef stew is traditionally considered a main dish that takes hours to prepare, but using steak instead of an inexpensive (and tough) cut of meat can really cut down on the cooking time. You can transform steak leftovers into beef stew fast because steak meat doesn't need tenderizing. Since the steak is naturally tender and already cooked, add it to beef stock, simmer for a half-hour with companion ingredients like potatoes, onion and mushrooms, and thicken the dish with cornstarch or a flour roux for 10 minutes before serving. Yum!
1: Chili Con Carne
Leftover steak makes an excellent base for a good chili con carne, but though the name literally just means "chili with meat," the star ingredient in any chili will always be the spice combination. This recipe uses a little bit of chocolate and cinnamon for a couple of surprise flavor notes.
Lots More Information
Related Articles
How Steak Works

How to Get Enough Protein on a Budget

5 Cuts of Meat that Taste Better Grilled

How to Eat Steak on a Budget
Sources
Allrecipes.com, "Shredded Beef for Tacos.", 2009. (January 4, 2009) http://allrecipes.com/Recipe/Shredded-Beef-for-Tacos/Detail.aspx

Big Oven. "Leftover Steak Recipes." (12/28/11). http://www.bigoven.com/recipes/search?any_kw=leftover%20steak

Davidson, Alan. "The Oxford Companion to Food." Oxford University Press. 1999.

Garten, Ina. "Barefoot in Paris: Easy French Food You Can Make at Home." Clarkson Potter. 2004.

Hillbilly Housewife. "Leftover Steak Meat." 7/2010. (12/28/11). http://www.hillbillyhousewife.com/leftover-steak-meat.htm

O'Hara, Christopher B. "The Ultimate Chili Book." The Lyons Press. 2001.

Simonds, Nina. "Asian Wraps: Deliciously Easy Hand-Held Bundles to Stuff, Wrap and Relish." William Morrow and Company. 2000.

Theriot, Jude W. "Greatest Cajun Recipes." Pelican Publishing Company. 2006.

Thrifty Fun. "What Do I Make With Leftover Steak?" (12/28/11). http://www.thriftyfun.com/tf16071938.tip.html