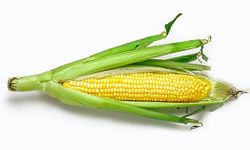 "Corn is cheap, versatile and delicious! See more vegetable pictures.Andrew Unangst/Photographer's Choice/Getty Images
At the risk of sounding like Bubba Blue from "Forrest Gump," corn can be enjoyed on the cob, off the cob, creamed, baked, boiled, fried, grilled, ground and pretty much any other way you can imagine it. Simply put, even the pickiest eater can find a way to enjoy corn in one of its many forms.
By virtue of the main ingredient itself, many corn-related dishes are affordable. In season, multiple ears of corn can be purchased for as little as $1. During the frigid winter months, frozen corn can be obtained cheaply and doubles nicely for its fresher counterpart.
Read on for our list of 10 delectable corn-related dishes that can be enjoyed any time of year.
Contents
Corn Tortillas
Corn on the Cob
Corn Pudding
Cornbread
Popcorn
Corn Fritters
Succotash
Corn Salsa
Corn Chowder
Corn Casserole
10: Corn Tortillas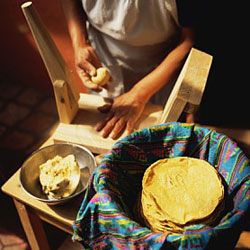 "Corn tortillas are easy to make, cheap to buy and filled with countless potential dining uses and options.Aaron McCoy/FoodPix/Getty Images
Corn tortillas are a primary component of many Mexican dishes, from enchiladas to tacos. Of course, the store-bought variety is easy to find and fairly inexpensive, but enterprising chefs can make authentic tortillas from scratch! You won't even need to purchase actual ears of corn from the store. Rather, the main ingredient is masa harina — a type of flour made from dried masa — which is created from corn that has been specially treated. In fact, in its dried incarnation, corn is considered a grain, not a veggie.
Although masa harina sounds exotic, it can be purchased in most grocery stores. When making corn tortillas, the only other necessary ingredient is water. Of course, a tortilla press would be a good investment if you plan to make them on a regular basis, though a skillet or griddle will also work.
9: Corn on the Cob
Corn on the cob can be prepared using pretty much any type of tool in your cooking arsenal, including a grill, pot of boiling water or even a roasting pan. This side dish is easy and cheap to prepare and can be dressed up with seasonings or butter. However, corn's natural sweetness practically begs for it to be served au naturel, which is healthier than drowning it in butter, anyway.
When grilling corn on the cob, experts recommend that the ears, still in their husks, be soaked in cold water for one hour, and then tossed on the grill for about 20 minutes. The husks and silk can be removed after the ears have had sufficient time to cool off.
Thanksgiving Didn't Used to Be So Corny
Although many of us assume corn was a component of early Pilgrim Thanksgiving feasts, it was actually dried out and retired for the season by the time the holiday rolled around.
8: Corn Pudding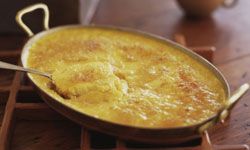 "Corn pudding isn't the healthiest use of the vegetable, but it may be the tastiest!Victoria Pearson/FoodPix/Getty Images
Both sweet and filling, corn pudding is the perfect side dish for any barbeque or dinner, though it can be pretty fattening. Most corn pudding recipes call for ingredients easily found around your kitchen, including corn, unsalted butter, sugar, milk or heavy cream, flour and eggs. You can lighten the recipe by using alternative ingredients, such as low or fat-free milk and sugar substitutes, so don't let its richness keep you from enjoying this delectable treat. This is one sweet dessert, and it's easy to make on the cheap!
7: Cornbread
Few things go more perfectly with a bowl of chili or vegetable soup than a pan of hot cornbread. There are a variety of recipes to choose from, but most include staples like cornmeal, milk or buttermilk and an egg or two. Shredded cheese, jalapenos and even ham can be added to spice up the dish.
Cornbread tastes best when it's prepared in a cast-iron skillet, which should be properly oiled or buttered and then pre-heated to produce the best possible results. From the same cornbread batter recipe, you can also make corn muffins and corn sticks. All you need to change is the pan you use for baking.
Corncob Smokes
In 1869, Henry Tibbe, an immigrant American woodworker, began making and selling corncob pipes. Demand was so high that Tibbe soon started the H. Tibbe and Son Co., which later became the Missouri Meerschaum Company. This was the first and is now the only company in the world to mass produce corncob pipes.
6: Popcorn
Everyone knows that movie night just isn't the same without a bowl of freshly popped popcorn. If you want to enjoy this snack au naturel, invest $15 to $25 in a popcorn maker. All you have to do is add kernels to the machine to enjoy a delicious and healthy — assuming you don't add too much butter — treat.
If you actually want to see corn pop, buy an ear or two of popping corn online or from a specialty shop, and place it in a paper lunch sack tied with twine. Toss it in the microwave for about two minutes or until popping slows down. Yes, the kernels actually pop right off the cob!
If that sounds like too much effort, the store-bought, microwave-ready variety is delicious, particularly when topped with extra butter or even caramel. No matter how you pop it, though, this is one cheap treat!
Forget the Butter
Popcorn and butter may seem like an inseparable pair, but there are plenty of other additives that go with everyone's favorite popped snack. Try topping your popcorn with salt and pepper, roasted peanuts, hot sauce, sugar, honey or even chocolate to add a kick to this classic, but sometimes tired, treat.
5: Corn Fritters
If there's anything we appreciate, it's a dish that can be served virtually any time of day. Corn fritters are an example of such an exceptional treat, since they can be tweaked with toppings to be appropriate for breakfast, lunch and dinner. Once again, this corn-based recipe is fleshed out with ingredients found lying around typical kitchens, such as eggs, salt, water, olive oil and flour. Simply edit the toppings you desire to make the dish more versatile, like maple syrup for breakfast or salsa for a side item with a Mexican-themed dinner. In addition, corn fritters can be easily dressed up or down depending on how much cash you're willing to spend to make the meal more exotic.
Moonshine Mania
Cornmeal is one of the four principle ingredients of moonshine. The others are sugar, water and yeast.
4: Succotash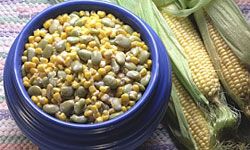 "Succotash has been around for centuries, but there's a reason for its enduring popularity: It tastes great!Judd Pilossof/FoodPix/Getty Images
Though some consider it to be traditional Southern fare, succotash was also a favorite among early settlers and Native Americans. The recipe generally pairs corn kernels with peppers and lima beans, though it can be livened up with anything from shrimp to croutons for a distinctive kick. Cheaper, frozen veggies work just as well as fresh varieties for this particular dish, so it's easy and affordable to churn out any time of year!
3: Corn Salsa
Everyone loves a good tomato-based salsa, but sometimes it's fun to change things up a bit! The next time you're in a chips-and-dip sort of mood, make a few servings of corn salsa. You can use fresh, frozen or canned tomatoes and corn. Add some chopped onions, green bell peppers and cilantro, and you've got a zesty dish that you and any guests you're entertaining are sure to love. Plus, you can enjoy it with tortilla chips or as a topping on other meals like grilled chicken or hamburgers.
Corn Cob Toilet Paper?
Before toilet paper was invented, people used some pretty crazy items to take care of business. Early Americans frequently used corn cobs, so try not to complain the next time your boss purchases single-ply T.P.
2: Corn Chowder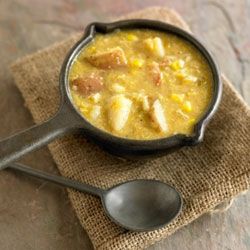 "It's easy to swap out ingredients when making corn chowder, so experiment with different additives until you find your own perfect recipe.Heath Robbins/FoodPix/Getty Images
Other than the dish's delicious flavor and consistency, corn chowder has an extra-special selling point: its longevity. Not only is it a tasty way to heat the body up on particularly chilly days, it also freezes beautifully. So, the next time you whip up a batch, try making double or triple the amount and freeze the leftovers. Not only will you save money on future meals, you'll also save time! Corn chowder recipes vary, but you can easily make a few servings with some frozen or fresh corn, chicken broth, potatoes, whipped cream, crumbled bacon and a few diced veggies — like onion and bell peppers — for taste.
1: Corn Casserole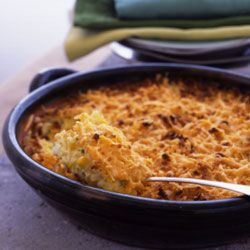 "Nothing tastes likes a cheesy, piping-hot corn casserole!Anna Williams/FoodPix/Getty Images
If you're tired of the standard green bean or squash casseroles, it's time to venture into the exciting world of corn bakes. Depending which recipe you choose, corn casserole is easy to make and requires only a few ingredients. Most standard recipes call for frozen or fresh corn, eggs, milk and sugar. More elaborate options include chopped vegetables like zucchini and red bell peppers to add a little extra oomph. Chicken and cheese can also be incorporated for a richer and more filling meal, though vegetarian versions are proven crowd-pleasers, as well.
Regardless if you want a cheap desert, a low-budget side dish or an inexpensive main course, corn's got you covered. Corn is as tasty to eat as it is versatile, so regardless if you're struggling to make ends meet or your savings account is stocked with extra zeros, this is one cheap food that deserves a place at your table.
Lots More Information
Related Articles
10 Signature Regional Recipes — From the Rockies to the Deep South

How Moonshine Works

5 Best Barbeque Side Dishes

How to Cook Tortillas and Beans

Mini Corn Muffins

Caramel Popcorn Balls
Sources
Eating Well. "Quick and Healthy Low Fat Recipes and Menus." Eating Well. 2011. (Oct. 7, 2011) http://www.eatingwell.com/recipes_menus/collections/quick_healthy_lowfat_recipes

Epicurious. "What to Cook Now: Corn." Epicurious. 2011. (Oct. 7, 2011) http://www.epicurious.com/articlesguides/seasonalcooking/summer/cooknow_corn

Food Network. "5 Gluten-Free Flours to Try." Food Network. 2011. (Oct. 7, 2011) http://www.foodnetwork.com/holidays-and-parties/5-gluten-free-flours-to-try/index.html

Food Network. "Eating Healthy in Summer." Food Network. 2011. (Oct. 7, 2011) http://www.foodnetwork.com/healthy-eating/eating-healthy-in-summer/index.html

Gourmet. "Corn Fritters." Epicurious. Sept. 2006. (Oct. 7, 2011) http://www.epicurious.com/recipes/food/views/Corn-Fritters-235760

History. "The Pilgrims' Menu." 2011. (Oct. 7, 2011) http://www.history.com/topics/thanksgiving-pilgrims-menu

Manly Guest Contributor, a. "How to Make a Corn Cob Pipe." The Art of Manliness. 2010. (Oct. 7, 2011) http://artofmanliness.com/2010/08/09/how-to-make-a-corn-cob-pipe/

Martha Stewart Living. "Corn Recipes." 2011. (Oct. 7, 2011) http://www.marthastewart.com/photogallery/corn-recipes

Martha Stewart Living. "How to Cook Corn Like an Iowan." Martha Stewart Living. July 2010. (Oct. 7, 2011) http://www.marthastewart.com/272678/how-to-cook-corn-like-an-iowan

Martha Stewart Living. "Popping Corn." Martha Stewart Living. 2011. (Oct. 7, 2011) http://www.marthastewart.com/267713/popping-corn

Missouri Meerschaum Company, the. "History." 2011. (Oct. 11, 2011) http://www.corncobpipe.com/pages.php?pageid=4

Steintrager, Megan O. "Around the World in 80 Dishes." Epicurious. 2011. (Oct. 7, 2011) http://www.epicurious.com/articlesguides/cuisines/aroundtheworldin80dishes/mexicotortillasrecipe

Toilet Paper World. "History of Toilet Paper." Toilet Paper World. 2008. (Oct. 7, 2011) http://encyclopedia.toiletpaperworld.com/toilet-paper-history/history-of-toilet-paper