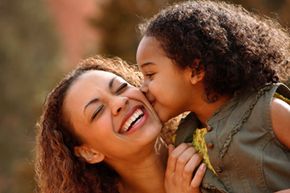 "Just being together counts!©iStockphoto.com/Studio1One
Time moves faster and faster, and before you know it, tucking your daughter in for the night will seem like a distant memory. Knowing that these are precious years is one thing; finding ways to make the most of them may be something else entirely. One day your girl's hanging on your every word, and the next, she's spending all of her spare time texting her friends and asking for some privacy.
What's the best way to maintain a connection with the independent spirit and developing individual who's your daughter? Remember when your little girl wanted to parade around in your shoes, wear your apron, sleep with your favorite silk scarf and be just like you. Those days may not be gone. Think of them as being on hiatus until she realizes that her friends don't have all the answers.
Don't despair. There are some clever ways you can maintain a connection with your daughter, even during these hectic and demanding years. Here's the sad truth: All it takes is time — the one commodity you probably have the least of right now. Before you become a footnote in her day, build a strong bond with your daughter that will survive the teen years and forge a lifelong bridge between the generations.
Tips for Carving Out Mother-daughter Bonding Time
Let's be honest: Motherhood never looked all that easy, but it did seem consistently doable and ultimately rewarding. Who knew that being a good parent, spouse, employee — and daughter yourself — could create so much of a time crunch (not to mention an energy drain)? Heck, when your kids are starting to look like familiar strangers, you know you need a wake-up call.
Re-evaluate your priorities: Yes, it does seem unfair to mention priorities. If you weren't concerned and responsible, you wouldn't be reading this. The thing is that there are only so many hours in a day. If your daughter isn't getting the quality time she deserves, something else has got to go. You'll read lots of advice columns that advocate your absolute right to spend time at a day spa or find other ways to indulge your inner child. Your daughter will only be young once, though, so before you head out for "me" time, consider making it "us" time, and take her with you.
Do chores together: You have loads of responsibilities like cooking, cleaning, shopping and keeping things together at home. No one ever said you couldn't make your daughter part of the process. Children need structure, and chores can be a good way to teach your daughter responsibility and new skills. Instead of giving her a task to perform on her own, do it with her. She can unload the dishwasher while you put the dishes away. You can wash clothes, and she can help you fold and fluff. Go ahead and cook dinner, but let her open the cans and put the packaging in the recycling bin. You get the idea. Sure, the first few times the process will be slow, but after that, the chores will go faster and you two can spend the time talking.
Become an expert in the art of listening: Your daughter wants to talk to you, but she doesn't want to be advised or lectured. You can forge a bond by just listening quietly. It's amazing how much you can learn by just staying silent. Don't guide the conversation or try to solve her problems for her. Try it. You'll gain your daughter's trust and be in the know when the important stuff comes along.
Remain engaged: You might be worried about the leak in your front tire, the electric bill or that interview at work tomorrow. If you're distracted, your daughter will know it. Staying engrossed in your child's recap of her ride home can be a challenge, but these are among the most important exchanges you'll ever have with her. If you let your mind wander or act impatient, she'll know you aren't interested. It pays to find something compelling and engaging in what she's saying. Stay focused on that. If you have to, jot down a few notes afterward. You'll want to remember the name of her new crush and the title of her English paper so you'll have a leg up on tomorrow's gabfest.
Share a hobby: From horseback riding to quilting, sharing a hobby with your daughter is one sure way to find common ground. If you have a passion, start showing her why it's so much fun. As she grows, her skill level will, too. You may have to try a few different interests before you find something that keeps her engrossed, but you'll eventually find a creative outlet that you can both share, now and decades from now.
Developing a bond with your daughter is a day-to-day process that will morph into shared habits and eventually become traditions you'll both cherish. The two of you will make up the rules as you go along, and the benchmarks you'll hit will probably surprise you both. One day, you'll look back fondly on those long days you spent exhausted, back aching, showing little hands how to fold a T-shirt or use a cookie cutter and wonder where the time went. It goes fast, and it's filled with amazing moments that are like lightning in a bottle. Don't miss them.
Did You Know?
If you're juggling mommy time and work commitments, you're not alone. About 72 percent of moms with children over the age of 1 are part of the workforce either full time or part time.
Lots More Information
Related Articles
10 Family Bonding Activities

5 Mother-Daughter Bonding Activities

5 Father-Son Bonding Activities

5 Fun Family Night Ideas

5 Group Bonding Activities for Kids

5 Things to Know About Managing Family Schedules

How Parenting Classes Work

How Parenting Communication Works

Will my baby prefer the nanny over me?
Sources
Ayushveda. "Mother Daughter Bonding Time." 7/20/09. 11/30/10.http://www.us.ayushveda.com/mother-daughter-bonding-time/

Happy Worker. "Fun Mothering Facts." Undated. 11/30/10.http://www.happyworker.com/supermom/facts

Hello Beautiful. "6 Feel-Good Mother & Daughter Activities For Mother's Day." 5/8/10. 11/30/10.http://hellobeautiful.com/mommy-beautiful/hello-beautiful-staff/6-feel-good-mother-daughter-activities-for-mothers-day/

More 4 Kids. "Bonding with Your Kids Through Arts and Crafts." Undated. 11/30/10.http://www.more4kids.info/338/kids-arts-and-crafts/

Precious Moms. "Mother and Daughter Activities." Undated. 11/30/10.http://www.preciousmoms.com/content.cfm/motherdaughter_activities

Revolution Health. "Bonding with Your Teens or Preteens." Undated. 11/30/10.http://www.revolutionhealth.com/healthy-living/parenting/teens-preteens/bonding/index

Scan. "Attachment & Bonding with Your Child." Undated. 11/30/10.http://www.scanva.org/prc-attachment-and-bonding.htm

Surf Net Parents. "Daily Bonding with Your Kids. Undated. 11/30/10.http://www.surfnetparents.com/daily_bonding_with_your_children-21111.html

Van Kampen Karen. "Mother-Daughter Activity Guide." Family Fun. Undated. 11/30/10.http://family-fun.kaboose.com/mother-daughter-activity-crafts.html

Workforce Moms. "Statistics on Working Moms." 3/13/09. 11/30/10.http://workforcemoms.org/statistics-on-working-moms/