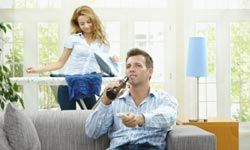 "Maybe he thinks you enjoy ironing like he enjoys TV.Hemera/ThinkStock
It's an argument for the ages: Who does more around the house? And how on earth do you get your partner to do more?
Whether your list of household chores causes a daily divide or a huge "chore war" every Saturday morning, there's no sense in simply doing the lion's share to avoid the conflict. Instead, try a few of the following strategies on for size.
Ranging from the logical to the surreptitious, one of these approaches is sure to work. Before long, you'll both be living in lemony-fresh harmony amidst rooms full of shining furniture and polished floors.
OK, maybe that's really overstating things. However, at the very least, your new tactics could improve communication overall — something we'd take over a clean house any day.
Contents
Gripe. A lot.
Talk Dirty
Sing His Praises
Trade Dishes for Dirty Socks
Get Professional Help
5. Gripe. A lot.
"Nagging will only get you so far.iStockphoto/Thinkstock
Nagging works. At least in the short term. Turns out continually pestering your sweetie to take out the garbage or do the dishes leaves him too emotionally exhausted to argue, at least according to a study reported in Britain's "Daily Mail." Nearly half the men simply give in to their wives' requests after an hour or so of nagging, and a whopping 83 percent believed their partners were right to nag them.
All those verbal requests (and complaints) may become second nature to you, but to your intended target, they're annoying, even if they are surprisingly effective. The real downside, however, is the effect of breeding such resentment. More than 90 percent of the couples who criticize each other in a non-constructive way divorce within 10 years, according to researchers at the University of Utah.
However, there are much more effective approaches than taking a passively aggressive stance. What else works? One simple strategy is to ask. Making a request is even more effective than nagging — especially when it's not done as a complaint. We've got all sorts of other strategies, too, next.
4. Talk Dirty
Maybe he just doesn't recognize the dust gathering in the windowsills or the laundry mountain gaining altitude near the washing machine.
Although it seems hard to believe, your husband may not (a) realize which household chores need doing, or (b) care very much. He may be fine living with a pile of dirty dishes in the sink. Or, he may — on a Jungian level — still expect his mother to appear and make short work of the clutter. Whatever the reasons, most men aren't as detail-oriented, so he simply may not see the things that bother you; your joint home, however messy, looks fine to him. What you need is a clear-cut strategy for dealing with this lackluster performance, one that's more effective than a gripe-fest with your best girlfriend (although that certainly has its place).
First, take a non-emotional approach and simply point out the bevy of chores required to run a household. Then, working together, make a mutual list to divvy up duties. You may decide to change the chore line-up depending on the day of the week, but whatever the details of your discussion, it's bound to ensure some progress.
3. Sing His Praises
"A little praise works wonders.Hemera/ThinkStock
We know it doesn't seem fair, but applauding every little chore your man tackles can make a big difference. He's much more likely to load the dishwasher or vacuum the floor when there's plenty of positive feedback.
He's probably used to a high level of respect from co-workers or compadres, and frankly, tired of being nagged at home. Taking a different tack sets the tone for a positive exchange.
Although it seems counterintuitive, don't look for perfection before offering praise. Just catch your partner putting forth the effort — even if it's not exactly how you'd do it — and offer some version of "thanks" within earshot of him and others. With time, you'll notice his at-home productivity increasing. In fact, he'll probably be inspired to do more than you'd ever expect.
Now, if only we could get a cheering section for ourselves. But that's what chocolate is for, right?
2. Trade Dishes for Dirty Socks
If your husband would trade cooking a meal for washing the dishes, let him. Or maybe you'd rather wash the dirty socks than dish up gourmet fare. Co-habitation with another human being (especially the male version) requires a lot of compromise, and household chores are no exception. In the end, it simply makes sense that if you're a real stickler about the keeping the bedroom clutter-free, it should be your job to make the bed and organize the bedside reading material. Especially if your partner couldn't care less about slipping his toes between neatly tucked-in sheets every night. On the other hand, it may be really important to him to hang his shirts with great care. So it only makes sense that this chore is assigned under the "his" column.
Dividing the household chores based on personal preference is one way to approach it. Another approach is to determine what you hate the least. If it comes down to vacuuming or dusting, and dust bunnies are the lesser of two evils (at least in your book), volunteer to give them a clean sweep and let your partner run the vacuum. Whatever the logic behind your divisions, trading chores can make life easier and more orderly. And if you both hate housework, you'll especially like our next strategy.
1. Get Professional Help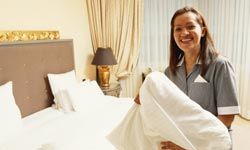 "When all else fails, hire household help.David De Lossy/Photodisc/ThinkStock
If you're at a real impasse with your mate over daily duties, get outside help in the form of a paid housekeeping service. Two working partners, especially if they have children, are strapped for time. It's a matter of logistics as much as relationship.
So ease the strain by hiring someone who can vacuum, dust and, in general, bring order to your chaos. A professional service may send a team of cleaners and cost $90 or more an hour. If that's not in your budget, you can find an individual who does cleaning on the side. As long as the references check out, hiring someone from the neighborhood who cleans part-time can save money. Remember, you'll need to keep track of the expense, which could have tax repercussions. So consult your accountant, too.
Keep in mind hiring a service to clean your home every two weeks — or every week — doesn't mean the chores will completely go away. Clutter still needs to be picked up. Dishes still need to be washed. Clothes still need to be laundered. These are things most cleaning services don't handle, and for many families, these tasks comprise most of the chore list.
Lots More Information
Related Articles
10 TV Moms we Secretly Want to Be

Top 10 Products Moms Are Still Waiting For

5 Spare Time Tricks for Mom

Debunking 10 Divorce Myths

Deflating 6 Common Marriage Myths

Sharing the Burden: Tips for Dividing Household Responsibilities with Your Spouse

How to Organize Your Household Papers
Sources
Cettina, Teri. "The Chore Wars." Parenting.com. (Dec. 7, 2010)http://www.parenting.com/article/Mom/Relationships/The-Chore-Wars/1

Chapman, Gary. "Helping Your Husband Grow." 5LoveLanguages.com. Jan. 7, 2010. (Dec. 7, 2010) http://www.5lovelanguages.com/2010/01/helping-your-husband-grow/

Daily Mail. "Put Down that Beer and Wash the Dishes! Wives Spend Six Days a Year Nagging Their Husbands." June 17, 2010. (Dec. 7, 2010)http://www.dailymail.co.uk/news/article-1287255/Wives-spend-days-year-nagging-husbands-study-shows.html

MSNBC.com. "Fair Feud? Six Issues Couples Should Argue About." (Dec. 7, 2010)http://today.msnbc.msn.com/id/20323044/ns/today-relationships/

O'Connor, Gail. "Big Story: Ending the Chore Wars — How to Get Your Mate to Help on the Home Front." BabyCenter.com. March 2005. (Dec. 7, 2010)http://www.babycenter.com/0_big-story-ending-the-chore-wars-how-to-get-your-mate-to-help_1425647.bc

UPI.com. "Study: Nagging Wives Get Their Way." May 8, 2008. (Dec. 7, 2010)http://www.upi.com/Odd_News/2008/05/08/Study-Nagging-wives-get-their-way/UPI-47511210256328/