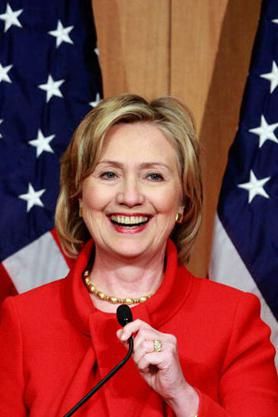 "Thanks to the women's lib movement of the 1960s, the doors are now open for Hilary Clinton and others to hold public office — even make a run for the office of President of the United States.DCL
Long before the women's liberation movement came to a head, capable women were doing the same work as men, but they weren't getting recognized for it and they certainly weren't getting properly compensated for it. Even today, women's pay is still about 77 percent of men's, which shows an increase of less than 15 percent in the last 40 years.
For years, our estrogen-filled compatriots were thought to be the lesser sex — emotionally unstable, physically weak and generally just not very smart. Once the ladies started speaking up, however, it quickly emerged that a lack of intelligence wasn't the case. It was even discovered that emotional natures and comparatively weaker muscles helped the ladies form a complimentary skill set to their testosterone-laden, hunter-gatherer counterparts. Nonetheless, it has generally been an uphill battle for the working woman. Here are 10 careers that women have had to fight to enter.
NEXT: 10: Higher Education
Contents
Higher Education
Journalism
Authors
Medicine
Religion
Armed Forces
Politics
Big Business
Law Enforcement
Space Exploration
10: Higher Education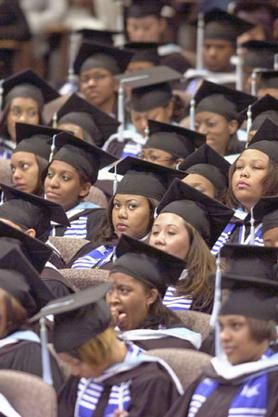 "Spelman College in Atlanta, Ga., turns out hundreds of female graduates each year.DCL
Women weren't admitted into universities until 1848, and even then, they initially attended with a lot of controversy and criticism. Beyond the fact that it was generally believed that women weren't smart enough for college, there was also a concern that educated women would make unfit wives and mothers, or that their intellect wouldn't attract a husband. As it turned out, more than half of the first generation of college graduates either delayed marriage for a career or chose to pursue a career instead marriage. Now-a-days, female college graduates outnumber men.
NEXT: 9: Journalism
9: Journalism
"Katie Couric was the first woman to anchor the evening news on a major network solo.DCL
There's no mistaking the impact that journalists have on the world, and it took a while for women to get their voices heard. Historically, while men were out on the frontlines reporting breaking news stories, women were commonly relegated to fluff pieces involving homemaking and domesticity. They eventually caught up in the print world, but once TV and radio emerged, men were initially given these choice jobs because they were believed to be more reliable voices for delivering the news. Fortunately, tenacious female journalists throughout the years have broken out of the mold and helped bring down the glass ceiling.
NEXT: 8: Authors
8: Authors
"Author J.K. Rowling is one of the richest women in the world.DCL
Women have been churning out works of literature for about as long as men have, but their work hasn't always been received with the same enthusiasm. Many of our literary heroines' works were published back in the day, but under pen names that alluded to male origins. Even modern author Joanne Rowling was encouraged to disguise the fact she was a woman, because her publishers were afraid it would alienate little boys from reading her work. Hence the infamy of J.K. Rowling, the renowned Harry Potter author.
NEXT: 7: Medicine
7: Medicine
"Regina Benjamin, M.D., is currently "America's Doctor," better known as the Surgeon General of the United States.DCL
In a field where women were historically way more Florence Nightingale than Jonas Salk, it has been a tenuous journey for women to join the ranks of their male contemporaries in medicine. Elizabeth Blackwell was the first woman accepted into medical school in 1847, but only because they didn't think she could complete the work. She graduated at the top of her class and couldn't get a job, so she opened her own clinic. Her perseverance and achievements throughout the years helped pave the way for women in medicine.
NEXT: 6: Religion
6: Religion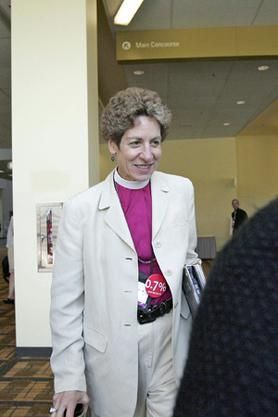 "In 2006, the U.S. Episcopal Church elected its first female leader, Bishop Katharine Jefferts Schori.DCL
Antoinette Blackwell was the first woman to be ordained as a Congregationalist minister in 1853, but it was never recognized by the denomination. Later, she quit to become a Unitarian. The Unitarians and Methodists ordained women in the late 1800s, but it took other Christian religions until well into the 1900s to put women in positions of church leadership. The first woman rabbi in the United States wasn't ordained until 1974 and the Episcopalians ordained 11 women in 1976 before changing the rules to disallow it. There are now female Episcopal ministers, but still no Catholic Priests.
NEXT: 5: Armed Forces
5: Armed Forces
"The first Gulf War in the 1990s brought the first female soldiers into DCL
From the early days of Molly Pitcher and the Battle of Fort Washington to the hundreds of women who dressed as men and fought in combat in the Civil War, women have actively served the Armed Forces. But it wasn't until World War II that women were given full military status. And even then, were only permitted to fill roles such as cooks and nurses. It wasn't until restrictions were lifted in the 1990s that women were permitted to fight in combat.
NEXT: 4: Politics
4: Politics
"Condoleezza Rice was the first African American female to hold the office of Secretary of State.DCL
Given that women weren't even allowed to vote until 1920, it's no surprise that it's only in the last three decades they've made great strides in politics. Sandra Day O'Connor was appointed as the first female Supreme Court justice in 1981, and then Geraldine Ferraro came on the scene as the first female Vice President candidate in 1987. Madeleine Albright became the highest-ranking woman in the U.S. government when she was sworn in as Secretary of State in 1997, and it wasn't until 2008 that Hillary Clinton became the first woman to win a presidential primary election.
NEXT: 3: Big Business
3: Big Business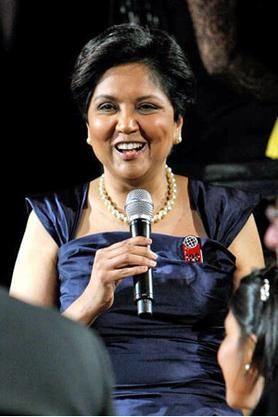 "In 2008, Indra Nooyi was president and CEO of PepsiCo. — and the highest paid female CEO in the United States.DCL
In the past, women were more apt to get assigned typewriters than expense accounts in the male dominated world of corporate business, and many will agree that a glass ceiling is still present. It wasn't until the 1980s that Liz Claiborne became the first female CEO of a Fortune 500 company, and it was in a company that bore her name. As of 2009, the American workforce is more than half women, but still only 15 of the Fortune 500 companies have female CEOs.
NEXT: 2: Law Enforcement
2: Law Enforcement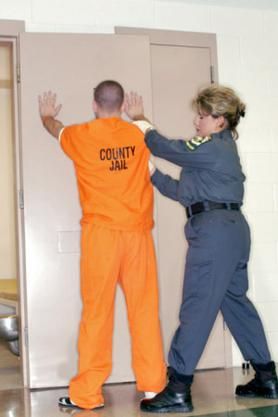 "Female police officers are trained to use force when necessary.DCL
Early female law enforcement officers were called matrons, whose job was to deal with the women and children. Eventually the career path opened up, but law enforcement continues to be a male dominated industry, comprised of less than 15 percent women. The tendency of women to use diplomacy and communication in lieu of physical force as a conflict resolution strategy makes them uniquely valuable to the industry. But the extreme ratio of men to women still leads to discrimination and sexual harassment, making the career less appealing to many female candidates.
NEXT: 1: Space Exploration
1: Space Exploration
"Dr. Sally Ride, the first woman in space, paved the way for future female astronauts.DCL
Man first walked on the moon in 1969, but an American woman didn't even make it into a shuttle until Sally Ride went up in 1983. In 1959, the Women in Space Program (WISP) was started, and a handful of qualified ladies passed the rigorous tests and were deemed suitable for space travel. But WISP was canceled due to NASA regulations, and it was decided that military test pilots were the best candidates for the job.