Sweet potato casserole is a comforting, feel-good dish that's perfect for the holidays. It calls for a crunchy pecan topping, mini marshmallows and, of course, sweet potatoes. While traditional recipes involve boiling the potatoes, have you tried using an Instant Pot? Not only is it quick and easy but it's useful if you plan to cook up a storm and need more space on the stove top. Read on to learn how to make this delicious Instant Pot sweet potato casserole.
Video of the Day
Instant Pot Sweet Potato Filling
Things You'll Need
6 medium sweet potatoes, peeled and sliced

1 cup water

2 eggs

1/4 cup milk (dairy or plant-based)

1/2 cup brown or white sugar

1/4 cup unsalted butter

1 teaspoon cinnamon

1/2 teaspoon salt

1 teaspoon vanilla extract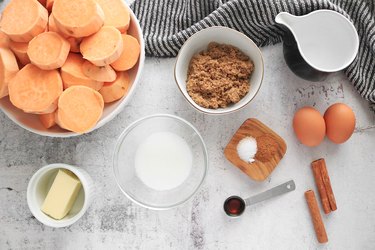 Step 1
To the Instant Pot, add the sweet potatoes and water. Seal the lid and press the "Manual" or "Pressure Cook" button. (The exact button will depend on the model of your Instant Pot. "Manual" means pressure cooking.) Set the timer to 8 minutes on "High." The Instant Pot will take about 10 minutes to reach the appropriate pressure and then it will begin the countdown.
After 8 minutes, the Instant Pot will beep. Do a "Quick Release" by pressing the steam-release button or moving the valve. Keep your hands and face away from the top of the Instant Pot, as it will release a rapid stream of pressure.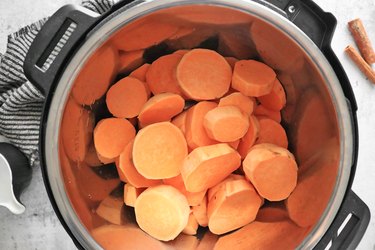 Step 2
Carefully drain the sweet potatoes. Use caution when handling the pot, as it will be very hot. Mash the potatoes with a vegetable masher until smooth.
Tip
Keep the sweet potatoes in the pot to minimize dirty dishes. You can also transfer the potatoes to a large bowl if you'd like.
Step 3
Slice and add the butter, which should melt as you stir. You can also melt the butter separately before mixing it in.
Step 4
Add the eggs, milk, sugar, cinnamon, salt and vanilla extract. Mix until combined.
Maple Pecan Topping
Things You'll Need
1 cup pecans, roughly chopped

1/3 cup all-purpose flour

1/4 cup brown sugar

2 tablespoons maple syrup (or more brown sugar)

1/4 cup unsalted butter, melted
Tip
If you'd like a finer crumble topping, chop the pecans very well. You can also grind them in a food processor. If you don't have pecans, use almonds or walnuts instead.
Step 1
Combine all the ingredients in a bowl. Mix well.
Instant Pot Sweet Potato Casserole
Things You'll Need
Instant Pot sweet potato filling

Maple pecan topping

1 1/2 cups mini marshmallows

Butter (for greasing)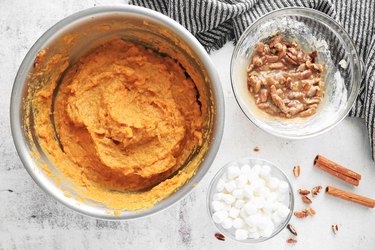 Step 1
Preheat oven to 350°F. Grease a 9×13" casserole dish with butter. Add the sweet potato mash in an even layer and top with the maple pecan mixture. Bake for 30 minutes or until the pecan topping is golden brown and slightly crispy.
Step 2
Remove the casserole from the oven and top with marshmallows. Bake for another 10 to 15 minutes or until the marshmallows are gooey and golden. Check the casserole every 5 or so minutes to make sure the marshmallows don't burn.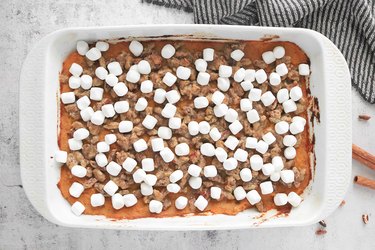 Serve warm. Enjoy!